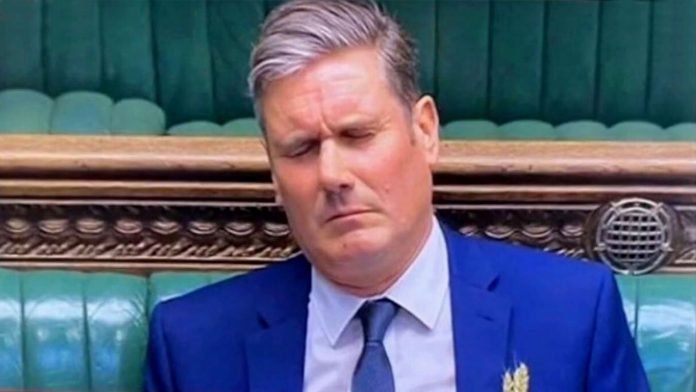 Starmer's lack of a coherent vision for Labour and his unforgivable choice of candidate has given away another brick in the Red wall
Jill Mortimer (Con): 15,529
Paul Williams (Lab): 8,589
Mortimer has won with a majority of 6,940
You would be forgiven for thinking a loss wasn't planned, surely no leader could be so incompetent.
It's shameful Labour losing this seat, there is no excuse, Sir Keir Starmer's poor choice of candidate, Paul Williams, was a recipe for failure. The Labour Party Parachuted in an 'Arch-Remainer' to stand in 'an overwhelmingly Labour leave voting seat and lost dramatically, who would have guessed? Well actually everyone.
A Remainer in Brexit Land
No lessons have been learnt by the Labour Party, they didn't listen then and they aren't listing now!
It Beggar's Belief that the labour Party would select an Arch-Remainer in a seat that voted to leave the EU by nearly 70%
A forgotten fact, the six seats Labour lost on June 8 2017, every one of them was a Brexit town, a leave voting constituency.
In the disastrous 2019 General election, Labour lost 54 English seats, 52 of those seats voted to leave the EU in 2016.
One of those seats taken by the Tories was held by Paul Williams' the constituency of Stockton South. Again a local authority area that includes the constituency of Stockton-on-Tees, which voted 61.7% Leave in the 2016 EU referendum.
Williams is an arch-Remainer he was a vocal advocate of a second Brexit referendum, while Hartlepool itself voted 69.6 per cent in favour of leaving the EU. That really did not go down well there ort in the other 60% of Labour constituencies that all voted to leave the EU.
Brexit still matters, no amount of flag-shagging will remove the betrayal felt in Labour Leave voting seats from Sir Keir Starmer's second referendum policy.
The *exact* same people who are saying "Labour was always going to lose Hartlepool, it was a leave seat!" said Labour should have Sir Remain QC as the party leader because the issue no longer mattered.

Which one is it?#Localelections21

— Aaron Bastani (@AaronBastani) May 6, 2021
"Parachuting someone like that in is about the best thing they could do – for the Tories," one local councillor in the town said.
While Hartlepool has voted for a Labour MP since 1974., it now becomes the latest Red wall northern seat to turn blue.
Labour seem to be in Freefall and it's all down to Sir Keir Starmer and his centrist position. Who wants a Tory alternative when they can have the real thing. Labour need to shift back to the Left
Labour should drop Starmer now before this ebbing tide carries away all hope.
Support Labour Heartlands
Help Us Sustain Ad-Free Journalism
Welcome to the Heartlands of Independent Journalism
At Labour Heartlands, we are committed to delivering independent news, views, and opinions. Our mission is to hold those in power accountable, and we can't do it without your support. As a non-profit independent organisation, we rely on our donors to keep our journalism ad-free and impactful.
Like everyone else, we're facing challenges, and we need your help to stay online and continue providing crucial journalism. Every contribution, no matter how small, goes a long way in helping us thrive. By becoming one of our donors, you become a vital part of our mission to uncover the truth and uphold the values of democracy.
While we maintain our independence from political affiliations, we stand united against corruption, injustice, and the erosion of free speech, truth and democracy. We believe in the power of accurate information in a democracy, and we consider facts non-negotiable.
Your support, no matter the amount, can make a significant impact. Together, we can make a difference and continue our journey toward a more informed and just society.
Thank you for supporting Labour Heartlands
Just click the donate button below