Sir Keir Starmer as intervened with the readmittance of Jeremy Corbyn into the Labour Party, refusing him the whip even though he was cleared by the NEC for wrongdoing.
Keir Starmer has decided not to readmit his predecessor Jeremy Corbyn as a Labour MP, arguing that he has undermined efforts to restore the party's reputation in the Jewish community.
An NEC disciplinary panel lifted the suspension of Corbyn's party membership on Tuesday. That decision was made after he issued a conciliatory statement "clarifying" remarks he made when the damning Equality and Human Rights Commission (EHRC) report was published.
But in a strongly worded statement on Wednesday, Starmer said he would not be welcoming Corbyn back into the parliamentary Labour party (PLP).
"Jeremy Corbyn's actions in response to the EHRC report undermined and set back our work in restoring trust and confidence in the Labour party's ability to tackle antisemitism," Starmer said.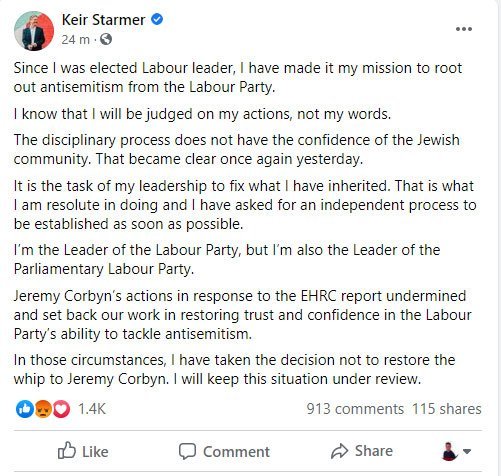 The hypocrisy is that one of the accusations into the antisemitism report was that the Leadership intervened in antisemitism stating: Labour disciplinary investigations are supposed to be independent of the party leadership.
Members should understand Sir Keir Starmer is not Leader of the Labour Party to challenge the establishment, he is there to uphold the status quo.
Maybe it really is time for a split, a new Party worthy of the people, one prepared to challenge this rigged system and bring equality and unity to a broken land.
Support Labour Heartlands
This is a "Pay as You Feel" website. You can have access to all of our online work for free. However if you want to support what we do, you could make a small donation to help us keep writing and staying ad-free. The choice is entirely yours.
PLEASE HELP US KEEP GOING AD-FREE
HELP US GROW.
The future can be ours - but only if we work together to make it happen. We've been fighting to make the Labour Heartlands a better, more fairer and equal place for over two years now. With a dedicated team and the commitment from our generous supporters giving small regular donations each month, more if they can afford it, we're winning. But there is still so much to do. We're ambitious, but we can only continue to make positive change and shape our country if more of our supporters join us on this journey. If you believe in the issues we fight for please take action and join Labour Heartlands grassroots think-and-do-tank today. It will make all the difference. And then we can make all the difference for everyone.
Not funded by millionaires or advertisers.
Labour Heartlands funded by the people.