Social media users could face a ban on anonymous accounts, as home secretary Priti Patel steps up action to tackle radicalisation in the wake of the murder of MP Sir David Amess.
Police questioning Ali Harbi Ali on suspicion of terrorism offences are understood to be investigating the possibility that the 25-year-old UK national of Somali background was radicalised by material found on the internet and social media networks during lockdown.
Ali had in the past come into contact with the government's Prevent deradicalisation programme, but was not considered a significant enough risk to come to the notice of security services.
Investigations are believed so far to have found no evidence of extensive contact with terror groups abroad. His father Harbi Ali Kullane was a former media spokesman for the prime minister of Somalia and had been involved in campaigns against the extremist al-Shabaab group in the East African country.
Ms Patel said she was determined to introduce "big changes" to the law surrounding online hate.
She said many MPs had suffered "appalling" online attacks and warned: "We can't carry on like this."
Tech companies are fiercely resisting measures in the government's draft online safety bill which would require them to provide police and security services access to encrypted messages.
And Ms Patel indicated she is considering going a step further by requiring sites such as Facebook or Twitter to retain details of the identities of people posting material which could be handed over to police investigating crimes.
Asked whether she could introduce legislation to remove the right to online anonymity, Ms Patel told Sky News's Sunday with Trevor Phillips: "I want us to look at everything and there is work taking place already.
"I spend too much time with communities who have been under attack, who've had all sorts of postings put online and it's a struggle to get those postings taken down. We want to make some big changes on that."
She later said that any restrictions on anonymity would be "proportionate and balanced", after shadow foreign secretary Lisa Nandy warned she risked catching pro-democracy campaigners and whistleblowers who have a legitimate right to conceal their identities when exposing wrongdoing online.
"We've got to get the balance right, because social media can be an enormous force," said Ms Nandy. "You've got some incredible campaigners – the women of Belarus, the pro-democracy protesters in Hong Kong, the young people of Afghanistan – they've managed to use social media in order to make themselves heard.
"And if you speak to Childline they'll say that social media has been a major problem for a lot of young people, but it's also been a way in which young people can now reach out and get help in a way that they couldn't when I was a child."
Many MPs feel under threat. I'm against a police guard, but we need action over social media abuse
Diane Abbott, who receives more online abuse than any other MP, gave her backing to legislation forcing tech giants to reveal the identity of those who peddle hate on their platforms she stated in an article for the Independent:
"In the days since the tragic death of Sir David there has been a big debate about keeping MPs safe. I have some personal experience of the fear many MPs feel. I get ten times more abuse online than any other MP, and some of it contains death threats. So, I feel strongly that online platforms like Facebook and Twitter can do a great deal more about abusive content."
Diane Abbott told The Independent that police investigations into racial abuse and threats against her had repeatedly foundered because of social media companies' insistence on protecting anonymity. And she said: "Persons inciting violence and racial hatred online should know that they will no longer have this cover."
I would hate to do anything that deterred my constituents from coming to see me. For the type of person who does not follow politics in the broadsheet newspapers, or attend public meetings, meeting their MP in person at an advice session is one of the few things that makes politics real to them.
Instead of a police guard, I think that parliament should work with the venues where MPs have their advice sessions, including funding physical methods to make MPs safer – like Perspex screens. Going forward, politicians ourselves have a role to play in taking some of the anger out of politics – including in our interactions with each other. We should try not to reflect the anger in public discourse in any of what we say, and in debate we should be attacking the policies, not the person.
The establishment and press attacks on Jeremy Corbyn were unprecedented.
David Osland Stated on twitter "In the five years between 2015 and 2020, did one single national newspaper carry one single article condemning the extended campaign of vilification against Corbyn and the psychological impact it must have had on him?"
Whereas the hypocrisy of Mail on Sunday's Dan Hodges does not go amiss, he Tweeted "It's not OK to hate Tories. And it's time for the decent people on the Left to say so > Mail On Sunday >"
It's not OK to hate Tories. And it's time for the decent people on the Left to say so > Mail On Sunday > https://t.co/JqfYoIJAgT

— (((Dan Hodges))) (@DPJHodges) October 17, 2021
That's the same Dan Hodges that put his name to this diabolical piece of gutter journalism.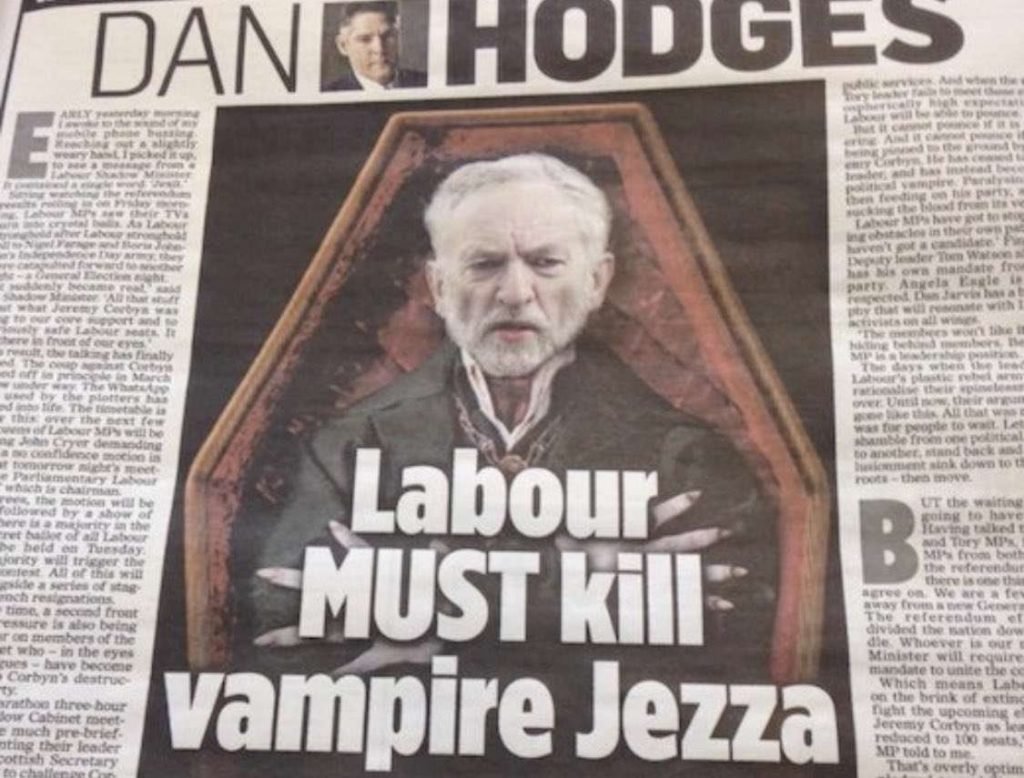 Clive Lewis MP replied to the tweet with his own saying: To focus on individuals like this is a dead cat strategy. It's also v dangerous.
If we're going to effectively tackle the violent discourse & behaviour gripping our country & politics then we need to also look at the politics & policies that create the optimal conditions for it.
Labour frontbencher's agreed there should be "limits" on the use of anonymous
Labour frontbencher's agreed there should be "limits" on the use of anonymous accounts and "repercussions for people engaging in what would be criminal behaviour if it happened in person".
The development came as shadow justice secretary David Lammy released police records showing that abuse and death threats against him had led to 13 crime reports and four intelligence reports since the beginning of last year.
And speaker of the House of Commons Sir Lindsay Hoyle revealed that he had received a car-bomb threat from a social media account based abroad.
Sir Lindsay toldTimes Radio that the social media companies "need to get their act together".
"We should know who is putting things up on social media, we should know the person behind these fake accounts – offshore accounts being used for threats and intimidation," he said.
"Companies have got one chance. If it was up to me and I was in charge of legislation, I would have done something."
Sir Lindsay has cleared Commons business on Monday for tributes to Sir David from MPs, including prime minister Boris Johnson.
A minute's silence in honour of Sir David will be held before proceedings begin, a book of condolences will be opened and MPs will later take part in a service of prayer and remembrance in St Margaret's Church on Parliament Square. Sir Lindsay confirmed that a plaque bearing Mr Amess's coat of arms will later be installed in the Commons, as was the case following the murder of Jo Cox in 2016.
In general, the worst culprits for abusive behaviour online are those that hide behind fake profiles.
Support Labour Heartlands
Help Us Sustain Ad-Free Journalism
Sorry, I Need To Put Out the Begging Bowl
Independent Journalism Needs You
Our unwavering dedication is to provide you with unbiased news, diverse perspectives, and insightful opinions. We're on a mission to ensure that those in positions of power are held accountable for their actions, but we can't do it alone. Labour Heartlands is primarily funded by me, Paul Knaggs, and by the generous contributions of readers like you. Your donations keep us going and help us uphold the principles of independent journalism. Join us in our quest for truth, transparency, and accountability – donate today and be a part of our mission!
Like everyone else, we're facing challenges, and we need your help to stay online and continue providing crucial journalism. Every contribution, no matter how small, goes a long way in helping us thrive. By becoming one of our donors, you become a vital part of our mission to uncover the truth and uphold the values of democracy.
While we maintain our independence from political affiliations, we stand united against corruption, injustice, and the erosion of free speech, truth and democracy. We believe in the power of accurate information in a democracy, and we consider facts non-negotiable.
Your support, no matter the amount, can make a significant impact. Together, we can make a difference and continue our journey toward a more informed and just society.
Thank you for supporting Labour Heartlands
Just click the donate button below