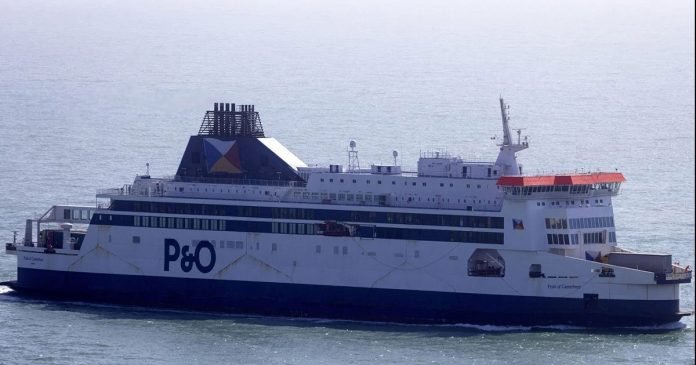 P&O Ferries has fired 800 seafaring staff with immediate effect, but some crew are defying orders and refusing to leave their ships in protest.
The ferry operator said the "tough decision" was made to secure the future of the business.
Union RMT said crewmembers were being "replaced with foreign labour".
Rumours have persisted in the industry that suggested the ferry line, which is owned by the Dubai-based company DP World, would be making large-scale redundancies and replacing crew with seafarers recruited from abroad. It seems those rumours had substance.
P&O have said that its services will not operate for the "next few days", with passengers told to use other companies.
P&O said its survival was dependent on "making swift and significant changes now"
"In its current state, P&O Ferries is not a viable business. We have made a £100m loss year on year, which has been covered by our parent DP World. This is not sustainable. Without these changes, there is no future for P&O Ferries."
Private security officers were sent onto one ship docked at Larne Harbour in Northern Ireland, to remove staff on board, according to the RMT.
Gary Jackson, a fulltime officer onboard the Pride of Hull said the crew were informed they had lost their jobs through a pre-recorded Zoom message at 11 am and had not received anything in writing from the company.
P&O services scheduled for Monday include 14 between Dover and Calais, three between Liverpool and Dublin and seven between Larne in County Antrim and Cairnryan in Dumfries and Galloway.
The union said it has instructed members to stay on board their vessels once they have docked or risk being "locked out" of their jobs.
"We are digging in for the long-haul. We are determined to fight," RMT spokesperson Geoff Martin said.
A seafaring P&O employee told the BBC his colleagues onboard have refused to disembark and are instead "in their cabins refusing to work".
Earlier today Ferries turned back and ordered passages and crew of the ships.
According to the RMT: Private security officers have been sent onto one ship docked at Larne Harbour in Northern Ireland to remove staff on board.
An RMT spokesperson told the BBC: "This is an absolutely disgraceful way to treat loyal P&O staff who have worked throughout this pandemic, to be thrown off vessels in this heavy-handed way is appalling."
Under UK law it's not possible to make people redundant unless the role no longer exists.
P&O ships are registered in Cyprus they are EU ships the companies are registered in Jersey outside of UK worker's rights otherwise they could not do this.
Cheap exploited labour is a norm for EU companies. If they were still registered in the UK this would be a different scenario.
Although there are many reasons for legitimate redundancy, it's illegal for you to be made redundant whilst your job still exists.
European court of justice's ruling in the Viking case in 2007. At issue was the concept of "posted workers", employees hired in one country but employed in another. Viking, a Finnish ferry company, posted workers from Estonia as a way of getting round collective bargaining agreements made in Finland. The action by the company – a classic example of a race to the bottom – was challenged by the International Transport Workers Federation and ended up in the ECJ. The judges sided with the company, with the ECJ advocate general Poiares Maduro saying "the possibility for a company to relocate to a member state where its operating costs will be lower is pivotal to the pursuit of effective intra-Community trade".
This is an attack on workers and further exploitation of foreign workers that should be fought at every turn.
Support Labour Heartlands
PLEASE HELP US KEEP GOING AD-FREE
This is a "Pay as You Feel" website.
Hey there! Thanks for stopping by. If you've enjoyed reading the articles on Labour Heartlands so far, We would be incredibly grateful if you could consider making a small donation. Labour Heathlands is not your typical news outlet. We are not here to simply regurgitate the daily news cycle, that's for the rest of them. Our focus is on delving deeper, uncovering the untold stories and shedding light on the issues that the mainstream media chooses to ignore.
Our unwavering commitment to journalistic integrity means that we are not influenced by any external forces. We are not beholden to PR companies, advertisers or press barons, and we refuse to let anyone dictate what we report on. Our editorial independence is sacrosanct, and our only allegiance is to the truth.
While we do not align ourselves with any particular political party, we stand firmly against corruption, injustice and the erosion of truth and the rule of law. We believe that accurate information is the lifeblood of a democracy and that facts are not up for debate.
Once again, thank you for your support – We truly couldn't do this without you!
PLEASE HELP US KEEP GOING AD-FREE