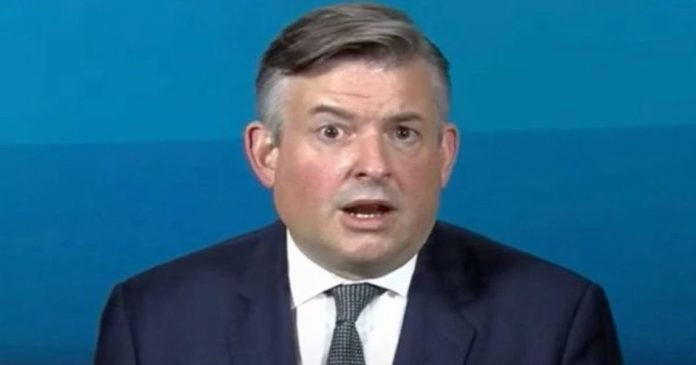 Jonathan Ashworth sparked fury as he offered 'condolences' to the family of the Liverpool suicide bomber.
The Shadow Health Secretary spoke to Sky News on Monday expressing shock at the explosion which took place outside Liverpool Women's Hospital just before 11am on Sunday. But then goes on offering his "condolences" to the family of the Liverpool taxi suicide bomber.
'Absolutely shocking that that would happen anywhere, but particularly outside a women's maternity hospital,' he told the broadcaster. 'Obviously, we pay our respects and send our condolences to the family of the man who lost his life. I just want to thank the emergency services for the way they responded.'
Amid uproar on social media this afternoon, the MP for Leicester South apologised on Twitter, insisting he had 'misread the news ticker' and had 'thought a member of the public had now died'.
The suspected attacker was killed in the explosion outside the hospital in Liverpool just before 11am on Remembrance Sunday.
The attacker died in the explosion while hero taxi driver David Perry escaped with injuries after noticing a "flashing light" on his passenger.
During the interview with Sky News, Mr Ashworth added: 'We ought not to speculate at this stage about how it happened or the motivations and so on. We need to leave the emergency services, the appropriate services to carry out their investigations.
'But I imagine the Prime Minister, when he speaks in Parliament later today, will touch upon this and we will all look forward to hearing what he has to say about how this very desperate, shocking situation happened and how it will be properly investigated.'
It's embarrassing in so many ways, a shadow frontbencher not being up to date with an immediate terror incident is one thing but not being aware of the circumstances while regurgitating platitudes, shows his disconnection with the people he serves.
To make matters worst this incident took place outside the front doors of a hospital, Jonathan Ashworth is Shadow Secretary of State for Health and Social Care.
Support Labour Heartlands
PLEASE HELP US KEEP GOING AD-FREE
HELP US GROW.
This is a "Pay as You Feel" website.
This blog has no source of state, corporate or institutional finance whatsoever. It runs entirely on voluntary subscriptions from its readers – many of whom do not necessarily agree with every article, but welcome the alternative voice, insider information and debate.
You can have access to all of our online work for free. However if you want to support what we do, you could make a small donation to help us keep writing and staying ad-free. The choice is entirely yours.