Sir Keir Starmer has committed Labour to back Boris Johnson's new Brexit legislation if the prime minister addresses "substantial cross-party concerns".
Sir Keir Starmer contended a free trade deal can still be struck with Brussels if negotiators from both sides "hunker down in good faith and break the logjam".
However, the Labour leader offered to give his backing to the legislation if the issues were resolved stating contended a free trade deal can still be struck with Brussels insisting that "both sides hunker down in good faith and break the logjam" to ensure a Brexit deal is reached.
Writing in the Sunday Telegraph, he threw down the gauntlet to Johnson as he faces a rebellion from within his own party by saying Labour could back the internal market bill.
"Labour is prepared to play its part in making that happen. If the government fixes the substantial cross-party concerns that have been raised about the internal market bill, then we are prepared to back it," Starmer said.
"But if they do not, and the talks collapse, then it is their failure and incompetence that will have let the British people down."
But the changes necessary to win Labour's support are understood to be major, with it needing to no longer risk breaching international law and to address devolved administrations concerns of a "power grab".
Starmer said ministers are facing a task "as ludicrous as it is frustrating" in telling the public to stick to rules to prevent the spread of coronavirus while defending the potential breach of international law.
"The priorities of the British people. We should be getting on with defeating this virus, not banging on about Europe," the MP said.
"Get on with Brexit and defeat the virus. That should be the government's mantra."
Senior Tories are tabling an amendment to the Bill, which is due to be debated in the Commons on Monday.
Is it a wonder remainers feel they've been.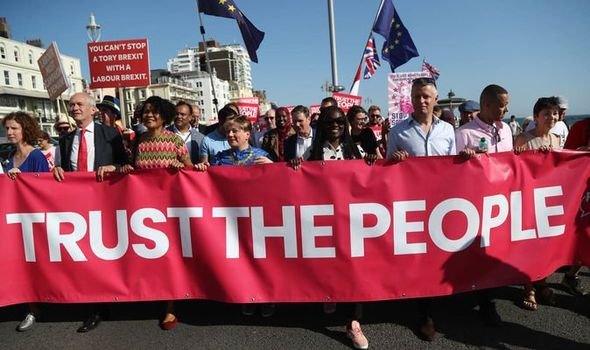 This is a far contrast from Sir Keir Starmer,s position while shadow Brexit minister under Jeremy Corbyn, Starmer constantly undermined Corbyn on Brexit advocating for a second referendum even though it was never within Labours gift to deliver upon, for example, Corbyn in an interview with German magazine Der Spiegel claimed Labour "can't stop" Brexit as he urged his party to "recognise the reasons why people voted Leave".
However, speaking to Sky News, Sir Keir Starmer directly countered the stance of his then party leader saying:
"Brexit can be stopped," the then shadow Brexit secretary said. "But the real question is, what are the decisions we're going to face over the next few weeks and months?
"Decision one is on the deal; decision two is – if the deal goes down – should there be a general election?
"And decision three is – if there's no general election – all options must be on the table, including the option of a public vote.
"That's the clear position and Jeremy's signed up to that, I'm signed up to that, and that was the position that was passed at Labour Party conference."
Public vote.
Sir Keir Starmer battled to keep alive the prospect of Labour supporting a second Brexit referendum when Jeremy Corbyn's offer to back Theresa May if she flexes her red lines.
Corbyn had written to the prime minister on Wednesday night laying down his conditions for supporting her deal without mentioning the possibility of a public vote, sparking the furious response from Labour MPs and anti-Brexit activists.
Starmer, who was regarded by many anti-Brexit MPs as their best hope of pushing Labour's direction, tweeted that Corbyn's letter did not "take the option of a public vote off the table" again undermining Corbyn's position at the time.

Its clear Starmer as shadow Brexit secretary pushed the Labour party into an untanneble postion while all the time he used the so-called peoples' vote to propel him into the leadership position.
Support Labour Heartlands
Help Us Sustain Ad-Free Journalism
Sorry, I Need To Put Out the Begging Bowl
Independent Journalism Needs You
Our unwavering dedication is to provide you with unbiased news, diverse perspectives, and insightful opinions. We're on a mission to ensure that those in positions of power are held accountable for their actions, but we can't do it alone. Labour Heartlands is primarily funded by me, Paul Knaggs, and by the generous contributions of readers like you. Your donations keep us going and help us uphold the principles of independent journalism. Join us in our quest for truth, transparency, and accountability – donate today and be a part of our mission!
Like everyone else, we're facing challenges, and we need your help to stay online and continue providing crucial journalism. Every contribution, no matter how small, goes a long way in helping us thrive. By becoming one of our donors, you become a vital part of our mission to uncover the truth and uphold the values of democracy.
While we maintain our independence from political affiliations, we stand united against corruption, injustice, and the erosion of free speech, truth and democracy. We believe in the power of accurate information in a democracy, and we consider facts non-negotiable.
Your support, no matter the amount, can make a significant impact. Together, we can make a difference and continue our journey toward a more informed and just society.
Thank you for supporting Labour Heartlands
Just click the donate button below