Jeremy Corbyn has just given Declassified UK an interview recalling specific details of the establishment attacks against the Labour Party under his leadership.
Matt Kennard stated: "The month before the 2019 election, I decided to go through the newspaper clippings from Corbyn's four years as Labour leader to try to locate all the hit pieces on him that emanated from the British military and intelligence establishment. What I found shocked me.
Some 34 major national stories attacking Corbyn as a "threat" to British security had come from elements within the national security state. Laid out in chronological order it looked like a campaign – and this was only what they were doing in public. It was likely the tip of the iceberg."
He wasn't wrong!
However, It really didn't need Mi5 or Mi6 to sabotage Jeremy Corbyn, the right-wing of the Labour Party had that under control, they would never allow him to become prime minister, and neither would they allow him to field an effective opposition.
With this in mind, Gavin Lewis revisits one demonstrable example of the anti-Labour media disinformation campaign that when shown in images is quite shocking, what's more, it's appalling that the media would mock-up and stage such events, however, it does show their true face.
Labour HQ, 4th September 2018 – Misreported Fake A-S Protest: One Photographed Day in the Media's Anti-Corbyn-Labour Campaign.
By Gavin Lewis
In the summer of 2014, Israel bombarded Gaza with "6,000 airstrikes, 14,500 tank shells and 45,000 artillery shells unleashed between July 7 and Aug. 26". According to UN figures Israel killed 2,251 Palestinians – 551 of these were children. Cynically overwriting these indigenous victims, immediately following this, UK critics of Israel – including large sections of the Labour Party – were in a pre-emptive action, subjected to a media campaign of McCarthyite anti-Semitism smears.
This has involved tactics whereby British Jewish critics of Israel are treated as the 'wrong-sort-of-Jews'. The campaign has also demanded that the Labour Party adopt the IHRA (International Holocaust Remembrance Alliance) definition of anti-Semitism which includes protection of Israel in its definition and exempts it from scrutiny on the basis of Nazi practices, Racism and traditional white colonialist oppression.
In one such push against Labour, the corporate media en-masse splashed a story about a supposed major anti-Semitism protest outside Labour HQ on 4th September 2018 in connection with attempts to force the party to adopt this much disputed pro-Israel IHRA definition of anti-Semitism.
What was significant, was just how little visual substantiation existed to support claims of a major protest or even to legitimise the story's prominence, or particularly, prioritise this Pro-Israel point of view within the overall coverage.
The available photographic material that in wide-shot, takes in the scale of the Pro-Israel protests, suggests there were only up to 10 people there.
Biased partisans might argue that perhaps it was early when these photos were taken and far more protesters were due to arrive? However, there was no attempt in any coverage across the corporate media to use a wide contextualising shot to give a genuine sense of events and particularly the number of participants.
Given the restricted pool of photography subjects, a number of these individuals are easily identifiable.
They include Harry Saul Markham (in the hat) the youth director of the extremist rightwing Israel supporting Herut UK. Deborah Markham is the woman with red hair. Jonathan Hoffman in the grey suit and glasses is from the Zionist federation. And regular Pro-Israel activist Damon Lenszner is in the White t-shirt.
Despite this, most corporate news outlets rather than describe this as a pro-Israel event, mislabelled it a protest against still unproven, Labour anti-Semitism. In photo framing, the same limited group of 4-5 faces appear prominent in tight-shot again-and-again across the corporate media. Though they're identifiable, it was also not mentioned in coverage that at this time Hoffman and Lenszner had charges pending, for assault and intimidation of Palestinian supporters. These were subsequently plea-bargained down to convictions for 'harassment and threatening behaviour'.
In its written reporting, Rupert Murdoch's half owned Sky News, fails to mention that the anti-racist, pro-Palestinian 'Jewish Voice for Labour' was actually making up a significant part of the opposing far larger Corbyn supporting demonstration – instead for Sky News the smaller group of Pro-Israel activists were represented as the only British Jews present.
Sky also uses a very tight shot of just a few people which gives the false impression that outside the photographic frame there were many more of these pro-Israel activists likely demonstrating.
Across the corporate media, you'll notice the same tactic used. It would appear that the entire media is using the same source.
Image copyright "Fair Use,": criticism or review, or news reporting. This demonstrates how these images have been used in a media manipulation campaign.  
Sky.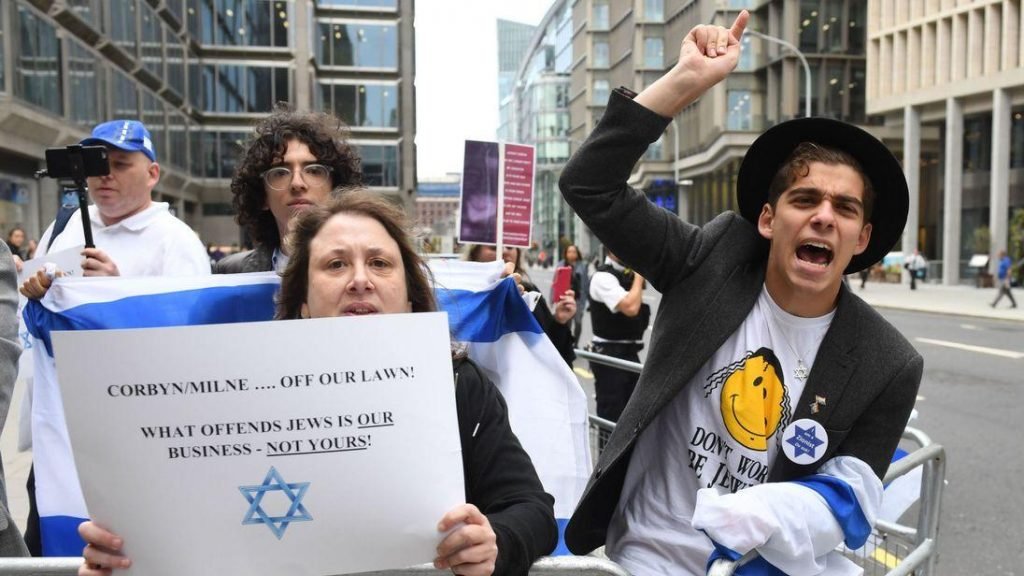 Repeated here on BBC coverage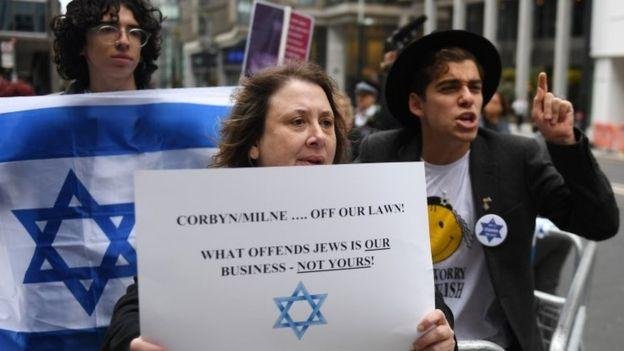 Here the London Evening Standard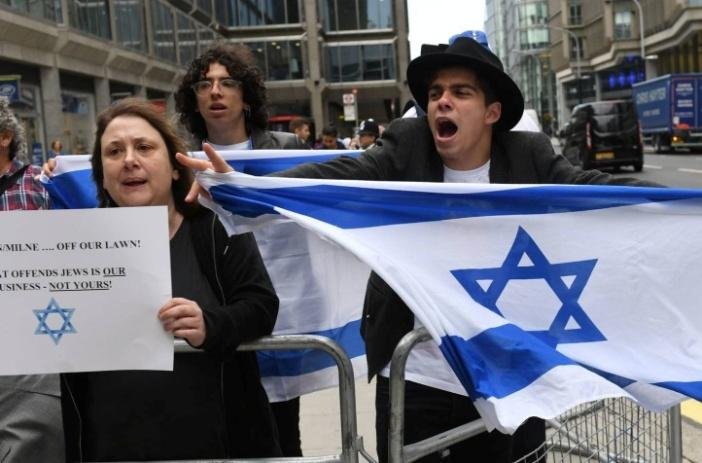 Here the Daily Mirror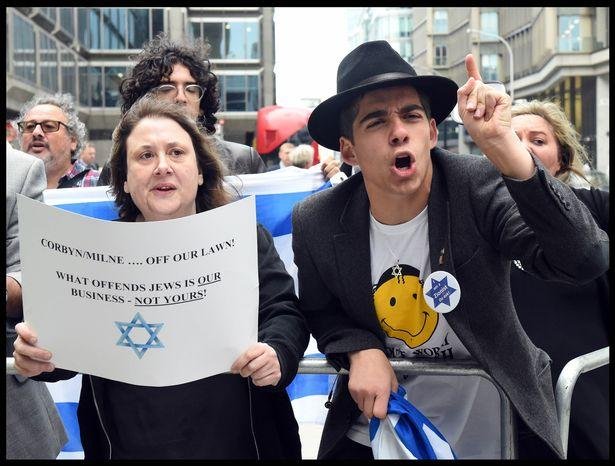 Here's the Talk Radio news website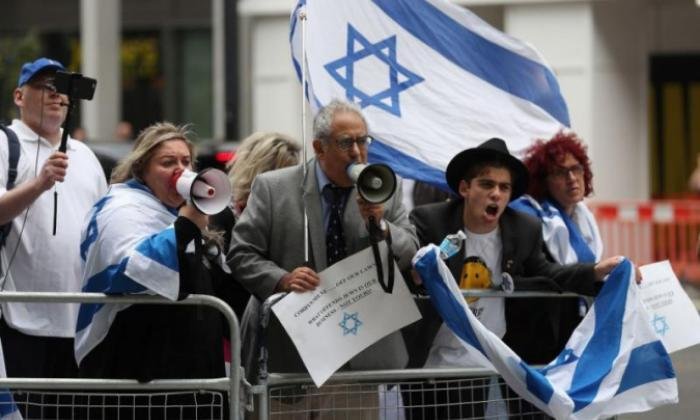 Here's a similar representation from the Daily Express.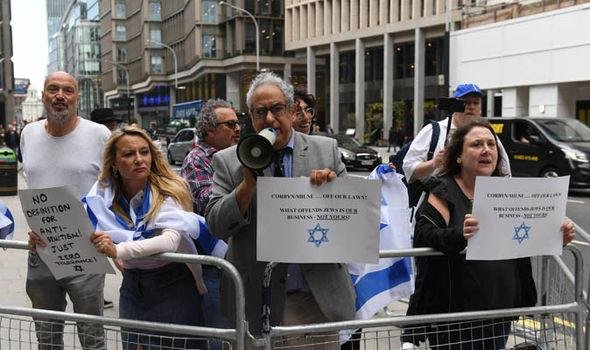 Repetitively the same group even feature in Russia's RT's stock footage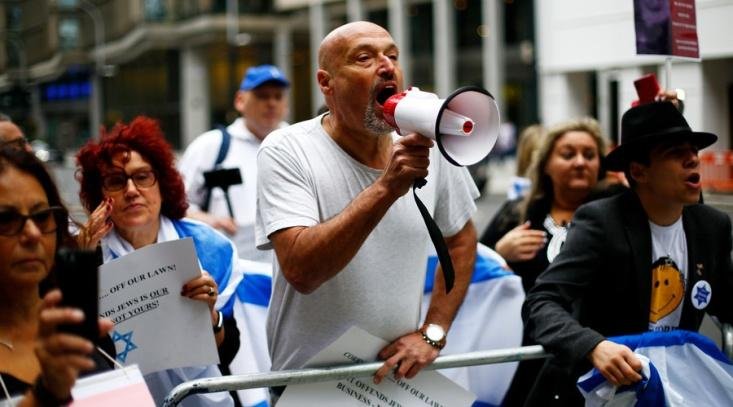 The contrast
By contrast, if you look at the available imagery of the Pro-Corbyn/Labour demonstration it is apparent that accommodating its genuine mass, requires a very different compositional photographic technique.
This size of the crowd necessitates the use of a wide shot taken at some distance.
The content also represents something that the corporate media in its service to the pro-Israel supposed 'anti-Semitism narrative' refuses to recognise.
For all the claims of religious-ethnic victimhood, what we are seeing is the privilege of a small white group juxtaposed against – as represented in these images – a clearly larger multi-cultural demonstration.
This is indicative of what is really being contested, which is a form of white colonialism being questioned by an anti-racist demographic and tradition. But again this is something that is absented and subverted by corporate media representation.
Significantly regarding the issue of this anti-Labour protest's privileged level of representation, this racist double-standard reportage dynamic, is part of a regime whereby the BBC also absents any reference to the white protestors' support for Israel Apartheid – an oppression which has been substantiated and condemned by numerous Nobel Peace Winners, Arch-Bishop Desmond Tutu, President Jimmy Carter, Nelson Mandela, UN officials such as Special Rapporteur John Dugard, numerous South African experts, and more recently, Israeli human-rights group B'Tselem.
Illustrating the manipulative privileged level of pro-Israel representations, we also by comparison have the establishment absenting of inconvenient, anti-establishment, genuine social movements.
For example in November 2015, France was rocked by the Yellow Vest protest movement, where 81,000 people took to the streets to protest President Macon's policies. In contrast to the highlighted 10 supposed anti-semitism protesters, the BBC allowed no recognition of protests until finally Macron issued a public relations release condemning the protestors.
And a comparative analysis reveals a far more overt racist double standard. In contrast to the Pro-Israel group of 10 supporters prioritised in corporate media accounts of 4th September events, the presence of hundreds of protesters at a posthumous vigil for Mark Duggan a Black victim of a UK police killing were buried in BBC online reports and were never equivalently highlighted and headlined in BBC TV News 24 coverage. Similarly after the death of another Black Briton Rashan Charles, at the hands of the police hundreds protested and rioted in Hackney only to have their actions again buried by absent BBC TV News coverage and again simply ghettoised on its website. It was the same absented story about the Jermaine Baker, killed by police his family claim while asleep in his car.
So, real people, real events and real news were buried until 'contextualising' establishment public relations material was issued. Many of these anti-racist protests and also, the Yellow Vests demonstrations with their many police inflicted injuries, were similarly shunned by Rupert Murdoch's half owned Sky News.
These types of editorial policies on representing protest, reinforce the inescapable conclusion that a handful of members of the Pro-Israel lobby, were getting privileged coverage, not because they were oppressed, but precisely because their activities were aligned, with an external colonial site of western power.
This privilege has manifested itself in the tight-framed selective misleading MSM visual grammar afforded to the lobby. By comparison – and relevant to the issue of genuine social representation – even easily accessible reverse and side photographic shots of 4th September 2018, reveal the real differing sizes of the competing demonstrations at Labour HQ.
The inequalities and irregularities in the visual representations raise suspicions that the Pro-Israel protesters as a lobby are embedded, feeding the media material and getting exactly the sort of coverage they want. For example, if the anti-semitism protests are a genuine significant social movement why are we seeing the same faces as photographic record on different staged events?
Here two of the same individuals feature on the Daily Telegraph's photo coverage of an admittedly larger event on the 26th March 2018.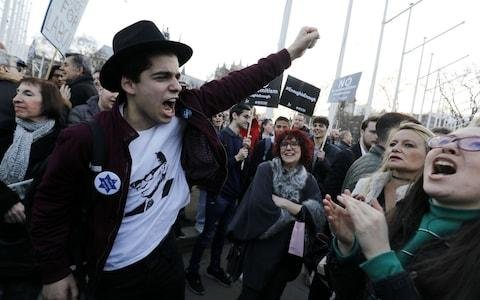 Here are at least 3 familiar faces at the same event.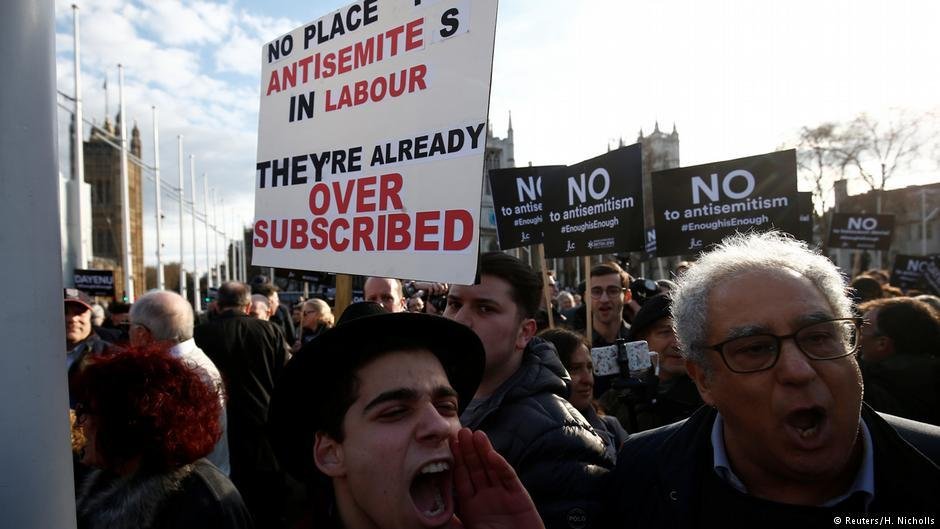 At the same event, Jonathan Hoffman is pictured holding the Israeli flag in Times of Israel coverage.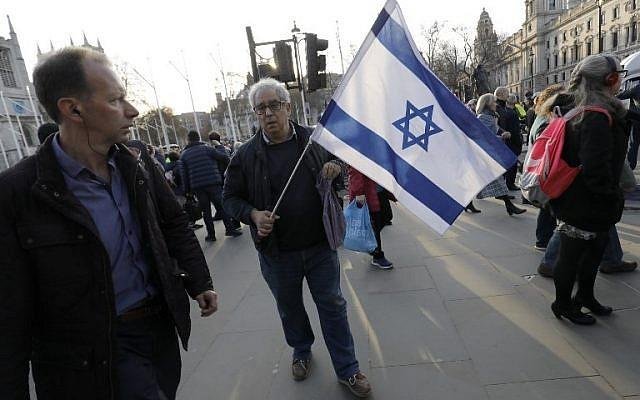 This begs a number of questions. Despite a limited group of people appearing again-and-again on protests, why – instead of representing them as merely ordinary members of the public – in media coverage are these individuals rarely referred to as political representatives or activists?
Who is taking the types of photos cited here and supplying them to the media? What is their relationship to the various media organisations? Are they therefore embedded or partially embedded? As cited BBC-type editorial practices demonstrate, comparative Black and/or working-class activists operating on this model would often be denied representation or smeared as 'agitators' or 'provocateurs'.
Arguably these examples and the broader anti-Semitism scare are quite telling. We are dealing with a media that has buried reference to the million and more indigenous people killed in Iraq. It has previously buried reference to Afghan public protests of the Western coalition's killing of children.
It has treated as questionable the grievances of the Black Lives Matter movement.  Numerous Muslim victims of New Labour's torture program – such as pregnant Fatima Boudchar  – have been treated as irrelevant. 
If it has consistently unashamedly been manipulating representation and championing supporters of Israel, can this be because they are genuinely under-privileged or because this fits a domestic neoliberal and Western Imperialist foreign policy agenda? Significant Jewish anti-racist social movements such as Jewish Voice for Peace (US), or Jewish Voice for Labour (UK), struggle for equivalence in platform prominence.
In terms of victimhood, put anyone of the Pro-Israel activists represented here in media imagery on the street alongside a Black minority member of the public and a Muslim woman wearing a Niqab, and who would be the most likely target of violent street racism? Similarly, who would most likely be ghettoised in society's lower income groups, with least politico-cultural leverage?
As for significant grievances to this day, Jeremy Corbyn is yet to have any victims –Jewish or otherwise -officially attributed to him. Not a claim that former leaders Blair or Brown could similarly make.
ABOUT THE AUTHOR
GAVIN LEWIS
Gavin Lewis is a freelance Black British mixed-race writer and academic. He has published in Australia, the United Kingdom, Canada and the United States on film, media, politics, cultural theory, race, and representation. He has taught critical theory and film and cultural studies at a number of British universities. He is a member of the British trade union Bectu.
The views and opinions expressed in this article are those of the authors and do not necessarily reflect the official policy or position of Labour Heartlands or its editors Any content provided by our bloggers or authors are of their opinion and are not intended to malign any religion, ethnic group, club, organisation, company, individual or anyone or anything.
Support Labour Heartlands
Help Us Sustain Ad-Free Journalism
Sorry, I Need To Put Out the Begging Bowl
Independent Journalism Needs You
Our unwavering dedication is to provide you with unbiased news, diverse perspectives, and insightful opinions. We're on a mission to ensure that those in positions of power are held accountable for their actions, but we can't do it alone. Labour Heartlands is primarily funded by me, Paul Knaggs, and by the generous contributions of readers like you. Your donations keep us going and help us uphold the principles of independent journalism. Join us in our quest for truth, transparency, and accountability – donate today and be a part of our mission!
Like everyone else, we're facing challenges, and we need your help to stay online and continue providing crucial journalism. Every contribution, no matter how small, goes a long way in helping us thrive. By becoming one of our donors, you become a vital part of our mission to uncover the truth and uphold the values of democracy.
While we maintain our independence from political affiliations, we stand united against corruption, injustice, and the erosion of free speech, truth and democracy. We believe in the power of accurate information in a democracy, and we consider facts non-negotiable.
Your support, no matter the amount, can make a significant impact. Together, we can make a difference and continue our journey toward a more informed and just society.
Thank you for supporting Labour Heartlands
Just click the donate button below