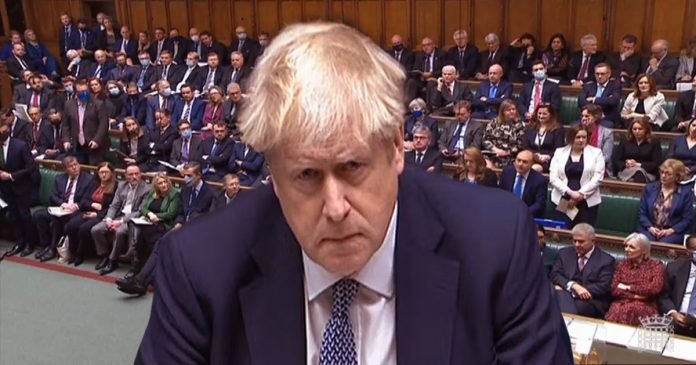 There's a rumour coming from Tory central, suggesting if this is to be Boris Johnson's Waterloo then he will remove the whip from disloyal MPs and call an election as he did in 2019, he will state he has not been allowed to get the job done!
That if MPs cannot support him, he will get new ones.
Mr Johnson told ministers he was staying "focused on the important issues". The PM also reminded ministers that 14 million people voted for him, and said the party would have to "take that mandate off them". of course the mandate he is talking about is to get Brexit done!
In 2019 the Tory whip was removed from 21 Conservative MPs who voted against Boris Johnson's government over Brexit
The 21 senior Tories who rebelled against Boris Johnson in 2019 in a bid to block a no-deal Brexit had the whip removed.
The then Tory chief whip Mark Spencer phoned the Conservative MPs to tell them they were effectively being expelled from the party.
Two former chancellors are among the 21 Tories who have been stripped of the Conservative whip
The group were among the 328 MPs who voted against the Prime Minister in a bid to stop the UK from crashing out of the EU.
Johnson then called a general election Which resulted in the Conservative Party receiving a landslide majority of 80 seats. All done on three words, 'Get Brexit Done'!
Johnson if he does go down that road will state he has not been allowed to get the job done due to those that wish to overturn Brexit.
This would also be a nightmare for the Labour Party who have struggled with finances. Keir Starmer also just dumped Labour's manifesto of hope leaving the party bare on policy.
Johnson is determined to stay in office.
James Duddridge, the PM's parliamentary private secretary, told Sky News: "The prime minister is in buoyant mood and will fight on."
The senior ally added: "He has a 14 million mandate and so much to do for the county. I expect him to make senior cabinet appointments this evening."
Boris Johnson has sacked senior cabinet minister Michael Gove after the levelling up secretary told him he had lost support of the Conservative Party and should now resign.
The prime minister is refusing to resign and will "fight on", his allies say, after dramatic confrontations at No 10 with senior cabinet ministers who have pleaded with him to accept the game is up.
Mr Gove privately told Mr Johnson it is time to quit as PM at a meeting earlier on Wednesday.
Referring to Mr Gove as a "snake", one No 10 source told the BBC that "you can't have a snake who is not with you on any of the big arguments who then gleefully tells the press the leader has to go".
Following Mr Gove's sacking, Tory MP Danny Kruger announced he was quitting as a parliamentary private secretary (PPS) in the levelling up department, followed by James Daly's resignation as PPS at the Department for Work and Pensions.
The powerful 1922 Committee of Conservative backbenchers pulled back from a threat to change party rules immediately to allow another confidence vote in Boris Johnson.
The group decided it would be unfair to ditch the 12-month grace period currently enjoyed by the prime minister before committee elections can take place on Monday.
However, a source on the committee said the group does not expect Mr Johnson to remain in power until Monday, after a group of cabinet ministers headed to No 10 to tell the PM it is time to go.
Despite the lack of agreement on a rule change, 1922 committee chair Sir Graham Brady was reportedly heading into Downing Street to "offer wise counsel" on Wednesday night.
Tory MP Alec Shelbrooke said nominations to the 1922 Committee will close at midday Monday, before a vote takes place between 2pm and 4pm on Monday, with results soon afterwards.
It would then be up to a new committee to decide whether to change the rules to bring forward a fresh confidence vote, which currently cannot take place until 2023 after the PM narrowly survived last month's ballot.
Mr Johnson would be expected to be defeated in such a vote – if he manages to cling on until next week – after dozens of Tory MPs turned on him or spoke out against him for the first time in the last 24 hours.
Mr Shelbrooke later told Sky News it is "only a matter of time" before Mr Johnson leaves No 10.
More than 40 resignations of ministers, aides and envoys have followed the sensational exit of Rishi Sunak and Sajid Javid from cabinet on Tuesday night.
This is the night of the long knives, what happens in the morning will determine the Tory Party's next chapter. It may also result in a general election that will be just as polarised as 2019
Support Labour Heartlands
PLEASE HELP US KEEP GOING AD-FREE
This is a "Pay as You Feel" website.
Hey there! Thanks for stopping by. If you've enjoyed reading the articles on Labour Heartlands so far, We would be incredibly grateful if you could consider making a small donation. Labour Heathlands is not your typical news outlet. We are not here to simply regurgitate the daily news cycle, that's for the rest of them. Our focus is on delving deeper, uncovering the untold stories and shedding light on the issues that the mainstream media chooses to ignore.
Our unwavering commitment to journalistic integrity means that we are not influenced by any external forces. We are not beholden to PR companies, advertisers or press barons, and we refuse to let anyone dictate what we report on. Our editorial independence is sacrosanct, and our only allegiance is to the truth.
While we do not align ourselves with any particular political party, we stand firmly against corruption, injustice and the erosion of truth and the rule of law. We believe that accurate information is the lifeblood of a democracy and that facts are not up for debate.
Once again, thank you for your support – We truly couldn't do this without you!
PLEASE HELP US KEEP GOING AD-FREE