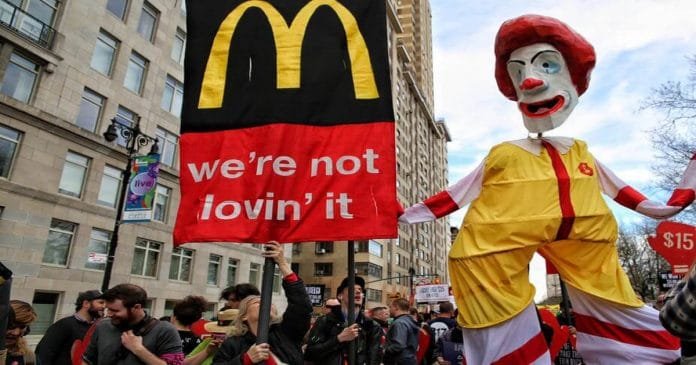 When it comes to their wages, McDonald's workers around the world are not "Loving It" – and they haven't been shy about expressing their discontent over the past years.
In April, 2016 fast food workers led the most global strike in history. It took place in 300 cities, in more than 40 countries in every region of the globe. It was a day of action against what activists called "McJobs" – low-wage, precarious work. And it caught the attention of the world.
These protests have continued to both highlights the plight of low wage workers and the strength of solidarity throughout the globe showing how people and unions can organise and take direct action.
A global network
Like popular culture, the problems of today's work world are global. As the slogan goes, "McJobs Cost Us All." Vast, transnational low-wage employers like McDonald's and Wal-Mart drive wages down for everyone. With more than half of U.S. workers earning less than US$30,000 a year in 2014, the poverty line for a family of five, it is not a surprise that the Fight for $15 movement has attracted workers of all kinds.
The movement grew and soon bigger than just the United States. In Manila, young Filipino activists in the RESPECT Fast Food Worker Alliance staged singing, dancing flash mobs in their nation's legislature to demand labor protections. And, in Moscow, fast food workers staged protests to highlight the fact that they were not teenagers working for "going out" money but adults trying to support families with inadequate wages.
Where did all this anger come from? In 2015, 52 percent of fast food workers in the U.S. received public assistance to make ends meet. Many had to work two and three jobs. Some commuted to work from homeless shelters. Maia Montcrief from Long Beach, California, told me that she lives in a one-bedroom apartment with six people. She is one of the lucky ones.
Though fast food workers have protested at many global and localized chains, the main focus of their movement has been McDonald's. With 36,538 restaurants in 119 countries, McDonald's is the world's second-largest private employer. Only Wal-Mart employs more.
"Because McDonald's has employees everywhere," activist Bleu Rainer told me, "everything they do has a global impact that affects all workers."
Today the struggle continues!
Trade unionists from New Zealand, Spain, Thailand, the United States and Britain met at the Unite union's headquarters to discuss the successes and obstacles that workers have faced in their countries.

They spoke about their common issues, such as low minimum wages and unpaid work hours, challenges in organising young people, sexual harassment in the workplace and a lack of mainstream media attention.

Unite general secretary Len McCluskey congratulated the unions for working in the "most difficult" sector.Saying:
We are fighters, we are not afraid to go where others fear to tread,

"Organising in the hospitality sector is incredibly difficult. We can give solidarity to one another and learn from one another. The time has come for the voice of hospitality workers to be listened to."

The conference was opened by Sue Longley, general secretary of the IUF (International Union of Food, Agricultural, Hotel, Restaurant, Catering, Tobacco and Allied Workers' Associations), who declared: "Fast-food workers have to have rights and they should be allowed to work with dignity and respect."

University of York professor Tony Royle spoke about his 20 years of research on the fast-food industry in Europe, noting that workers at 90% of the world's two million McDonald's branches — not counting franchises — are on hourly contracts.

"There is an increasing pay gap between people at the top and workers at the bottom," he said, and little or no protection from management for workers who are abused by customers.

He warned that McDonald's is a company "highly trained in union-busting," where managers are taught to catch out and end organisation.

Prof Royle also criticised the EU European Works Council Directive, arguing that regulations do not work for large companies such as McDonald's.

Fast-food workers in the US began a three-day strike today, joined by airport, hospital, childcare and higher education staff and other low-paid employees.

International demonstrations for fast-food workers' rights will take place in Chile, Colombia, the US, Belgium, Italy, Germany, Philippines and Japan as part of the #FastFoodGlobal movement.

Bakers, Food and Allied Workers Union general secretary Ronnie Draper told the Star that the conference provided an "absolutely fantastic" opportunity to meet representatives from across the world.

"With this much support, I don't see how we can fail," he said.


Global companies bring global problems, and the only way against these is for trade unions across the globe to work with each other hand in hand.
Thursday, October 4th, workers from McDonald's, JD Wetherspoons and TGI Friday's are going on strike.
Workers from McDonald's, JD Wetherspoons and TGI Friday's will be on the picket line tomorrow demanding better working conditions across the hospitality sector: £10 an hour, an end to precarious contracts and for their right to a union to be respected.
Corporations like McDonald's and TGI Friday's are scared of bad press, and their strategy will be to stay quiet and hope this blows over. That's not what our movement does.
Show your support and find an action near you.
Show your Solidarity on Social Media
You can show your solidarity with Wetherspoons strikers by 'crossing spoons'. Take a picture of yourself, or a group holding crossed spoons and share it on social media with the hashtag #SpoonStrike. You can also use the hashtag #FFS0410.
Support Labour Heartlands
Help Us Sustain Ad-Free Journalism
Sorry, I Need To Put Out the Begging Bowl
Independent Journalism Needs You
Our unwavering dedication is to provide you with unbiased news, diverse perspectives, and insightful opinions. We're on a mission to ensure that those in positions of power are held accountable for their actions, but we can't do it alone. Labour Heartlands is primarily funded by me, Paul Knaggs, and by the generous contributions of readers like you. Your donations keep us going and help us uphold the principles of independent journalism. Join us in our quest for truth, transparency, and accountability – donate today and be a part of our mission!
Like everyone else, we're facing challenges, and we need your help to stay online and continue providing crucial journalism. Every contribution, no matter how small, goes a long way in helping us thrive. By becoming one of our donors, you become a vital part of our mission to uncover the truth and uphold the values of democracy.
While we maintain our independence from political affiliations, we stand united against corruption, injustice, and the erosion of free speech, truth and democracy. We believe in the power of accurate information in a democracy, and we consider facts non-negotiable.
Your support, no matter the amount, can make a significant impact. Together, we can make a difference and continue our journey toward a more informed and just society.
Thank you for supporting Labour Heartlands
Just click the donate button below