Matt Hancock has resigned as health secretary after admitting to breaking COVID rules
In his letter of resignation, Mr Hancock said: "The last thing I would want is for my private life to distract attention from the single-minded focus that is leading us out of this crisis.
"I want to reiterate my apology for breaking the guidance, and apologise to my family and loved ones for putting them through this. I also need (to) be with my children at this time."
June 26, 2021
In a letter sent Hancock said: "We owe it to people who have sacrificed so much in this pandemic to be honest when we have let them down as I have done by breaching the guidance."
In response, the Johnson wrote: "You should leave office very proud of what you have achieved – not just in tackling the pandemic, but even before Covid-19 struck us."
The health secretary had already faced questions about his relationship with Gina Coladangelo, a university friend who was brought in to be a non-executive director at the Department of Health and Social Care (DHSC).
Resignation letter here pic.twitter.com/gAJ5l462Yn

— Laura Kuenssberg (@bbclaurak) June 26, 2021
The CCTV footage was taken on 6 May, according to the Sun, which obtained the pictures.
Under the government's unlocking timetable, intimate contact with people outside your own household was only permitted from 17 May, at step 3 of the process.
Ms Coladangelo, who has been a close friend of the former cabinet minister since their time at university, was appointed as a non-executive director at the Department of Health and Social Care last year.
Mr Hancock said in his letter of resignation: "We owe it to people who have sacrificed so much in this pandemic to be honest when we have let them down as I have done by breaching the guidance.
The NHS is the best gift a nation has ever given itself, and the dedication and courage of the NHS staff and the ceaseless work of the officials in the Department is something we should all be proud of.
"We didn't get every decision right but I know people understand how hard it is to deal with the unknown, making the difficult trade-offs between freedom, prosperity and health that we have faced.
"I am so proud that Britain avoided the catastrophe of an overwhelmed NHS and that through foresight and brilliant science we have led the world in the vaccination effort, so we stand on the brink of a return to normality."
Labour and the Liberal Democrats had demanded Mr Hancock's removal, saying the footage raised questions over whether there was a conflict of interest in the appointment of Ms Coladangelo, and whether social distancing rules had been broken.
A Department of Health and Social Care spokesman had earlier rejected any impropriety, saying "This appointment was made in the usual way and followed correct procedure."
As questions over his future were growing, Mr Hancock pulled out of a planned constituency event and issued a written statement apologising for breaking COVID rules, but indicated he intended to continue in post.
"I accept that I breached the social distancing guidance in these circumstances. I have let people down and am very sorry. I remain focused on working to get the country out of this pandemic, and would be grateful for privacy for my family on this personal matter", he said.
Mr Hancock has been married to his wife Martha for 15 years and they have three children together.
The Sunday Times reported in November that Mr Hancock had failed to declare he had appointed Ms Coladangelo as an unpaid adviser on a six-month contract last March and later gave her a role on the board of the Department of Health.
Ms Coladangelo, who is listed on the department's website as a non-executive director, is the marketing and communications director at British retailer Oliver Bonas, which was founded by her husband Oliver Tress.
Her LinkedIn profile says she has been working as a non-executive director at the Department of Health since September 2020 and was at Oxford University at the same time as the health secretary.
Mr Hancock was appointed health secretary by then prime minister Theresa May in 2018.
During the course of the pandemic he had been critical of those who broke COVID rules, including Professor Neil Ferguson – a senior epidemiologist who sat on the government's advisory panel, SAGE.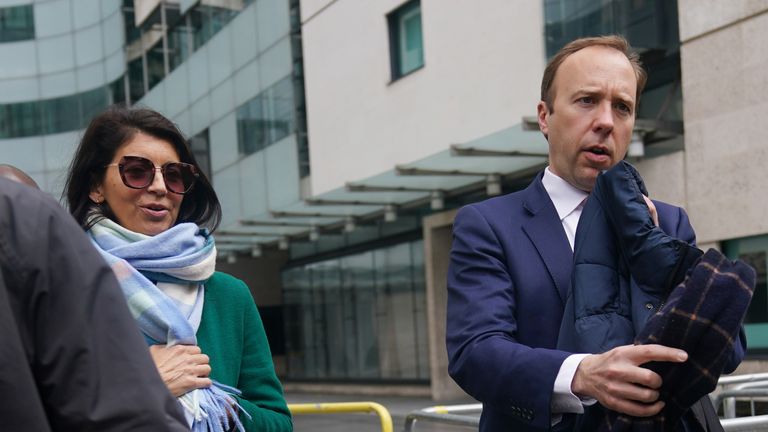 Speaking to Sky News in May last year after it was revealed that Professor Ferguson had broken lockdown rules by allowing a woman he was having a relationship with into his home, Mr Hancock said he was "speechless".
Asked if he thought Prof Ferguson should have been prosecuted, the health secretary said: "It's a matter for the police, as a government minister I'm not allowed to get involved in the operational decisions of police matters.
"But I think the social distancing rules are very important and people should follow them."
Hancock had already faced intense pressure in recent weeks, with Boris Johnson's former aide Dominic Cummings claiming he had urged the prime minister to sack the health secretary up to 20 times, for allegedly lying to colleagues about care homes, testing and other aspects of the pandemic response.
Cummings subsequently published private messages in which the prime minister called Hancock "totally fucking hopeless". The Queen was filmed earlier this week at an audience with Johnson, calling Hancock "poor man".
In a lengthy evidence session to a joint select committee of MPs investigating the government's handling of the pandemic, Mr Cummings said the former health secretary should have been sacked for "at least 15-20 things, including lying to everybody on multiple occasions".
"I said repeatedly from February and March if we don't fire the secretary of state and if we don't get the testing in someone else's hands we are going to kill people and it's going to be a catastrophe", Mr Cummings said
Support Labour Heartlands
PLEASE HELP US KEEP GOING AD-FREE
This is a "Pay as You Feel" website.
Hey there! Thanks for stopping by. If you've enjoyed reading the articles on Labour Heartlands so far, We would be incredibly grateful if you could consider making a small donation. Labour Heathlands is not your typical news outlet. We are not here to simply regurgitate the daily news cycle, that's for the rest of them. Our focus is on delving deeper, uncovering the untold stories and shedding light on the issues that the mainstream media chooses to ignore.
Our unwavering commitment to journalistic integrity means that we are not influenced by any external forces. We are not beholden to PR companies, advertisers or press barons, and we refuse to let anyone dictate what we report on. Our editorial independence is sacrosanct, and our only allegiance is to the truth.
While we do not align ourselves with any particular political party, we stand firmly against corruption, injustice and the erosion of truth and the rule of law. We believe that accurate information is the lifeblood of a democracy and that facts are not up for debate.
Once again, thank you for your support – We truly couldn't do this without you!
PLEASE HELP US KEEP GOING AD-FREE