A Glasgow stabbing attack leaves 6 hospitalised including 'critically injured' police officer
Six people are being treated in hospital for their injuries, including a police officer who was said to be "critical but stable".
There have been reports that two other people were killed outside the Park Inn in West George Street.
Police Scotland said the situation was "contained" and there was no danger to the general public.
First Minister Nicola Sturgeon said reports of the incident were "truly dreadful" and she was being "updated as the situation becomes clearer".
She added: "My thoughts are with everyone involved."
Boris Johnson said he was "deeply saddened by the terrible incident in Glasgow".
A senior Whitehall source has said the motive for the stabbings is still being investigated and it is "too early" to say if it is related to terrorism.
A Glasgow stabbing attack leaves 6 hospitalised including 'critically injured' police officer #GLASGOWstabbing pic.twitter.com/9Q3qUm9Bl0

— Labour Heartlands (@Labourheartland) June 26, 2020
Police Scotland Assistant Chief Constable Steve Johnson urged people to avoid the area.
He said police were not looking for anyone else in relation to the incident.
"The individual who was shot by armed police has died.
"Six other people are in hospital for treatment to their injuries including a police officer, who is in a critical but stable condition," he said.
It is understood that the Park Inn Hotel is currently being used to house asylum seekers.
One witness, who gave his name as John, said he came down from the third floor of the hotel to see the reception covered in blood.
He told the PA news agency that he initially saw one person who had been stabbed, however, it has been reported three people have died after being stabbed in the stairwell of the hotel although police have yet to confirm any fatalities other than the suspect, who was shot dead.
What is know: Six people have been confirmed injured by police in a major police incident at a Glasgow city centre hotel, while a suspect has been shot dead. Emergency services earlier raced to the Park Inn Hotel on West George Street as the council confirmed streets had been shut down in response to a 'serious police incident'.
Videos from the scene show a huge police presence in the centre of Glasgow.
Another witness, Craig Milroy, saw the aftermath of the incident from an office building nearby and said he had seen four people taken away in ambulances.
He said: "I saw a man lying on the ground, of African descent, with no shoes on. He was on the ground with someone holding his side – I don't know if it was a bullet wound, a stab wound, or what it was."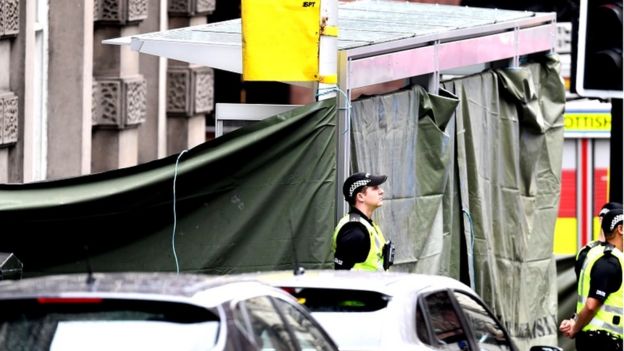 Mr Milroy said the man was one of the four taken away by medics and believed him to be a victim of an attack.
He added: "After that we saw commotion, ambulances further up and we saw armed police all running into the hotel next to the Society Room.
"We were still standing outside, after that the police all came down, the riot police and triage team told us to go back in and lock the door."
Meanwhile, the Scottish Police Federation has confirmed one of their officers has been stabbed in response to the incident.
The officer and five other people are in hospital for treatment to injuries.
Support Labour Heartlands
PLEASE HELP US KEEP GOING AD-FREE
HELP US GROW.
This is a "Pay as You Feel" website.
This blog has no source of state, corporate or institutional finance whatsoever. It runs entirely on voluntary subscriptions from its readers – many of whom do not necessarily agree with every article, but welcome the alternative voice, insider information and debate.
You can have access to all of our online work for free. However if you want to support what we do, you could make a small donation to help us keep writing and staying ad-free. The choice is entirely yours.