Sir Keir Starmer's Labour Reshuffle: The Final Nail in the Socialist Coffin
Keir Starmer has completed his centrist conquest of Labour, purging the party of the last vestiges of its socialist soul. With his latest reshuffle installing arch-Blairites in top positions, the betrayal is complete.
Labour reshuffle cements what many suspected all along – the party has lurched decisively rightward under Starmer's leadership. Gone are the dreams of democratic socialism. Labour is now unabashedly Blairite once more.
While Starmer's top team remain in place, the moves cement the party's change in direction, with places for those sacked by Jeremy Corbyn, and five MPs who were in Tony Blair's government
Out goes even the left-leaning voice of Lisa Nandy, demoted from Shadow Levelling Up Secretary to the lesser role of Shadow International Development Secretary. In comes Liz Kendall as Shadow Work and Pensions Secretary – despite backing Tory benefit cuts in the past.
With Shadow Chancellor Rachel Reeves and her husband Nick Joicey, the former DWP director-general, holding similarly harsh views on welfare, the prognosis for vulnerable benefit claimants under a Labour government looks just as bleak.
Reeves has echoed Tory rhetoric on benefits, while Joicey oversaw the DWP during years of controversial reforms. Their elevation suggests those facing hardship will find Labour in power no more sympathetic than the current Tories.
Keeping it within the family: Joining the reshuffled shadow cabinet is Ellie Reeves as Deputy National Campaign Coordinator. The sister of Shadow Chancellor Rachel Reeves, and wife to fellow Labour MP John Cryer. Ellie Reeves was also a Corbyn critic who served on Labour's National Executive Committee before being ousted by the left-wing Momentum faction.
Other Blairite zombies rewarded include Peter Kyle as Shadow Science Minister. In comes Iraq war supporter and out-and-out warmonger Hilary Benn as Shadow Secretary of State for Northern Ireland, despite Benn being sacked by former leader Jeremy Corbyn for "disloyalty" in 2016 – which triggered a failed chicken coup attempt.
Also rewarded is Pat McFadden, handed the roles of Shadow Chancellor of the Duchy of Lancaster and National Campaign Coordinator. McFadden was sacked as Shadow Minister for Europe by Corbyn, again for "disloyalty," but now returns under Starmer getting his rewards, to oversee Labour's election strategy.
The Blairite McFadden, sidelined under Corbyn, will ensure fiscal discipline and message control as Labour seeks power, let's hope others are as loyal to McFadden as he was to Corbyn.
You're all Blairites Now…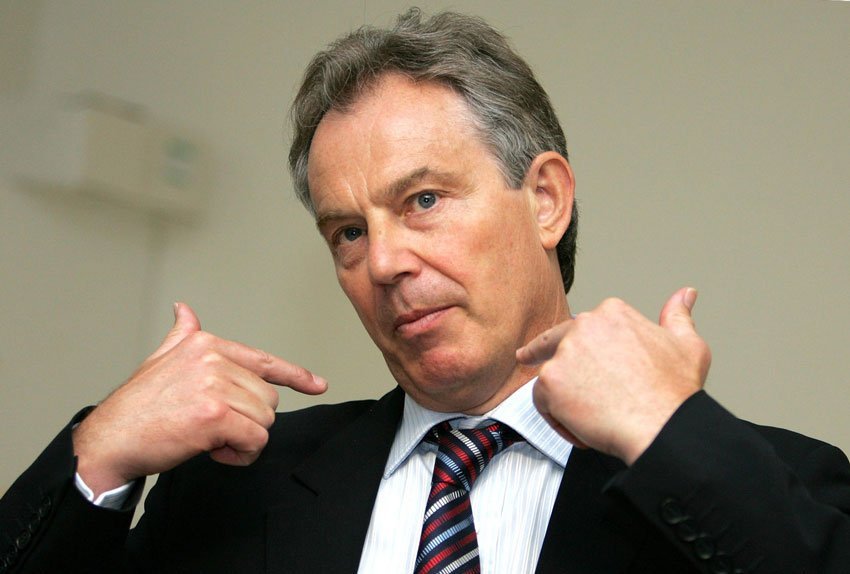 It's a Blairite circus now, with old hands resurrected despite defying Labour's former left-wing leadership. Starmer has cosied up to the very figures once rightly mistrusted by the party's grassroots. How quickly power corrupts.
Having campaigned on a transformative vision, Starmer swiftly shifted gears once elected. He immediately set about marginalising the leftists who ushered him into power. Their dreams of a bold, progressive Labour agenda were casually discarded. Labour is no longer a party of change but of technocratic tinkering at the margins.
In their place, Starmer has elevated yesterday's men – the cultist of Blairism and its tepid, triangulated politics. What we now have is a hollowed-out Labour party, devoid of any meaningful ideological core beyond grabbing power.
For grassroots members who hoped Starmer meant what he said, the volte-face is a bitter pill to swallow. They voted for the promise of change, not more of the same. Yet Starmer has pulled the old bait and switch, enticing voters with left-wing rhetoric before revealing his true colours.
This is the timeworn tactic of Labour centrists. They lean left when convenient, then govern from the centre once elected. It's cynical politics at its worst – and disenchanted Labour supporters won't forget the deception.
Starmer may have succeeded in remaking Labour in his technocratic image, but in doing so he risks alienating the party faithful. Members backed him to build on Corbynism, not dismantle it. If Starmer continues on this Blairite course, he may find voters unwilling to follow.
Momentum laments the "narrow band of Blairites" now steering Labour away from the bold policies demanded by the country. But Starmer ignores such criticism, content to drive on the road to nowhere.
Tony Benn must be spinning in his grave. Starmer has fulfilled Benn's prophecy, dragging Labour to the dull centre to placate the establishment. In doing so, he has abandoned the working class that Labour was meant to represent.
It's a sad situation when Labour members voted for transformative change, not for the reanimated corpse of Blairism. They hoped for a leader of conviction, not a political chameleon.
With Starmer's bait and switch is now complete. The left-wing supporters will find themselves disillusioned and abandoned, their aspirations for a new fairer more equal society left unfulfilled. Yet, this centrist version of the Labour Party seems unlikely to secure victory.
Let's face it, Labour's recent surge in the polls isn't due to offering a better alternative but rather a consequence of the perfectness of the Tory Party. It appears that Labour has lost sight of its core mission and the principles it once staunchly defended, continuing to disappoint in every way. At this point, I see a hung parliament.
Here are all the moves in the Shadow Cabinet:
IN
Rachel Reeves – remains Shadow Chancellor
Angela Rayner – the Deputy leader becomes Shadow Levelling Up Secretary, taking over from Lisa Nandy. She previously held the Cabinet Office role
Bridget Phillipson – remains Shadow Education Secretary
Yvette Cooper – remains Shadow Home Secretary
Wes Streeting – remains Shadow Health and Social Care Secretary
John Healey – remains Shadow Defence Secretary
Ed Miliband – remains Shadow Energy and Net Zero Secretary
David Lammy – remains Shadow Foreign Secretary
Liz Kendall – a promotion for the former shadow minister, who becomes Shadow Work and Pensions Secretary, taking over Jonathan Ashworth
Shabana Mahmood – Labour's elections Campaign Coordinator is promoted to become Shadow Justice Secretary.
Steve Reed – He moves from the justice brief, overseeing the courts and prisons, to become Shadow Environment Secretary, taking over from Jim McMahon
Louise Haigh – remains Shadow Transport Secretary
Anneliese Dodds – remains Labour chairwoman and Shadow Women and Equalities
Pat McFadden – the former Shadow Chief Secretary to the Treasury (the Shadow Chancellor's Deputy) becomes Shadow Cabinet Office minister and Labour's National Campaign Coordinator
Lisa Nandy – the senior Labour MP is demoted from Shadow Levelling Up Secretary to Shadow Cabinet Minister for International Development
Jonathan Ashworth – the former Shadow DWP Secretary became Shadow Paymaster General in the Cabinet Office. He will remain a full member of the Shadow Cabinet.
Thangam Debbonaire – the ex-Shadow House of Commons leader becomes the Shadow Secretary for Culture, Media and Sport – a post held by Lucy Powell.
Peter Kyle – the former Shadow Northern Ireland Secretary becomes Shadow Secretary of Science, Innovation, Innovation and Technology
Emily Thornberry – remains Shadow Attorney General
Darren Jones – the chairman of parliament's business and trade committee joins the Shadow Cabinet as Chief Secretary to the Treasury, deputising for Rachel Reeves.
Nick Thomas-Symonds – the former International Trade Secretary is demoted to Shadow Minister without Portfolio in the Cabinet Office.
Hilary Benn – the Labour MP joins Mr Starmer's top team as Shadow Secretary for Northern Ireland. He left the Shadow Cabinet back in 2016 under Jeremy Corbyn
Ellie Reeves – the Shadow Justice minister has been appointed Deputy National Campaign Coordinator for Labour and will attend the Shadow Cabinet
Lucy Powell – the former Shadow DCMS secretary is moved to become Shadow leader of the House of Commons.
OUT
Rosena Allin-Khan – formerly the Shadow Minister for Mental Health, said she had told Mr Starmer she would not be able to continue because 'you made clear that you do not see a space for a mental health portfolio in the Labour cabinet'
Support Labour Heartlands
WAIT! BEFORE YOU GO
PLEASE HELP US KEEP GOING AD-FREE
This is a "Pay as You Feel" website.
Your support for Labour Heartlands is greatly appreciated. As an independent nonprofit news outlet, we rely on our members to hold the powerful accountable. Our kind of reporting is essential to democracy, but it is not easy, cheap, or profitable.
To continue providing impactful journalism, we need your help. It's getting really hard for us all. Becoming one of our donors. It's simple and doesn't have to cost a lot. With as little as £2, £3, or £5 a month, you can support the journalism you rely on.
While we do not align ourselves with any particular political party, we stand firmly against corruption, injustice, and the erosion of truth and the rule of law. We believe that accurate information is the lifeblood of a democracy and that facts are not up for debate.
Your contribution, no matter how small, goes a long way in helping us continue our mission. Together, we can make a difference.
Thank you, The Labour Heartlands Team
PLEASE HELP US KEEP GOING AD-FREE