The Labour peer Lord Maurice Glasman tells B4B how Jeremy Corbyn's Labour Party is going to take the UK out of the European Union
As the Labour Leader Jeremy Corbyn and his Shadow Chancellor John McDonnell finally reveal their pro-Brexit hand Lord Maurice Glasman tells B4B why he believes the Labour party has the right leaders at the right time and how history will judge them well.
Glasman says Corbyn is a Bennite, a left-wing leader in a pro-EU party, and that he and McDonnell have had "a very, very, difficult balancing act to pull off".
[fusion_youtube id="_AUZEr3tBHQ" alignment="center" width="" height="" autoplay="false" api_params="" hide_on_mobile="small-visibility,medium-visibility,large-visibility" class=""][/fusion_youtube]
He welcomed the Labour leader's publication of his five tests, which now cover a customs union, a single market, workers' rights, EU agency working and co-operation on security. Labour's previous six tests also committed it to achieving the "exact same benefits" as before.
Glasman points out other leaders, such as Gordon Brown had tests too, and that it now looks likely that if May can "negotiate away" the backstop" she will get Labour's support for the Withdrawal Agreement. Labour's five test revolve around the accompanying Political Agreement, which had been criticised for being too vague.
"Labour has set out its support for a customs union, not the customs union, and they want a close relationship with the single market, so they simply want a free trade deal", he explained.
Commenting on remarks he had made about being a fish out of water in the House of Lords, when it is predominately a Remain upper chamber, Glasman said: "Virtually all the politicians over the past 35 years have been pro EU. They don't seem to grasp how profoundly undemocratic the EU is and how the people in the country have turned against it. It's been quite difficult for me socially but politically the support for leaving is actually growing."
Glasman originally supported the EU but after doing a PHD in Italy he says he realised that it worked through directives and through courts and that: "It would end our parliamentary democracy, it would end up with regional governments that wouldn't have sovereignty and democracy couldn't change things".
He said the crunch had come for him with the Lisbon Treaty (signed by member states in December 2007) when he saw that it was:
"A threat to our democracy and constitution, so we had to leave".

He continued:

"Why anybody on the left would support anything that was up to the ECJ, (European Court of Justice) that's Treaty compliance, so really it does subordinate member states to an unelected lot of judges working within an alien political system. Its judgements have always been on the side of capital and not of workers, so Treaty compliance is really the death of democracy".
EU neo-liberalism began with Thatcher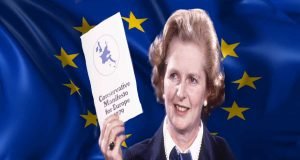 He said that EU neo-liberalism began with Thatcher, when capital was given the whip hand over labour. He said: "Capital got richer, and there was nothing you could do about it. It was all justified by trickle down. The dignity of Labour was forgotten, and essentially money now rules the world".
Glasman regards himself as an internationalist but says the EU is the "ultimate symbol" of globalisation not internationalism.
Commenting on Jeremy Corbyn's support for the state aid of industries, and renationalising water and the railways, both of which would not be allowed under existing EU rules, Glasman pointed out that:
"Politics is back and it's back because we are moving out of the EU."
He thought that it was a "remarkable achievement", of Corbyn and John McDonnell that Labour is still the opposition party, because there has been a falling away of support for traditional parties all over Europe leading to unrest and demonstrations on the street.
"They had to perform a very, very difficult balancing act but now as we approach the end game they have played their cards and it's for Brexit. Corbyn is emerging as a genuine statesman", he said.
He said that no British government could sign up to a unilateral agreement like the NI backstop as it was undemocratic.
"It's been very difficult for Corbyn and John McDonnell. The Labour party has been pro remain, as the party doesn't grasp what a threat to democracy the EU is. The Labour five tests support a customs union, this doesn't include the four freedoms and the ECJ. The joke is that it's a classic Whig positon from the 19th Century where it has opted for free trade and democracy at home, "
Questioned on whether Corby had positioned Labour as Brexit in the North and Remain in the South, a criticism often made of him and John McDonnell, Glasman said that he believed history would say that: "Corbyn has not only saved Labour but Corbyn has also saved Brexit. It went into coalition with the government in order to achieve the most momentous change in the last 45 years. It has preserved our liberty, it has preserved our democracy and delivered the Labour party united with a few defections and it remains one of the two major forces in British politics."
Glasman thinks that: "There is a parliamentary majority for the deal without the backstop, it will require some finessing there, but I think that although people are worried about no-deal, there is a parliamentary majority and they have found it. It's been a very interesting thing to watch. "
Given two quick-fire questions at the end Glasman said that what he disliked most about the EU was that if left its citizens with a "sense of hopelessness".
He continued: "I am incredibly pro-European, I love Italy and like Poland, but I think the EU is a threat to Europe. I think its subordinates democracy, it destroys the civic institutions and it's a homogenising force in a diverse continent. It's all the worst economics and the worst Napoleonic directives. It makes politics subordinate to law and societies can't cope with the changes they are going through so you are seeing very ugly movements emerge in Poland, in Hungry and in Italy. There is a nasty right wing bitterness because they can't change or do anything. That is my ultimate concern".
Asked what slogan about Brexit he most liked Glasman said that he liked talking about "standing up for democracy without fear".
He ended by saying: "I think the EU is ruled by fear. It is either us or its Fascism. We are going to wake up on 30th March this year and the World is going to be pretty much as it was before. Just a little bit better".
He said the talk of no-deal command centres was just late British planning and that support for no-deal across the country was growing: "It is surging in the working class, so as ever they have saved us from menaces before and they are going to do it again".
Support Labour Heartlands
Help Us Sustain Ad-Free Journalism
Sorry, I Need To Put Out the Begging Bowl
Independent Journalism Needs You
Our unwavering dedication is to provide you with unbiased news, diverse perspectives, and insightful opinions. We're on a mission to ensure that those in positions of power are held accountable for their actions, but we can't do it alone. Labour Heartlands is primarily funded by me, Paul Knaggs, and by the generous contributions of readers like you. Your donations keep us going and help us uphold the principles of independent journalism. Join us in our quest for truth, transparency, and accountability – donate today and be a part of our mission!
Like everyone else, we're facing challenges, and we need your help to stay online and continue providing crucial journalism. Every contribution, no matter how small, goes a long way in helping us thrive. By becoming one of our donors, you become a vital part of our mission to uncover the truth and uphold the values of democracy.
While we maintain our independence from political affiliations, we stand united against corruption, injustice, and the erosion of free speech, truth and democracy. We believe in the power of accurate information in a democracy, and we consider facts non-negotiable.
Your support, no matter the amount, can make a significant impact. Together, we can make a difference and continue our journey toward a more informed and just society.
Thank you for supporting Labour Heartlands
Just click the donate button below