The long grift, a grift of mass deception.
There are many forms of grifters, the orthodox grifter is a con artist, someone who obtains money by swindling or tricking others. But the political grifter is a person that uses the political process as a way to enrich themselves or benefit from the system, unfortunately, today, many politicians can fit into that category, however, there is another form of 'Grift,' one not so blatant.
The establishment uses all the tools within its box to undermine popular movements and politicians, as we have seen with the political assassination of Jeremy Corbyn the use of lies more lies and of course the press, so more lies.
But what is not so obvious is the stage management of Sir Keir Starmer, a Labour leader that is constantly upheld by all aspects of the establishment, mainstream press or Fourth Estate has run cover for him like no other leader, not even Boris Johnson gets that much good press from the right-wing newspapers as Sir Keir Starmer.
Starmer has spent a week trying to win back the Red wall, these Labour Heartlands. He has talked about the return of manufacturing, being tough on crime, while his Deputy Leader, Angela Rayner wants to shoot first and ask questions later, creating an image of a dystopian future where an authoritarian Labour place us all under the Rule of Lawyers.
But what's been so annoying is his carefully orchestrated background, designed to appeal to the masses, a working-class boy made good, with claims of my dad was a toolmaker.
Unfortunately, it's not the entire truth, it just doesn't hold up to scrutiny, while scratching the surface reveals more than a few holes in his backstory, he conveniently forgets to mention, his dad owned the bloody factory.
To be fair you could just let it go if it wasn't for the fact he relies on it so much and besides, I find it quite insulting when he claims a toolmaker was looked down upon!
I remember listening to the TUC speech when Starmer stated "Despite being a skilled toolmaker throughout his working life, my dad thought people looked down on him because he worked on the factory floor. He was right about that," Starmer said.
In which world is a tradesman like a 'toolmaker' looked down upon? Certainly not within the working class I was brought up with. A toolmaker looked down upon, that is probably the most middle-class statement I have ever heard yet, a slip that reveals more about his background than the official version.
It's at that point you just know something is off.
Never mind he is a member of an elitist organisation like the Trilateral Commission that's one thing but his backstory and the difference in reality show just how much the establishment is willing to push him.
It doesn't take too much digging either. Lord Ashcroft's unauthorised Biography of Sir Keir Starmer is so aptly named "The Red knight", and not just because of his establishment titles, it gives us a clear insight into the grifter Starmer's background.
The biography the Labour leader tried to obstruct, state he's guilty of overplaying his working-class credentials.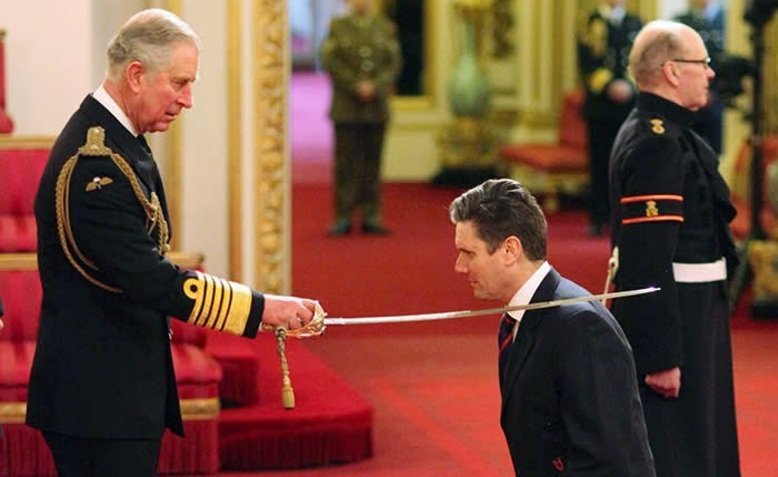 This article contains abridged extracts taken from Michael Ashcroft's Red Knight
Those who know Sir Keir Starmer well often speak of his decency, integrity, intellect and reluctance to give too much away about himself.
However, Labour's local elections trouncing in May spurred him to greater efforts on the self-promotion front.
The opening move was an interview on Piers Morgan's Life Stories, in which he spoke tearfully and movingly about his mother's life-debilitating illness.
With this biography, I have dug deeper than the ITV programme was able to, and can reveal details of its lasting effects on her elder son.
I will also describe how Sir Keir, a man of many contradictions, who attended a fee-paying school and Oxford University, has, in my view, overplayed his supposed working class credentials when friends and colleagues have confirmed to me that realistically he is anything but.
'One of Keir's faults, which has come out from time to time, is his wanting to insist how working class he is when he's absolutely, plainly not,' says Professor Bill Bowring, who teaches law at Birkbeck College, University of London.
'If you're a QC and former Director of Public Prosecutions, you've left your working-class roots far behind. That's a weakness of his, to go on about it. He's become very middle class.'
Sir Keir did not want this story to be written. Indeed, it is no exaggeration to say that he actively obstructed it.
While I am the first to accept that everybody is entitled to a private life, I also believe that any politician who presents themselves to the country as the Prime Minister-in-waiting should have a skin thick enough to be untroubled about a study of their character.
By having such a prickly reaction to my decision to write his story, Sir Keir has arguably shown more of himself than he perhaps realised.
Given that most of his career has been spent outside elected politics – he was a barrister from 1987 until 2008; the Director of Public Prosecutions (DPP) from 2008 to 2013; and only became a Labour parliamentary candidate in December 2014 – some probing is justified. So who is the man who would be Britain's leader?
His mother Josephine's path through life was far from straightforward. Aged 11, she was diagnosed with juvenile idiopathic arthritis, also known as Still's Disease, after the English paediatrician George Still who first described it in 1896.
This rare illness is characterised by fever and a rash as well as joint pain, and it can have a profoundly destabilising effect on those who live with it. Sadly, Josephine was not spared the worst of what the disease is capable of inflicting.
According to the eulogy given at her funeral in 2015, she was quickly taken under the wing of the consultant who was in charge of her care, Dr Kenneth Maclean.
It was he who told Josephine and her husband Rodney on their wedding day in 1960 that if they intended to start a family, the unknown side effects of the pioneering cortisone treatment he was giving her meant they should not wait.
Rodney, who worked as a toolmaker in Ashford, Kent, and his bride took the advice seriously. In June 1961, Josephine gave birth to their eldest child, Anna. On September 2, 1962, Keir was born.
It is often stated as fact that he was named after Keir Hardie, a founder of the Labour Party, yet Starmer admitted in an interview in 2015 that he had no evidence for this because he had never discussed it with his parents.
Still, this idea has stuck and he has never disabused anybody of it.
After the move to Tanhouse Road in Oxted, Rodney continued to work in the toolmaking trade but, due to his son's ambiguous explanations, there has always been a certain amount of confusion as to his employment status.
In March 2018, Starmer told the BBC's Nick Robinson that his father 'was a toolmaker working in a factory and working every hour, basically'. The following year, he told the BBC Radio 4 Today programme that his father 'worked in a factory' as a toolmaker.
The inference that listeners might have drawn is that Rodney Starmer was employed by somebody else. Yet the available evidence suggests that this was not the case.
For reasons best known to himself, Keir Starmer did not use any of these opportunities to explain that his father, in fact, ran his own business, the Oxted Tool Company.
As a Companies House representative has said that no records of the Oxted Tool Company exist in its files, it is difficult to assess how successful Rodney Starmer's business became and indicates that he may have remained a sole trader – as opposed to running a limited company – throughout his working life.
As a skilled manual worker who was self-employed and who owned a house (albeit with a mortgage), it is arguable that Rodney would be thought of by some social scientists as being a cut above other toolmakers who were employed.
Working 'in my factory.
While Starmer has made frequent references to his toolmaker father, dad Rodney once boasted that he ran his own factory. Reflecting on his son's knighthood in 2014, Rodney Starmer wrote in Oxted's theatre newsletter that his son had spent six months before university working 'in my factory operating a production machine'.
That sort of gives the game away.
None of this would matter in any way, of course, but for the fact that Keir Starmer has not been totally explicit about it when asked.
Perhaps it would be most accurate to say that Starmer's background was neither working class nor 'posh', as some commentators have attempted to prove, but was instead closer to what sociologists would once have called petit bourgeois. This French term is akin to lower-middle class.
In 1974, Keir won a place at Reigate Grammar School, which would become independent during his time there. Those who were already pupils were allowed to continue, with their fees paid by the local council.
Starmer's friends there included Quentin Cook, subsequently known as Norman and by his DJ name Fatboy Slim. They took violin lessons together, though Cook left Reigate Grammar aged 16.
Music remained a very important part of the life of Starmer, who also played the flute, piano and recorder. He was a good enough flute player to secure a place at the prestigious Junior Guildhall School of Music.
Every Saturday morning, at the insistence of his parents, he would travel to London for lessons by staff who played in professional orchestras.
It is noteworthy that when the Daily Mail discovered in September 2009 that Starmer had omitted to mention Reigate Grammar School in his Who's Who entry, it concluded that this was a piece of chicanery which reflected badly on his character. By then, he was the Director of Public Prosecutions.
In March 2002, Starmer became a QC at the relatively early age of 39. A few months later he was mentioned in an Observer profile piece headlined The New Legal Crusaders, which focused on a group of ambitious young lawyers.
This article is noteworthy for the following sentence: 'Among them was Ben Emmerson, the dashing young advocate and colleague of Cherie Booth at the fashionable Matrix Chambers.
'Admirers say that if Colin Firth's human rights lawyer in the film Bridget Jones's Diary wasn't based on Emmerson, then it should have been.'
These words solve a mystery which has portrayed Starmer in a very useful and flattering light for many years. Starmer always seemed happy not to disabuse people of the notion that he was the inspiration for the dashing Mark Darcy, who was created by author Helen Fielding. The fact is that he never was.
What appears to have happened is that in April 2012, a decade after the Observer article, a Sunday Times journalist interviewed Starmer.
'Just before my interview with Keir Starmer, the director of public prosecutions (DPP), someone tells me that the chisel-jawed former human rights lawyer was the inspiration for Mark Darcy,' she wrote at the time.
'I am not sure if this is true.' From that point on, other journalists decided that it was true and the myth held. Starmer never denied it, no doubt relishing the touch of glamour it gave him.
For example, during the Labour leadership contest, when ITV News asked him if the Darcy character was based on him, he answered: 'Everybody asks me this question when they should be asking [Fielding] the question because she knows the answer and I don't.'
Finally, it was Fielding herself who explained on Desert Island Discs last July that Starmer played no part in her thinking up Mark Darcy.
While this may seem to be a trivial matter, one friend of Starmer says it is rather revealing.
The Starmer whom this person knows apparently paid attention when members of the opposite sex said he was good-looking.
'What's interesting is he knows full well he wasn't the model for Mark Darcy,' says the friend. 'His answers tended to leave the impression that it was true.'
Keir Starmer is often described as being intensely ambitious, yet it is arguable that this trait is at least in part a consequence of the hopes and dreams of his family.
The evidence for this comes from a round-robin letter written in December 2014 by Starmer's father, Rodney. In it he expressed to friends his delight that his son had just been chosen as Labour's prospective parliamentary candidate in the safe Labour seat of Holborn and St Pancras.
'We are very pleased and wish him well,' Rodney wrote. 'My dad, Bert, said many years ago that one of the Starmers should be an MP.'
Who can say why Starmer's mechanic grandfather seemed fixed upon a family member making it to the House of Commons? But Keir will no doubt have known about this comment.
It was a huge personal tragedy for Starmer that his mother did not live to see him become an MP in the General Election of May 2015. Very sadly, she died less than two weeks before polling day.
Now, six years later, many analysts are agreed that Starmer's position on the political spectrum is difficult to define.
Immediately after he became leader, James Schneider, Jeremy Corbyn's former head of strategic communications, wrote: 'Keir Starmer is not a ghoulish neo-liberal, reactionary authoritarian, or a lover of war but he isn't a socialist.
'Hard to place, he appears to be on the progressive end of social reformism. He has no strong allergy to being near socialist ideas but they aren't to his taste or style.'
For his part, Starmer has often referred to himself in public as a socialist.
Like many things about Sir Keir Starmer, the reality of that statement proved quite different, as I respond to emails asking why so many Left-wing media outlets attack Stamer more than Johnson, my replay is:
"Boris Johnson opposes socialism, that is an economic argument. Sir Keir Starmer is blocking socialism, that's sabotage".
Starmer's position is to maintain the illusion of democracy to balance the status quo. He is there to offer an alternative but to ensure there is no alternative.
Support Labour Heartlands
PLEASE HELP US KEEP GOING AD-FREE
HELP US GROW.
This is a "Pay as You Feel" website.
This blog has no source of state, corporate or institutional finance whatsoever. It runs entirely on voluntary subscriptions from its readers – many of whom do not necessarily agree with every article, but welcome the alternative voice, insider information and debate.
You can have access to all of our online work for free. However if you want to support what we do, you could make a small donation to help us keep writing and staying ad-free. The choice is entirely yours.