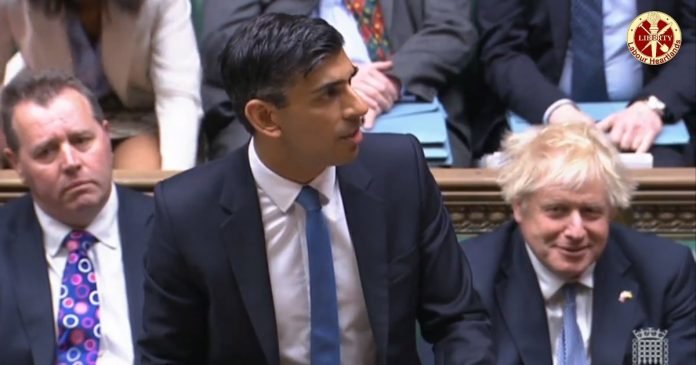 The Chancellor was forced to unveil £15 billion in emergency help after inflation rocketed to a 40-year high, bringing soaring costs to all households. It comes after warnings energy bills would hit £2,800 in October – and after Boris Johnson needed a Partygate distraction.
In a statement to MPs, the Chancellor Rishi Sunak also said over eight million households on means-tested benefits will receive a one-off £650 payment, made in two lump sums, with one in July and one in the autumn.
Pensioner households who receive the winter fuel allowance will also get an additional £300 one-off payment and people who receive non-means tested disability payments will get an extra £150.
The measures will be funded by a 25% windfall tax on extraordinary profits of oil and gas giants – in a major U-turn by ministers.
Mr Sunak said the sector was making "extraordinary profits" due in part to surging global gas prices triggered by the war in Ukraine.
Eight million of the poorest UK households will receive a one-off "cost of living payment" of £650, Mr Sunak said.
Households will receive a £400 discount towards their energy bills after Rishi Sunak ripped up plans to force people to pay back help.
The Chancellor announced that the grant would double from £200 to £400 for all households – and would no longer be repayable – as part of a package to help with the spiralling cost of living crisis.
In his speech in the Commons, the chancellor did not specifically refer to a 'windfall tax' but said he would introduce a "temporary targeted energy profits levy" on oil and gas companies.
Shadow Chancellor Rachel Reeves said Mr Sunak had finally woken up to the pressures facing families – and said Labour was "winning the battle of ideas in Britain".
"Today, it feels like the Chancellor has finally realised the problems the country are facing," she said.
"We first called for a windfall tax on oil and gas producers nearly five months ago to help struggling families and pensioners. Today, he has announced that policy but he can't dare say the words: it's a policy that dare not speak its name with this Chancellor."
Even though Labour claimed a victory suggesting they initiated the windfall tax policy, notwithstanding the fact Sunak was heckled with shouts of "what took you so long" and "about time". The fact is, it will be the Tories so-called 'energy levy' that will be remembered. The amounts that will go directly into the pockets of the poorest households' to help alleviate some of the enormous cost from profit rich energy companies making Labour's proposed plans seem wholly inadquet.
The new levy will be charged on profits of oil and gas companies at a rate of 25%, Mr Sunak said.
"It will be temporary. And when oil and gas prices return to historically more normal levels, the levy will be phased out with a sunset clause written into the legislation," he said.
The cost of living package includes:
• Temporary targeted energy profits levy of 25% on profits of oil and gas firms. With a built-in sunset clause to set in to phase out when profits return to normal.
• £650 one-off payment to eight million of the lowest-income households
• Eight million pensioners who get winter fuel payment to also get a £300 payment
• £150 extra payment for people on disability benefits
• Energy bill rebate scheme to double to £400 and will not have to be repaid
Sunak also announced a £500 million increase for the Household Support Fund, delivered by councils, extending it from October until March next year.
Ministers claim they had been resistant to Labour proposals for a windfall tax saying it would deter investment but with inflation hitting a four-decade high and the Bank of England's warnings of worse to come, pressure to act has intensified.
Dame Clare Moriarty, Chief Executive of Citizens Advice, said: "Today's hugely welcome announcement is a life raft for the millions of people struggling to keep their heads above water due to rising costs."
But Greenpeace warned the tax on oil and gas companies was only a "sticking plaster".
Ami McCarthy, political campaigner for Greenpeace UK, said: "While providing support to millions struggling with sky-high energy bills is 100% the right thing to do, by only skimming the top 25% off oil and gas company profits Sunak has missed a huge opportunity to tackle the root cause of the cost of living crisis and the climate crisis together."
She said taxing full profits to 70% could have doubled the cash in the Treasury's coffers, which could have been used to make homes more energy efficient.
"Instead of driving money into clean energy solutions, Sunak has used this announcement to encourage oil and gas company investments," she said.
Support Labour Heartlands
PLEASE HELP US KEEP GOING AD-FREE
HELP US GROW.
This is a "Pay as You Feel" website.
This blog has no source of state, corporate or institutional finance whatsoever. It runs entirely on voluntary subscriptions from its readers – many of whom do not necessarily agree with every article, but welcome the alternative voice, insider information and debate.
You can have access to all of our online work for free. However if you want to support what we do, you could make a small donation to help us keep writing and staying ad-free. The choice is entirely yours.