The new rules agreed by the German government take aim at the meat industry's widespread use of subcontractors and seeks to bolster the rights of migrant workers.
Germany has agreed a proposal to ban the use of temporary workers at slaughterhouses following a spate of coronavirus infections.
Hundreds of people working at abattoirs across Germany and France have tested positive for Covid-19 in recent weeks.
Many workers have arrived from Romania on flights chartered by farmers.
Migrant worker exploitation.
Renate Künast, the food policy spokesperson for the Greens and former agriculture minister, said that the meat industry and subcontractors have taken advantage of freedoms within the European Union to keep costs low.
"I have the impression that it's a kind of abuse of the EU's freedom of movement. With the EU, you have the free movement of workers and you have people from other cities and areas that perhaps don't have such a good economic development, who are happy to have jobs." "But they're being exploited to the fullest — and it's twofold, both in terms of their wages and their health."
German Chancellor Angela Merkel's government agreed on a framework of new regulations for the meat industry on Wednesday.
Labor Minister Hubertus Heil spearheaded the push for more regulation in the country's powerful meat sector after new COVID-19 hotspots erupted at several slaughterhouses across the country, with hundreds of migrant workers from Eastern Europe infected.
As coronavirus clusters in slaughterhouses around the world continue to multiply, health experts are calling for better virus monitoring to prevent further infection.
How many cases?
Slaughterhouses are shutting down across the United States after thousands of cases were confirmed.
Four managers responsible for ensuring social distancing barriers have died.
The Centers for Disease Control (CDC) estimated that at least 5,000 meat and poultry workers have contracted the virus in the US alone.
In Germany, more than 260 cases at a plant in Coesfeld in the western state of North Rhine-Westphalia have been confirmed. A slaughterhouse in the northern state of Schleswig-Holstein logged over 100 cases while another plant in Bavaria reported around 60 cases.
Cases are growing in France, too, where more than 100 confirmed infections were found in two slaughterhouses in the western part of the country.
Other notable hotspots have emerged in Australia, Spain and Brazil.
"The high number of outbreaks in meat processing plants around the world deserves investigation," Raina MacIntyre, head of the public health school at the University of New South Wales in Sydney, told AFP.
Squalid conditions for foreign workers
Despite the fact that poor working practices and squalid living quarters of these workers, mostly from Poland, Romania, and Bulgaria, have been known for years, until these outbreaks no lawmakers have moved to changed these conditions.
In the past two weeks, meat-processing plants in the states of Schleswig-Holstein and North Rhine-Westphalia have also had to close after hundreds of workers tested positive for the coronavirus. Healthy workers have complained they are being forced to quarantine in their derelict living spaces without direction from their superiors about when they will be allowed to leave or if they are being paid during this time.
The Food, Beverages and Catering Union has called on the government to take this opportunity to impose "fundamental reform" in the industry and give new "crystal clear" regulations for slaughterhouses.
'Ashamed' by mass infection of Romanians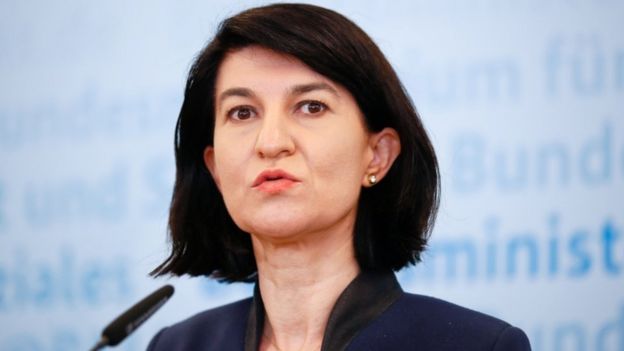 "The circumstances we are going through reveal a number of systemic problems that we haven't addressed properly," Romania's labour minister, Violeta Alexandru, told Reuters news agency following a meeting with her German counterpart Hubertus Heil.
She travelled 18 hours by car from Bucharest to see the conditions for herself, telling Deutsche Welle that any Romanian who encountered health or hygiene issues should turn to the police if necessary.
Romania's ambassador, Emil Hurezeanu, said the minister had heard from seasonal workers who had gone to the consulate in Bonn to protest about working and living conditions.
Mr Heil said that the "mass infection of Romanian workers in the meat industry" was not acceptable, adding: "I have to say it makes me ashamed."
Why so many infections?
Experts say the overcrowded conditions in many abattoirs makes it hard for workers to practice social distancing.
This in turn makes it harder to avoid sick colleagues and increases the chances of transmission.
"Bringing large numbers of people together from across a community, having them working on long shifts with plenty of opportunities for transmission, is likely to result in heightened risk," said Archie Clements, an epidemiology professor at Curtin University in Australia.
Paul Auffray, vice president of France's number one association of pig farmers, agreed.
"In slaughterhouses, as in any job environment, there will obviously be overcrowding," he said.
"Even with social distancing, there is a heightened risk".
Yet overcrowding alone doesn't explain why meat factory workers are more likely to contract the virus.
Slaughterhouses are not "unique" among assembly line employment in terms of overcrowding, explained Antoine Flahault, director of global health at the Institute of Geneva, in Switzerland.
What are the changes to the rules?
The new rules particularly take aim at the use of subcontractors in the branch and seeks to make German meat packing plants and large slaughterhouses responsible for their largely migrant workers.
Starting in January 2021, slaughtering animals and processing the meat will only be permitted for employees of the meat packing plants themselves, news agency DPA reported citing a draft of the agreement.
Currently, many of the workers in Germany's meat industry are hired by subcontractors. Next year, these types of labor arrangements, known as Werkverträge in German, will be banned for the meat industry. The new rules, however, will primarily apply to meat packing plants and not for smaller butchers.
Fines for violating working time regulations will be raised to a maximum of €30,000 ($32,800). Previously, the fines were capped at €15,000. There will also be a digital system for logging working hours to better ensure people are not working longer than the legal limit of 10 hours per shift.
Employers that provide living accommodations for their workers will also be responsible for providing authorities with information about where their migrant workers are living.
How does subcontracting work in the meat industry?
Until now, the meat industry largely procured workers using a network of subcontractors and task-specific work contracts.
German slaughterhouse operators would sign special contracts with subcontractors which determined a set price for the number of animals that needed to be slaughtered or outlined the weight of carcasses that needed to be cleaned and processed.
These types of contracts mean the German companies are not legally responsible for the personnel, leaving workers vulnerable.
Critics have also argued that migrant workers are often shorted their pay or charged extra fees by subcontractors for work expenses.
Why are the changes happening now?
Although criticism of the health conditions for workers at meat plants isn't new, the coronavirus pandemic has served as a catalyst for change.
Over 260 cases at a plant in Coesfeld in the western state of North Rhine-Westphalia have been confirmed. A slaughterhouse in the northern state of Schleswig-Holstein logged over 100 cases while another plant in Bavaria reported around 60 cases.
Over the weekend, a new outbreak emerged at a slaughterhouse in the state of Lower Saxony, with at least 92 employees testing positive.
The infected workers from Romania, Poland, Bulgaria and other eastern European countries live in cramped and often squalid shared accommodations, which makes quarantining and social distancing nearly impossible.
Support Labour Heartlands
Help Us Sustain Ad-Free Journalism
Sorry, I Need To Put Out the Begging Bowl
Independent Journalism Needs You
Our unwavering dedication is to provide you with unbiased news, diverse perspectives, and insightful opinions. We're on a mission to ensure that those in positions of power are held accountable for their actions, but we can't do it alone. Labour Heartlands is primarily funded by me, Paul Knaggs, and by the generous contributions of readers like you. Your donations keep us going and help us uphold the principles of independent journalism. Join us in our quest for truth, transparency, and accountability – donate today and be a part of our mission!
Like everyone else, we're facing challenges, and we need your help to stay online and continue providing crucial journalism. Every contribution, no matter how small, goes a long way in helping us thrive. By becoming one of our donors, you become a vital part of our mission to uncover the truth and uphold the values of democracy.
While we maintain our independence from political affiliations, we stand united against corruption, injustice, and the erosion of free speech, truth and democracy. We believe in the power of accurate information in a democracy, and we consider facts non-negotiable.
Your support, no matter the amount, can make a significant impact. Together, we can make a difference and continue our journey toward a more informed and just society.
Thank you for supporting Labour Heartlands
Just click the donate button below