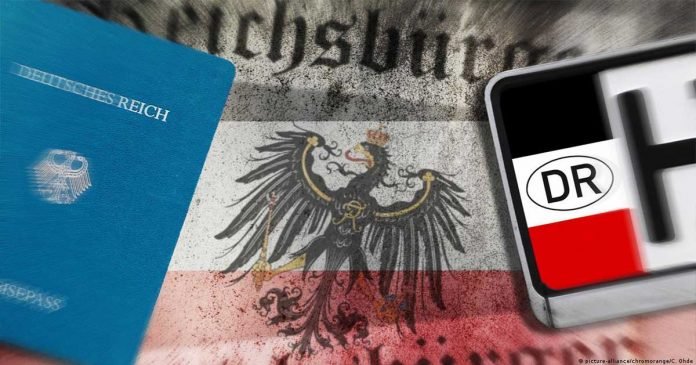 Reichsbürger' movement plot to overthrow the government
Police have arrested 25 suspected members or supporters of a "domestic terrorist organization" aiming to overthrow the German state. Justice Minister Marco Buschmann said the network was part of the "Reichsbürger scene."
In a nationwide raid, 25 suspected members and supporters of a terrorist organization were arrested early Wednesday.
The raids were announced by Germany's federal prosecution agency and German Justice Minister Marco Buschmann.
Buschmann said the investigations were directed against a suspected terrorist network with known ties to the Reichsbürger movement. He said that the raids had taken place on individuals suspected of planning an armed attack on state institutions.
"Since this morning a large anti-terror operation is taking place. The Federal Public Prosecutor General is investigating a suspected terror network from the Reichsbürger scene," Buschmann wrote. "The suspicion exists that an armed attack on constitutional organs was planned." 
The search operation is reported to have covered 130 properties belonging to 52 suspects in eleven German states.
According to prosecution officials, the arrested suspects "belong to a terrorist organization founded by the end of November 2021 at the latest, which has set itself the goal of overcoming the existing state order in Germany and replacing it with its own form of state.
Demokratie ist wehrhaft: Seit heute Morgen findet ein großer Anti-Terror-Einsatz statt. Der Generalbundesanwalt ermittelt gegen ein mutmaßliches Terror-Netzwerk aus dem Reichsbürger-Milieu. Es besteht der Verdacht, dass ein bewaffneter Überfall auf Verfassungsorgane geplant war.

— Marco Buschmann (@MarcoBuschmann) December 7, 2022
What's known about the Reichsbürger movement and what is claimed…
The Reichsbürger movement is made up of a number of small groups and individuals, mainly in the states of Brandenburg, Mecklenburg-Western Pomerania and Bavaria. They do not accept the legality of the Federal Republic of Germany or any of its government authorities. They refuse to pay taxes and have declared their own small "national territories," which they call the "Second German Empire," the "Free State of Prussia" or the "Principality of Germania."
They claim Germany is simply an administrative construct still occupied by the Western powers. For them, the 1937 borders of the German Empire still exist. The so-called "Reichsbürger," translates as "Citizens of the Reich."
What unites the Reichsbürger is their shared system of belief. A large part of their ideological foundation revolves around the narrative that the Federal Republic of Germany does not exist and is not an actual state.
To them, the German Reich did not perish in 1945 and remains the legitimate German authority, while the Federal Republic as an illegitimate creature of foreign occupation and exploitation. They believe that because there has never been an official peace treaty, the occupation continues until this day, with the Federal Republic an instrument of the Allied powers that allows Germans the illusion of independence and democracy.
Members of these groups print passports and driver's licenses for their supposed states. They even produce T-shirts and flags for advertising purposes. Reichsbürger simply ignore the fact that such activity is illegal and not recognized by any German authority. They proudly announce their intention to "carry on the fight against the Federal Republic of Germany" on their websites.
Germany's domestic intelligence agency, the Office for the Protection of the Constitution (BfV), estimates that there are around 16,500 Reichsbürger in Germany. Some 3,500 are based in Bavaria while around 2,500 are living in neighbouring Baden-Württemberg. Most are male, on average they are over 50 years old and they tend to come from socially disadvantaged segments of society. Hundreds of the Reichsbürger followers ascribe to right-wing populist, anti-Semitic and Nazi ideologies. A district court judge in Saxony-Anhalt has described them as "conspiracy theorists" and "malcontents."
Police have found large caches of weapons and ammunition during house searches — and Reichsbürger members are continuing to arm themselves. In the past few years, German authorities have revoked weapons permits for hundreds of the movement's followers.
In recent years, Reichsbürger followers have carried out attacks on police officers during raids — with defendants often arguing that they have a right to defend "their property."
In Höxter, North Rhine-Westphalia a group from the "Free State of Prussia" attempted to build up its own militia by smuggling in arms from outside the country in 2014.
After busting a human trafficking ring in northern Germany in May 2018, police determined that at least one of the main suspects in the ring was involved in the Reichsbürger movement. 
In 2016, a police officer was shot and killed by a member of the Reichsbürger movement during a police raid to seize the man's arsenal of over 30 firearms that he had illegally hoarded.
A former "Mister Germany" winner, Adrian U once crowned the most handsome man in Germany now faces charges of attempting to shoot dead a policeman. The defendant is believed to be a member of the militant far-right Reichsbürger movement.is also facing charges of attempted murder after shooting and injuring an officer during a special forces raid in August 2016.
Support Labour Heartlands
Help Us Sustain Ad-Free Journalism
Sorry, I Need To Put Out the Begging Bowl
Independent Journalism Needs You
Our unwavering dedication is to provide you with unbiased news, diverse perspectives, and insightful opinions. We're on a mission to ensure that those in positions of power are held accountable for their actions, but we can't do it alone. Labour Heartlands is primarily funded by me, Paul Knaggs, and by the generous contributions of readers like you. Your donations keep us going and help us uphold the principles of independent journalism. Join us in our quest for truth, transparency, and accountability – donate today and be a part of our mission!
Like everyone else, we're facing challenges, and we need your help to stay online and continue providing crucial journalism. Every contribution, no matter how small, goes a long way in helping us thrive. By becoming one of our donors, you become a vital part of our mission to uncover the truth and uphold the values of democracy.
While we maintain our independence from political affiliations, we stand united against corruption, injustice, and the erosion of free speech, truth and democracy. We believe in the power of accurate information in a democracy, and we consider facts non-negotiable.
Your support, no matter the amount, can make a significant impact. Together, we can make a difference and continue our journey toward a more informed and just society.
Thank you for supporting Labour Heartlands
Just click the donate button below