Long-overdue: A slave trader's statue in Bristol has been torn down and thrown into the harbour during a second day of anti-racism protests across the UK.
It comes after largely peaceful demonstrations in London on Saturday ended in some clashes with police.
But thousands of protesters massed for a second day outside the US embassy in London before moving towards Whitehall.
Other protests have been taking place in Manchester, Wolverhampton, Nottingham, Glasgow and Edinburgh.
In Bristol, protesters used ropes to pull down the bronze statue of Edward Colston, a prominent 17th Century slave trader, who has been a source of controversy in the city for many years.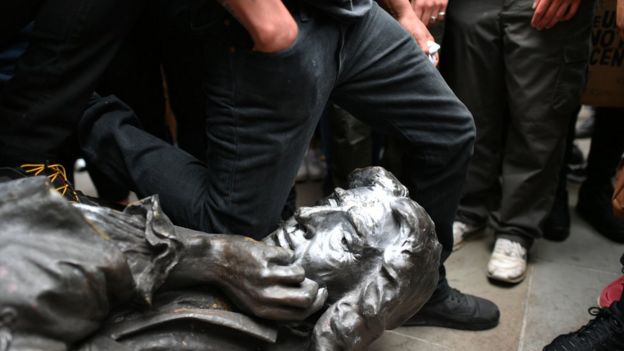 Colston was a member of the Royal African Company, which transported about 80,000 men, women and children from Africa to the Americas.
Edward Colston was a Bristol-born English merchant, slave trader, and Member of Parliament. Colston was born on 2 November 1636 in Church Street, Bristol, the youngest of at least 15 children. His parents were William Colston (died 1681), a prosperous merchant who was High Sheriff of Bristol in 1643, and his wife Sarah (died 1701), daughter of Edward Batten.
He was brought up in Bristol until the time of the English Civil War, when he probably lived for a while on his father's estate in Winterbourne, just north of the city. The family then moved to London where Edward may have been a pupil at Christ's Hospital school.
Career
He was apprenticed to the Mercers Company for eight years and by 1672 was shipping goods from London. He built up a lucrative business, trading cloth, oil, wine, sherry and fruit with Spain, Portugal, Italy and Africa. In 1680, Colston became a member of the Royal African Company, which had held the monopoly in England on trading along the west coast of Africa in gold, silver, ivory and slaves from 1662.
Colston rose rapidly on to the board of the company and became Deputy Governor, the Company's most senior executive position, from 1689 to 1690; his association with the company ended in 1692. This company had been set up by King Charles II and his brother James, Duke of York, (later King James II, who was the Governor of the company), together with City of London merchants, and it had many notable investors, including John Locke, English philosopher and physician, widely regarded as one of the most influential of Enlightenment thinkers and commonly known as the "Father of Liberalism" (though he later changed his stance on the slave trade), and the diarist Samuel Pepys.
During the time of Colston's involvement with the Royal African company (1680 to 1692), it is estimated that the company transported around 84,000 African men, women and children, who had been traded as slaves in West Africa, of whom 19,000 died on their journey to the Caribbean and the Americas. Ship's crew mortality rates were often similar and sometimes greater than the mortality rates amongst the slaves.
The slaves were sold to planters for cheap labour on their tobacco, and, increasingly, sugar plantations who considered Africans would be more suited to the conditions than their own countrymen, as the climate resembled the climate of their homeland in West Africa. Enslaved Africans were also much less expensive to maintain than indentured servants or paid wage labourers from Britain.
#BlackLivesMattters #blmbristol #ukprotests
Support Labour Heartlands
PLEASE HELP US KEEP GOING AD-FREE
HELP US GROW.
This is a "Pay as You Feel" website.
This blog has no source of state, corporate or institutional finance whatsoever. It runs entirely on voluntary subscriptions from its readers – many of whom do not necessarily agree with every article, but welcome the alternative voice, insider information and debate.
You can have access to all of our online work for free. However if you want to support what we do, you could make a small donation to help us keep writing and staying ad-free. The choice is entirely yours.