Petrol and diesel prices are at record highs, with pressure mounting on the Government to take action to ease pressure on motorists.
The continuing rises in forecourt prices have led to calls for a further reduction in fuel duty.
Taxation on petrol and diesel (duty and VAT) has changed as a proportion of the pump price over time. Fuel duty is currently levied at a flat rate of 57.95p per litre for both petrol and diesel, while VAT at 20% is then charged on both the product price and the duty.
In total, the RAC estimates that at today's prices, the cost of fuel accounts for 55% of the forecourt price, with the rest coming from taxes, including fuel duty and VAT.
For diesel, the wholesale price makes up slightly less of the total cost – 41% – but the biofuel cost is more – 10% – and the retailer margin is slightly higher, at 3%. As a whole, the cost of fuel accounts for 56% of the price of a litre of diesel.
An average full tank of petrol now costs more than £101, while a diesel fill-up is more than £105.
Today's protest
Fuel protests have been mounting across the country for the past few weeks, and they are expected to get even more frequent, according to experts. One of the biggest demonstrations so far is set to take place today across Britain with FairFuelUK warning of chaos.
According to FairFuelUK, several demonstrations are set to take place in Yorkshire, M54, Essex, M5, A63, M180 and other major roads across the UK.
Howard Cox, the founder of the FairFuelUK campaign, said: "These are not just demonstrations against the record excruciatingly high petrol and diesel prices that rise each and every day.
"They are also about the sickening chronic manipulation of pump prices and the complete lack of scrutiny by our out-of-touch Government, in allowing unchecked petrol and diesel profiteering to run rife.
"And at the same time, this allegedly self-proclaiming low taxation Conservative Government is wallowing in £3billion of extra VAT in just the last year alone.
The first fuel protest
At the turn of the centre fuel protests which started in North Wales almost Britain to its knees. A little-known Flintshire farmer Brynle Williams found himself at the head of a movement that created panic in Whitehall and almost brought down Tony Blair's government.
It started as a small protest meeting in St Asaph. 22 years ago this month.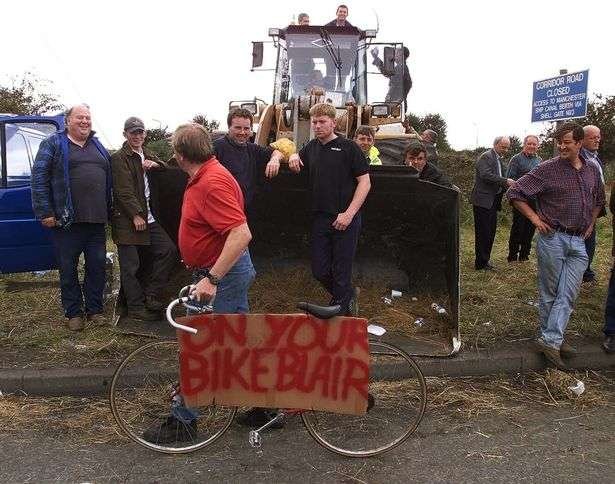 Farmers and hauliers were growing increasingly exasperated by the cost of fuel – and they wanted to do something about it.
Little did he know that within days he would become a national figure and that small gathering would spiral into a movement which brought Britain to its knees and almost toppled the government of the UK.
The "fuel protests", as they came to be known, dominated the headlines
There were pickets and blockades reported in areas including Milford Haven, and Avonmouth, with fuel supplies disrupted in North Yorkshire, North West England, the Scottish Borders, Manchester, Kingsbury Oil – the largest inland oil terminal and at Cardiff Docks.
Protesters were demanding a reduction in fuel taxes and kept the pressure on the UK Government.
Thousands of petrol stations across the country started to run dry, sparking panic buying at the pumps with long queues stretching back as motorists tried to fill their tanks up, amid dwindling stocks.
Ambulances were running emergency only services, routine operations were cancelled in some NHS trusts, and public transport was impacted as supermarkets started to run out of food stocks, with panic buying reported in stores.
The country was grinding to a halt.
Tony Blair, who was Prime Minister at the time, pressured oil companies to resume deliveries, UK Government COBRA meetings were held over the crisis and military tankers were deployed to get fuel out.
Support Labour Heartlands
PLEASE HELP US KEEP GOING AD-FREE
HELP US GROW.
This is a "Pay as You Feel" website.
This blog has no source of state, corporate or institutional finance whatsoever. It runs entirely on voluntary subscriptions from its readers – many of whom do not necessarily agree with every article, but welcome the alternative voice, insider information and debate.
You can have access to all of our online work for free. However if you want to support what we do, you could make a small donation to help us keep writing and staying ad-free. The choice is entirely yours.