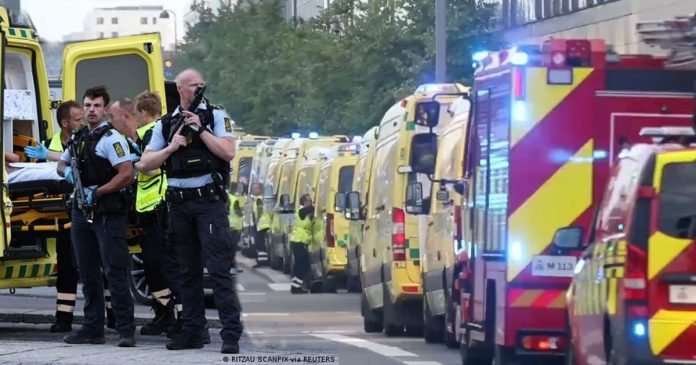 Danish police said there are "several dead" following a shooting at a shopping mall in the capital Copenhagen. Authorities have detained one suspect in connection with the incident.
Announcing the deaths, police chief Soeren Thomassen said a 22-year-old Danish man has been arrested in connection with the attack.
Mr Thomassen said the motive was unclear, but that he could not rule out an "act of terrorism".
Eyewitnesses have spoken of panic among shoppers as gunfire rang out inside the Field's mall in the south of the city.
Emilie Jeppesen told Jyllands-Posten newspaper: "You didn't know what was happening. Suddenly there was just chaos everywhere."
Another witness, Mahdi Al-Wazni, told TV 2 that the shooter had carried a "hunting rifle".
Speaking at a news conference on Sunday evening, Mr Thomassen said it was too early to say exactly how many people had been harmed in the attack.
But he told reporters that there was no indication that other shooters were involved.
#Update: Just in – Police forces are evacuating and clearing the building of the fields shopping center in #Copenhagen in #Denmark, after a suspect shot multiple rounds inside the shopping center. pic.twitter.com/hhv7ZAecwH

— Sotiri Dimpinoudis (@sotiridi) July 3, 2022
What we know so far
Chief police inspector Soren Thomassen told a news conference on Sunday evening that several people had died and many more were wounded. But he said it was too early to reveal the exact number.
Thomassen added that a 22-year-old Danish national was arrested in connection with the shooting. He described him as an "ethnic Dane."
He said police don't currently believe anyone else was involved.
The police chief added that terrorism cannot immediately be ruled out.
Thomassen also said the shooting happened in several places within the mall.
Danish public broadcaster DR cited a local hospital as saying they were treating three people in connection with the shooting at their trauma center.
Other local media published images showing heavily armed police officers at the scene, as well as people running out of the mall.
Police said they remained in the building in larger numbers on Sunday evening and were working to secure the area.
They said they had also increased their presence on the island of Zealand and a manhunt was underway for any possible accomplices.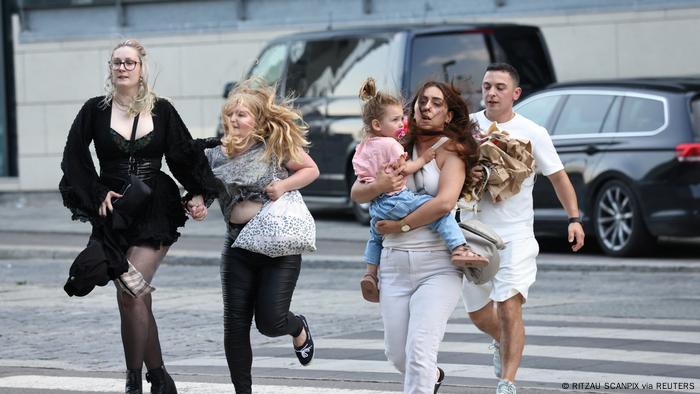 Witnesses describe 'loud bangs'
Danish newspaper Berlingske spoke to an eyewitness at the mall, who said shoppers rushed to leave the mall when the shooting began.
"It was crazy," said store worker Chelobeth Johansen. She said she heard several shots and could see people had started running before she shut the store and left the mall herself.
Shopper Laurits Hermansen told DR that he was in a clothing store with his family when he heard "three-four bangs. Really loud bangs. It sounded like the shots were being fired just next to the store."
The shooting took place just hours before pop star Harry Styles was to play a sold-out concert at the Royal Arena, which is just a short drive from the mall.
Organizers said the gig would proceed as planned after the police gave their approval.
On Snapchat, Styles wrote "My team and I pray for everyone involved in the Copenhagen shopping mall shooting. I am shocked. Love H."
An event on the royal yacht connected to the Tour de France cycling race was cancelled, the palace said in a statement.
The first three stages of the race were held in Denmark this year.
The shooting comes just over a week after a gunman opened fire near a gay bar in Oslo in neighbouring Norway, killing two people and wounding 21 others.
mm/rs (AFP, Reuters)
Support Labour Heartlands
PLEASE HELP US KEEP GOING AD-FREE
HELP US GROW.
This is a "Pay as You Feel" website.
This blog has no source of state, corporate or institutional finance whatsoever. It runs entirely on voluntary subscriptions from its readers – many of whom do not necessarily agree with every article, but welcome the alternative voice, insider information and debate.
You can have access to all of our online work for free. However if you want to support what we do, you could make a small donation to help us keep writing and staying ad-free. The choice is entirely yours.