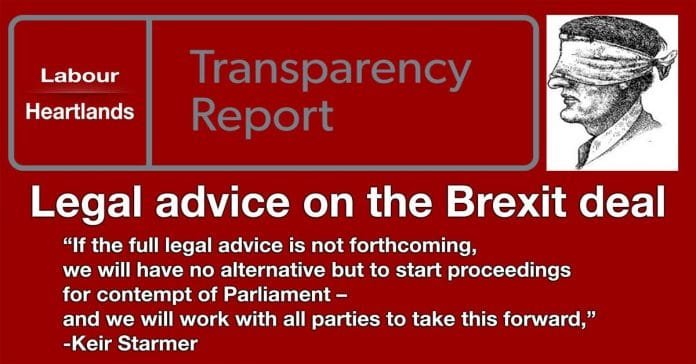 Four major U.K. political parties will band together to try to force Prime Minister Theresa May to publish the government's legal advice on the Brexit deal, the Sunday Telegraph reported.
The move could delay the crucial vote on the Brexit deal in the House of Commons and further undermine support for the agreement, whose prospects in parliament already look bleak.
Northern Ireland's Democratic Unionist Party (DUP), whose MPs prop up May's minority Conservative government, will join Labour, the Liberal Democrats and the Scottish National Party (SNP) in sending a letter on Monday that will accuse the government of being in contempt of parliament over its refusal to release the full legal advice, according to the Sunday Telegraph.
The newspaper said it had seen a draft of the letter, which could delay the start of a 40-hour marathon debate over five days on the Brexit deal.
Keir Starmer, Labour's shadow Brexit secretary, Nigel Dodds, the DUP's leader in Westminster, Tom Brake, the Liberal Democrats' Brexit spokesperson, and Stephen Gethins, the SNP's Europe spokesperson, will sign the letter, the report said.
In an opinion piece in the Sunday Telegraph, Starmer wrote that ministers could trigger "a historic constitutional row that puts Parliament in direct conflict with the executive" if they do not release the full legal advice.
"If the full legal advice is not forthcoming, we will have no alternative but to start proceedings for contempt of Parliament – and we will work with all parties to take this forward," he added.
U.K. Chancellor Philip Hammond said last week that the government would only publish a summary of the legal advice. The government has insisted that legal advisers must be able to provide advice in confidence, without fear that it will be published, so that they can provide a frank assessment.
Labour will call a confidence vote in Theresa May if she loses the crunch Commons vote over her Brexit deal, in a bid to trigger a general election.
Sir Keir Starmer, the shadow Brexit Secretary, said his party will "inevitably" table a no confidence motion if Mrs May's Brexit deal does not pass through Parliament.
He criticised the Prime Minister for "running down the clock" and coming up with a
"bad deal".
"People praise her resilience – at the moment I don't think this is resilience, it's just ploughing on regardless," he said.
Support Labour Heartlands
PLEASE HELP US KEEP GOING AD-FREE
HELP US GROW.
This is a "Pay as You Feel" website.
This blog has no source of state, corporate or institutional finance whatsoever. It runs entirely on voluntary subscriptions from its readers – many of whom do not necessarily agree with every article, but welcome the alternative voice, insider information and debate.
You can have access to all of our online work for free. However if you want to support what we do, you could make a small donation to help us keep writing and staying ad-free. The choice is entirely yours.