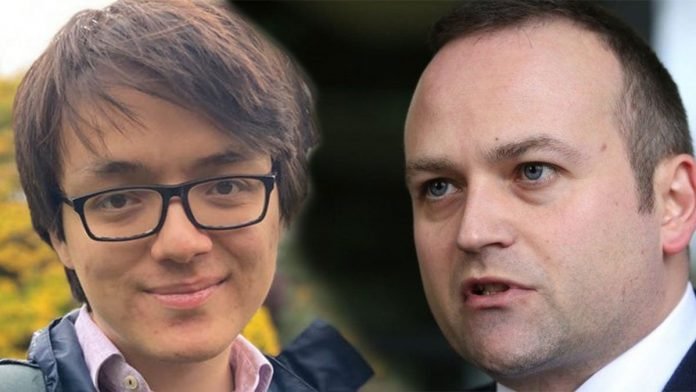 Labour MP Neil Coyle suspended over racist comment claim
MP Neil Coyle has been suspended by the Labour Party after allegations he made racist comments.
Political journalist Henry Dyer has made a formal complaint to the parliamentary authorities about the MP.
Mr Dyer, who is of British-Chinese heritage, says Mr Coyle used racial slurs and made him feel uncomfortable at an incident in a Commons bar.
Writing on Business Insider, where he works as a political reporter, Mr Dyer said the MP made a racially insensitive remark during a conversation in the Strangers' Bar about Barry Gardiner, the Labour MP who received funding from a suspected Chinese spy.
Mr Dyer stated," "On Tuesday evening, I spoke to other journalists at Strangers'. Coyle approached the small group I was in. He did not acknowledge my presence at the incident the previous evening, and spoke on several topics, including his claim that his constituency has the most restaurants with Michelin stars.
The topic eventually moved to Barry Gardiner, the Labour MP who had received funding from a suspected Chinese spy. Coyle made a remark suggesting Gardiner was being paid by "Fu Manchu", a comment that struck me at the time as not right, given it had been well reported who had been giving Gardiner money, and so there was no need to refer to a 20th Century trope of a Chinese supervillain. 
I gently pushed back at Coyle about this. He asked me if it was just the case that I was being over-sensitive, before saying that he would apologise if he had said something bad and it wasn't just me being sensitive, which I believe was insincere. He then said that he had relatives of Chinese descent.
I responded by saying that I am British-Chinese, to which Coyle responded that he could tell, "from how you look like you've been giving renminbi [the Chinese currency] to Barry Gardiner."
He then left our group. The two other journalists in the group ask me what he had just said, perhaps having not heard clearly, and I repeat Coyle's remark to them.
Later that evening, as a group of us were leaving the bar, others turned and waved goodbye to other journalists. I also turned, and saw Coyle. Keen to defuse the tension from earlier, I waved goodbye to him, to which he responded by putting two fingers up at me".
'Totally unacceptable'
Later that week, Mr Dyer reported the exchange to Commons Sir Lindsay Hoyle, who he said "took immediate action".
The Speaker is understood to be "very concerned" about the incident.
Chair of the Home Affairs Committee, and Labour MP, Diana Johnson said Mr Coyle's comments were "totally unacceptable".
In a statement, the East and South East Asians for Labour group praised Mr Dyer for "speaking out".
"No one should face racism in the workplace especially in Parliament which should be setting the highest example for the rest of the country".
Last week, the Daily Mail reported Mr Coyle had launched an angry expletive-laden anti-Brexit rant in the Strangers' Bar.
Mr Coyle has since been banned from the bars on the parliamentary estate for six months.
Following his suspension, Mr Coyle said he was "very sorry for my insensitive comments".
He said he had "apologised to everyone involved" and would be cooperating with the investigation.
In a later statement, he said he was "devastated to be in this situation through my own fault" and would "take every step necessary to improve myself".
"I hope to re-prove my Labour values and have the whip restored in due course."
'Highest standards'
Mr Dyer later confirmed Mr Coyle had "offered his apologies for his inappropriate actions… and reiterated that he will be complying with the Labour Party's investigation".
Coyle once branded Brexiteers 'absolute sh*tbag racist w*nkers' during Rule Britannia row
Coyle is no stranger to controversy Neil Coyle branded Brexiteers "sh*tbag racist w*nkers" during a late night tweet on the BBC's decision to play a wordless version of Rule Britannia at this year's Last Night of the Proms.
In a now-deleted Tweet, Coyle wrote "I have spent years warning local people that these fat old racists won't stop blaming the EU when their shit hits the fan. Here they come blaming others. Absolute shitbag racist wankers." This was in response to a tweet by fellow parliamentarian Jacob Rees-Mogg, who had made a post concerning the BBC's decision to censor the traditional performance of Rule Britannia meant to take place during the final evening of the Proms. Coyle followed this tweet up with a further tweet, referring to the song, "If you didn't hate it before, feel free to hate the song now. I've never known anyone but shitlickers like it tbh."
Coyle also made outlandish accusations against Jeremy Corbyn
In an act of bitterness, Coyle claimed that the former leader had "received financial support for legal cases involving him in various legal disputes, principally surrounding anti-Semitism", but that he said had not been properly declared. All coming to no end.
It seems Coyle is just a nasty piece of work whichever way you look at it.
Support Labour Heartlands
PLEASE HELP US KEEP GOING AD-FREE
This is a "Pay as You Feel" website.
Hey there! Thanks for stopping by. If you've enjoyed reading the articles on Labour Heartlands so far, We would be incredibly grateful if you could consider making a small donation. Labour Heathlands is not your typical news outlet. We are not here to simply regurgitate the daily news cycle, that's for the rest of them. Our focus is on delving deeper, uncovering the untold stories and shedding light on the issues that the mainstream media chooses to ignore.
Our unwavering commitment to journalistic integrity means that we are not influenced by any external forces. We are not beholden to PR companies, advertisers or press barons, and we refuse to let anyone dictate what we report on. Our editorial independence is sacrosanct, and our only allegiance is to the truth.
While we do not align ourselves with any particular political party, we stand firmly against corruption, injustice and the erosion of truth and the rule of law. We believe that accurate information is the lifeblood of a democracy and that facts are not up for debate.
Once again, thank you for your support – We truly couldn't do this without you!
PLEASE HELP US KEEP GOING AD-FREE