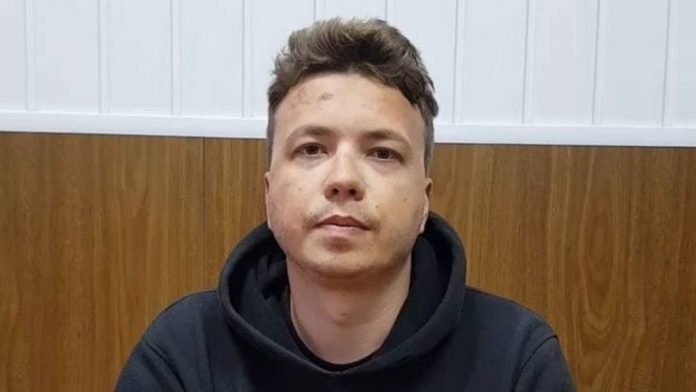 European Union leaders have agreed on a set of sanctions to be laid against Belarus after a Ryanair flight from Greece to Lithuania was forced to land in Minsk and a Belarusian journalist on board was detained.
In addition to blocking use of the 27-country bloc's airspace and airports, the EU is expected to hit individual officials linked to the incident with sanctions, the Associated Press has reported.
EU leaders came to the decision at an emergency summit held on Monday and are expected to enforce the sanctions as soon as legal proceedings will allow.
The decision came as Roman Protasevich, a Blogger/journalist was detained in Belarus, he appeared in a video posted online on Monday, saying he was in good health but was being held in a pre-trial detention facility in Minsk.
In the video, the journalist acknowledges that he played a part in organising mass protests in Minsk last year, Reuters reported.
Protasevich's detention has sparked international outrage, with the European Commission's president warning that Belarus would face "severe consequences" for its actions.
"There will be a very strong answer because it is outrageous behaviour and Lukashenko and his regime have to understand that this will have severe consequences," Ursula von der Leyen told reporters on Monday.
In the video circulated by state TV channels on Monday, Belarusian blogger Raman Pratasevich, who was detained when an Athens-to-Vilnius Ryanair plane he travelling on was forced to land in Minsk, says he is in good health. He stated:
"Yesterday, I was arrested by officials from the Ministry of Internal Affairs at the national airport in Minsk … I am in Detention Center No. 1 in Minsk. I can say that I have no health problems, including with my heart or any other organs," Pratasevich said in the video.
"The attitude of employees towards me is as correct as possible and according to the law," Pratasevich said. "I continue cooperating with investigators and am confessing to having organized mass unrest in the city of Minsk."
The 26-year-old is wearing a black hoodie in the video and sits behind a table with a pack of cigarettes by his side. Some dark markings are visible on his forehead.
The videa appears on several channels of the Telegram messaging app.
Opposition leader says blogger 'under pressure'
The regime's propaganda channels posted a video of arrested Raman Pratasevich, saying that he is treated lawfully in the Minsk Detention Center №1. This is how Raman looks under physical and moral pressure. I demand the immediate release of Raman and all political prisoners. pic.twitter.com/zdolsbp6m5

— Sviatlana Tsikhanouskaya (@Tsihanouskaya) May 24, 2021
In response to the video, Belarusian opposition Sviatlana Tsikhanouskaya said the blogger  was pressured. 
"The regime's propaganda channels posted a video of arrested Raman Pratasevich, saying that he is treated lawfully in the Minsk Detention Center No.1… This is how Roman looks under physical and moral pressure," Thiskanouskaya wrote on Twitter. 
"I demand the immediate release of Roman and all political prisoners," she added. 
Breakdown in international trust
Pratasevich was on his way back from Athens to Vilnius, Lithuania, where he is based. Belarusian President Alexander Lukashenko personally ordered a MiG-29 jet fighter to escort the civilian plane to the Minsk airport. In a statement, Ryanair said the crew had been "notified by Belarus Air Traffic Control of a potential security threat on board and were instructed to divert to the nearest airport, Minsk."
The journalist had left Belarus for Poland in 2019 in fear of arrest. From there, he worked as the editor-in-chief of the influential Telegram channels Nexta and Nexta Live, which became the main source of information about protests when the internet was shut down after the disputed presidential election in August.
Since November, Pratasevich — like Nexta founder Stsiapan Putsila — has been on the government's list of more than 700 "individuals allegedly involved in terrorist activities."
With most opposition leaders having left Belarus, Nexta has played a key role in spreading information, posting updates, giving the time and location of rallies, and revealing facts about police brutality. Lukashenko, who has ruled Belarus since 1994, has accused social media and independent journalists of being responsible for organizing and coordinating mass opposition rallies.
When asked if he was afraid that Lukashenko's agents might get to him in Poland, Pratasevich said he was in the process of obtaining refugee status and would not be deported. A request for Raman's extradition had previously been sent by the Belarusian authorities to Poland's government, which did not comply.
The regime launched a war on journalists and bloggers in Belarus months before last summer's election. In June, Ihar Losik, a consultant for Radio Free Europe/Radio Liberty (RFE/RL) and the founder of another influential Telegram channel, Belarus of the Brain, was detained. Since then, the already dire situation has worsened.
Now under the Belarus dictator Alexander Lukashenko, it seems even international airspace is not safe.
"This was effectively aviation piracy, state sponsored," said Ireland's Foreign Minister Simon Coveney, using language that was echoed by a number of other countries.
ANNE APPLEBAUM staff writer at The Atlantic states, Belarusian air-traffic control falsely told the pilots that the plane had a bomb on board. According to Belarusian state media, the plane was then "escorted" to Minsk, the capital of Belarus, by a MiG fighter jet.
In reality, there was no bomb, the threat was fake, and Minsk was not even the closest airport; after the plane landed, nobody rushed to get the passengers to safety. The real point of the exercise became clear after two passengers were removed.
This was a clear ply to remove and arrest Roman Protasevich, a blatant act of deception one that will in no doubt break down international trust.
In autocratic capitals all over the world, dictators and their flunkies are also watching to see how the West reacts—whether Lukashenko gets away with it and whether, perhaps, this new tool of oppression will become available to them too.
Invariably, others will seek to use it, if only because it sends a message to their dissident and exile communities: You are not safe. You are never safe. Not even if you live in a democracy; not even if you have political asylum; not even if you are sitting on a commercial plane, thousands of feet above the ground.
Support Labour Heartlands
Help Us Sustain Ad-Free Journalism
Welcome to the Heartlands of Independent Journalism
At Labour Heartlands, we are committed to delivering independent news, views, and opinions. Our mission is to hold those in power accountable, and we can't do it without your support. As a non-profit independent organisation, we rely on our donors to keep our journalism ad-free and impactful.
Like everyone else, we're facing challenges, and we need your help to stay online and continue providing crucial journalism. Every contribution, no matter how small, goes a long way in helping us thrive. By becoming one of our donors, you become a vital part of our mission to uncover the truth and uphold the values of democracy.
While we maintain our independence from political affiliations, we stand united against corruption, injustice, and the erosion of free speech, truth and democracy. We believe in the power of accurate information in a democracy, and we consider facts non-negotiable.
Your support, no matter the amount, can make a significant impact. Together, we can make a difference and continue our journey toward a more informed and just society.
Thank you for supporting Labour Heartlands
Just click the donate button below