Verdict: Guilty on all counts
News
The ex-police officer filmed with his knee on George Floyd's neck, sparking global protests against racism, has been convicted on all charges – second- and third-degree murder as well as manslaughter.
Former Minneapolis Police Officer Derek Chauvin was convicted Tuesday on charges of murder and manslaughter in the death of George Floyd.
The jury of five men and seven women deliberated for four hours Monday afternoon and resumed deliberating Tuesday morning, according to the court. They were sequestered from the public during deliberations.
Chauvin, 45, had pleaded not guilty to second-degree unintentional murder, third-degree murder and second-degree manslaughter.
The deliberations began after three weeks of testimony in one of the most closely watched cases of the Black Lives Matter era.
The prosecution's case against Chauvin featured 38 witnesses as they sought to show the former Minneapolis Police officer committed murder when he kneeled on the neck and back of Floyd, handcuffed and prone on the street, for 9 minutes and 29 seconds on May 25, 2020.
Prosecutors have repeatedly told jurors to "believe your eyes" and rely on the infamous bystander video of Floyd's death.
"This case is exactly what you thought when you saw it first, when you saw that video. It is exactly that. You can believe your eyes," prosecuting attorney Steve Schleicher said in closing arguments. "This wasn't policing. This was murder."
The defense called seven witnesses of its own — but not Chauvin himself, as he invoked his Fifth Amendment right not to testify.
Cheers of celebration outside court
As Judge Cahill leads the jurors through their final duties, we see footage of the public outside court celebrating and cheering the guilty verdict.
Inside, Derek Chauvin's face remains almost expressionless beneath his mask.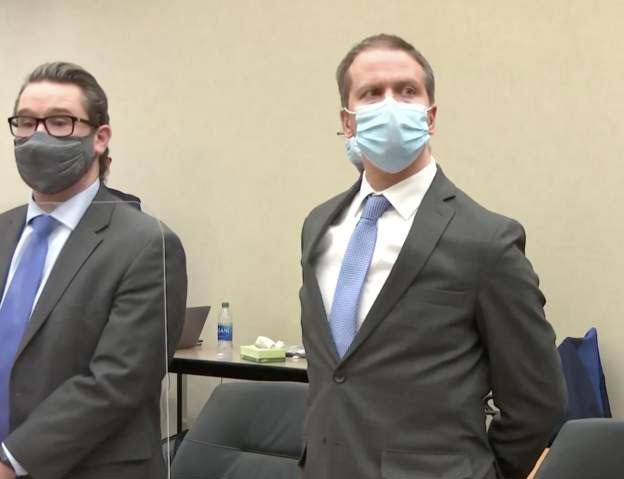 Chauvin was taken into custody
Following a recommendation from prosecutors, Judge Cahill has revoked Chauvin's bail.
He will remain in jail until he is sentenced. Chauvin was led from the court in handcuffs.
Judge announces sentencing in 8 weeks
After Judge Peter Cahill read and confirmed the verdict with the jury, he announced technical next steps, including scheduling sentencing in eight weeks time.
Cahill said the court would look at written arguments from Derek Chauvin "within one week" and issue factual findings on it. Then they will order a pre-sentencing investigation report, "returnable in four weeks." That will be followed by a briefing on the pre-sentencing investigation report six weeks from now and "eight weeks from now we will have sentencing."
The 12 jurors found Chauvin guilty of second-degree unintentional murder, third-degree murder and second-degree manslaughter in George Floyd's death in May 2020.
Support Labour Heartlands
PLEASE HELP US KEEP GOING AD-FREE
HELP US GROW.
This is a "Pay as You Feel" website.
This blog has no source of state, corporate or institutional finance whatsoever. It runs entirely on voluntary subscriptions from its readers – many of whom do not necessarily agree with every article, but welcome the alternative voice, insider information and debate.
You can have access to all of our online work for free. However if you want to support what we do, you could make a small donation to help us keep writing and staying ad-free. The choice is entirely yours.