The Conservatives have held the safe suburban London seat of Old Bexley and Sidcup in a by-election
Their candidate, local councillor Louie French, won more than half the votes, with Labour's Daniel Francis second.
Mr French paid tribute to the area's former MP, James Brokenshire, whose death from cancer in October triggered the contest.
The Tories' majority has been cut from nearly 19,000 to 4,478, with a 10% swing to Labour.
Reform UK – formerly the Brexit Party – came third with 6.6% of the vote, with the party's leader and candidate Richard Tice describing it as a "massive result".
The Green Party and Liberal Democrats both lost their deposits.
Many questions can be asked about this by-election and sure the polls will show percentages telling the story they want to convey but the real story is the low turn out the lack of voters. Labour will ultimately be swooning on the fact they have a 10% swing but in real terms, their vote was down from 10,834 to 6,711 whereas the Tories were down from a whooping 29,786 to a measly win of 11,189 votes. It's this low turnout that is most striking, the political apathy. The fact Starmer cannot get support, even against this corrupt Tory Government at the height of mismanaged health crisis speaks volumes.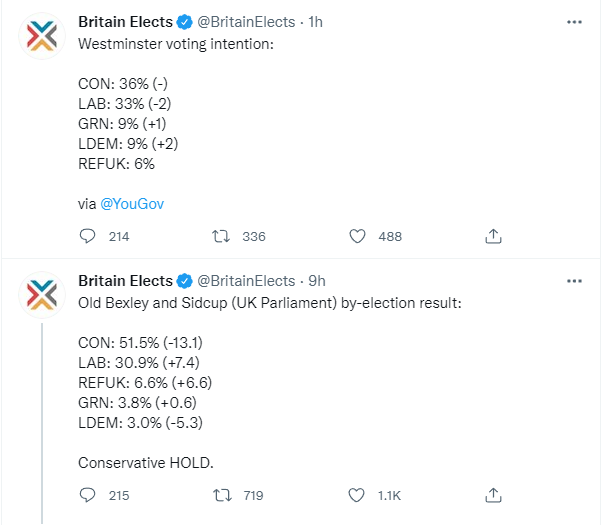 Growing Apathy
Political apathy can lead to low voter turnout and stagnation in a state's government. Political apathy can lead to a loss of democracy and respondents mentioned it can also have social and psychological damage due to lack of personal political interaction but most of all Political apathy lets them win.
Although votes at mid-term polls are usually lower than at general elections, the 34% turnout was on average over 50% lower than previous elections.
| | | | |
| --- | --- | --- | --- |
| 2021: Turnout | 21,733 | 33.5% | 36.3% |
By-election 2021: Old Bexley and Sidcup
| | | | |
| --- | --- | --- | --- |
| 2019: Turnout | 46,145 | 69.8% | -3.0% |
General election 2019: Old Bexley and Sidcup
| | | | |
| --- | --- | --- | --- |
| 2017: Turnout | 48,042 | 72.8% | +2.0% |
General election 2017: Old Bexley and Sidcup
| | | | |
| --- | --- | --- | --- |
| 2015: Turnout | 46,748 | 70.8% | +1.5% |
General election 2015: Old Bexley and Sidcup
| | | | |
| --- | --- | --- | --- |
| 2010: Turnout | 45,492 | 69.3% | +4.0% |
General election 2010: Old Bexley and Sidcup
| | | | |
| --- | --- | --- | --- |
| 2005: Turnout | 44,572 | 65.3% | +3.2% |
General election 2005: Old Bexley and Sidcup
| | | | |
| --- | --- | --- | --- |
| 2001: Turnout | 42,133 | 62.1% | -13.4% |
General election 2001: Old Bexley and Sidcup
| | | | |
| --- | --- | --- | --- |
| 1997: Turnout | 51,391 | 75.5% | ―6.5% |
General election 1997: Old Bexley and Sidcup
Old Bexley and Sidcup: Result in full
Louie French, Conservatives – 11,189 (51.48%)
Daniel Francis, Labour – 6,711 (30.88%)
Richard Tice, Reform UK – 1,432 (6.59%)
Jonathan Rooks, Green – 830 (3.82%)
Simone Reynolds, Liberal Democrats – 647 (2.98%)
Elaine Cheeseman, The English Democrats – 271 (1.25%)
John Poynton, UKIP – 184 (0.85%)
Richard Hewison, Rejoin EU – 151 (0.69%)
David Kurten, Heritage Party – 116 (0.53%)
Carol Valinejad, Christian Peoples Alliance – 108 (0.50%)
Mad Mike Young, Official Monster Raving Loony Party – 94 (0.43%)
"I think there are two ways in which people are controlled. First of all, frighten people and secondly, demoralise them."
Not apathy, but anger.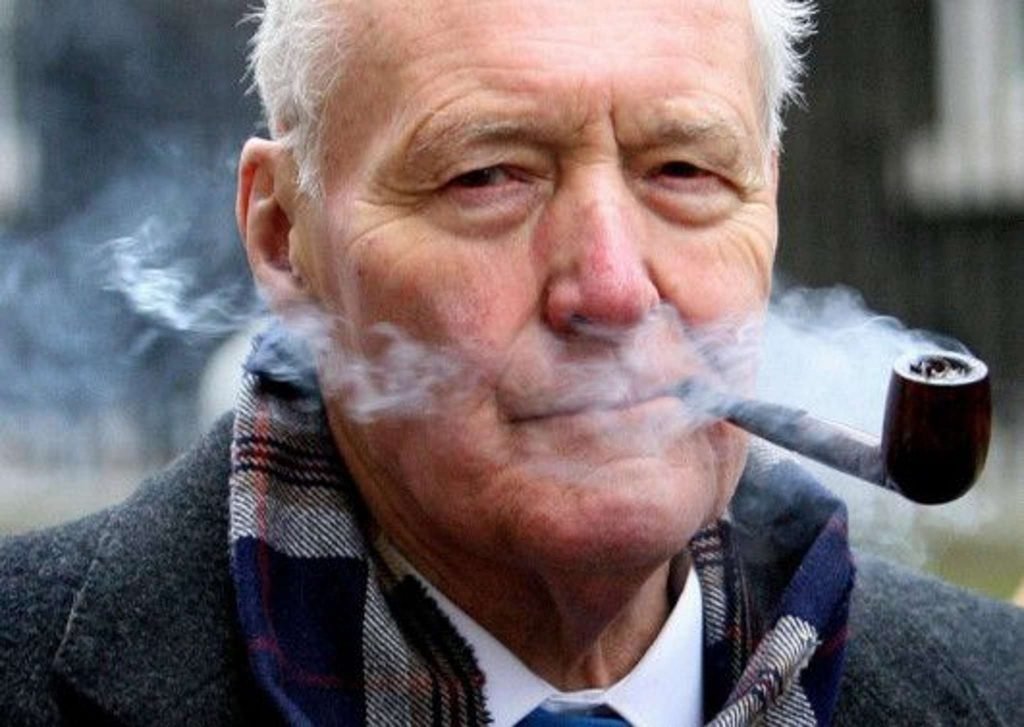 Tony Benn rightly pointed out that Apathy gives advantages to the political class.
General election campaigns have degenerated into an exchange of personal abuse which puts most people off; a flurry of election promises marketed by high-pressure salesmen; and the usual solemn warnings about apathy – as if the real problems in Britain were caused by the inactivity of the people, rather than the activity of the parliamentarians.
Apathy has its advantages for the political class – by which I mean the party leaders, their spin doctors and their embedded correspondents in the media, who live in the Westminster village and rarely seem to get out to listen to what is being said.
It encourages ministers to do what they like on the grounds that the public are not really interested. For the same reason, it entitles the media to dumb down their coverage as if that is the only way to win attention. This suggests that those at the top have little confidence in people's intelligence.
My own experience, four years after leaving parliament to devote more time to politics, has convinced me that, far from being apathetic, most people are angry that no one seems to be listening to them; nor do they believe what they are told. Anger and mistrust are highly political responses and in no sense can they be described as apathy.
That is why we have seen so many popular movements growing up which provide a real outlet for those who no longer feel connected to the parliamentary process and its media entourage. The result is that real politics increasingly focuses on the issues of peace, the environment, civil liberties, pensions, student debt, and the rights of women and trade unions, whose activists get far less coverage than the personalities in the major parties, and are often described as troublemakers or rebels.
The big peace demonstration this Saturday in Trafalgar Square will be a test case. If past practice is followed, the only media interest will be if there is a scuffle or an arrest, while the speeches made from the plinth will be completely ignored.
Meanwhile, even those who voted against detention without trial have been denounced as soft on terrorism. This is despite the fact that one of them was Lord Irvine, whom the prime minister had appointed as lord chancellor, suggesting that New Labour's election campaign is to be based on fear.
Everyone would do well to remember that polling day belongs to the electors and not to the party machines, for it is the one day in five years when every voter has exactly the same political power as the prime minister, and the media coverage could – and should – focus on that.
Opinion polls which predict the outcome, though they are of interest to the party managers as they plan their campaign strategy, do not help the electors, who want to know what the candidates believe before they cast their vote. What is needed now is for some imaginative polling organisation to send a questionnaire to all candidates with, say, 20 key questions and a commitment to publish their answers, nationally and in their own constituencies, making it clear that if they decline to answer, that refusal will also be made public.
It would not be hard to draft the most relevant questions since, before we vote, we are entitled to know the attitude of all our local candidates towards the war, the UN, nuclear weapons, policies to end third world poverty, the EU constitution, education, the environment, student fees, privatisation, means tests for pensioners, civil liberties, taxation, trade union rights, council house building, and other key questions.
Democracy is about representation, but many people now feel that we are being managed all the time. It may be that the real legacy of New Labour will be the erosion of democratic rights, with our conference disregarded, parliament taken for granted and the cabinet told what has been already decided by the prime minister and his coterie of personal advisers – like Lord Birt, who has not been elected, cannot be questioned and is in no way accountable.
This is why so many people are wondering how it is that a leadership which presented itself as being so moderate could have launched us into four wars, abolished Magna Carta, and banned demonstrations in Parliament Square under the banner of modernisation.
But none of this should, in any way, discourage us, for historically all progress comes from below, as the Tolpuddle Martyrs, the Chartists and the Suffragettes came to realise. So too did the "terrorists" we imprisoned for their role in the colonial liberation struggle, who ended up having tea with the Queen as heads of Commonwealth countries.
For the first time in my life public opinion is well to the left of a Labour government and that is why – at nearly 80 – I am so optimistic.
· Tony Benn Free Radical
A footnoot from the editor:
I find it extraordinary that after the mass movement of the Corbyn project and the participation in everyday politics from the grassroots Left that now the Labour party has shifted not only to a safe pair of establishment hands under the tenure of Sir Keir Starmer but a leader that belongs to an organisation, 'The Trilateral commission' that promotes 'Apathy as a weapon' in an attempt to reduce the democratic political participation of the Left and working class in general.
It's not about party or political affiliation, it's about participation. Whether you like the direction we're headed now, or you want things to change—the good news is that every one of us, in our role as voters, has the power to influence the future.
Don't let the bastards grind you down get out and make your voice count.
Apathy and obedience.
Two documents came out right in the mid-'70s, which are quite important. They came from opposite ends of the political spectrum, both influential, and both reached the same conclusions. One of them, at the left end, was by the Trilateral Commission—liberal internationalists, three major industrial countries, basically the Carter administration, that's where they come from.
That is the more interesting one [The Crisis of Democracy, a Trilateral Commission report]. The American rapporteur Samuel Huntington of Harvard, he looked back with nostalgia to the days when, as he put it, Truman was able to run the country with the cooperation of a few Wall Street lawyers and executives. Then everything was fine. Democracy was perfect.
But in the '60s they all agreed it became problematic because the special interests started trying to get into the act, and that causes too much pressure and the state can't handle that. We have to have more moderation in democracy.
"The cure for democracy is more democracy." He said, "No, the cure for this democracy is less democracy."
This is the liberal establishment. This is a consensus view of the liberal internationalists and the three industrial democracies. They—in their consensus—they concluded that a major problem is what they called, their words, "the institutions responsible for the indoctrination of the young." The schools, the universities, churches, they're not doing their job. They're not indoctrinating the young properly. The young have to be returned to passivity and obedience, and then democracy will be fine. That's the left end.
Now, what do you have at the right end? A very influential document, the Powell Memorandum, came out at the same time. Lewis Powell, a corporate lawyer, later Supreme Court justice, he produced a confidential memorandum for the US Chamber of Commerce, which has been extremely influential. It more or less set off the modern so-called "conservative movement." The rhetoric is kind of crazy. We don't go through it, but the basic picture is that this rampaging left has taken over everything. We have to use the resources that we have to beat back this rampaging New Left which is undermining freedom and democracy.
Connected with this was something else. As a result of the activism of the '60s and the militancy of labor, there was a falling rate of profit. That's not acceptable. So we have to reverse the falling rate of profit, we have to undermine democratic participation, what comes? Neoliberalism, which has exactly those effects.
Chomsky says that as it was an internal discussion they "let their hair down" and talked about how the public needs to be reduced to its proper state of apathy and obedience. Essentially liberal internationalists from Europe, Japan and the United States, the liberal wing of the intellectual elite.
The Trilateral Commission are concerned with trying to induce what they call a "more moderation in democracy"—turn people back to passivity and obedience so they don't put so many constraints on state power and so on. In particular, they were worried about young people.
They are concerned about the institutions responsible for the indoctrination of the young (that's their phrase), meaning schools, universities, church and so on—they're not doing their job, [the young are] not being sufficiently indoctrinated. They're too free to pursue their own initiatives and concerns and you've got to control them better. Read more.
It is this rudderless Left, the take over of the Labour Party by an establishment stooge that will ultimately allow the free rein for tyranny to grow.
Support Labour Heartlands
Help Us Sustain Ad-Free Journalism
Sorry, I Need To Put Out the Begging Bowl
Independent Journalism Needs You
Our unwavering dedication is to provide you with unbiased news, diverse perspectives, and insightful opinions. We're on a mission to ensure that those in positions of power are held accountable for their actions, but we can't do it alone. Labour Heartlands is primarily funded by me, Paul Knaggs, and by the generous contributions of readers like you. Your donations keep us going and help us uphold the principles of independent journalism. Join us in our quest for truth, transparency, and accountability – donate today and be a part of our mission!
Like everyone else, we're facing challenges, and we need your help to stay online and continue providing crucial journalism. Every contribution, no matter how small, goes a long way in helping us thrive. By becoming one of our donors, you become a vital part of our mission to uncover the truth and uphold the values of democracy.
While we maintain our independence from political affiliations, we stand united against corruption, injustice, and the erosion of free speech, truth and democracy. We believe in the power of accurate information in a democracy, and we consider facts non-negotiable.
Your support, no matter the amount, can make a significant impact. Together, we can make a difference and continue our journey toward a more informed and just society.
Thank you for supporting Labour Heartlands
Just click the donate button below