What are the restrictions in the different tiers?
Tier 1 – Medium
10pm curfew for bars, pubs and restaurants
Gatherings of more than six people banned, apart from some settings such as funerals and weddings
Tier 2 – High:
Mixing of households indoors not allowed
Two households can meet in a private garden – rule of six and social distancing rules apply
Areas with the lowest rates of infection will be placed in Tier One. They will face the basic national rules currently in force including:
Pubs, bars and restaurants will have to close at 22:00 BST
The rule of six (number of people who can meet up) applies both indoors and outdoors
Areas in Tier Two face an extra level of restrictions:
No mixing between different households indoors
The rule of six only continues outdoors
Most areas of England which are already subject to local restrictions will be placed in Tier Two – although some places will face additional restrictions for the first time.
Tier 3–Highest:
The highest level of restrictions are in Tier Three. Areas where transmission is rising most rapidly will be placed in this category.
The government said it would work with local councils on the additional measures for each area. The prime minister said the Liverpool City Region (Liverpool, Knowsley, Sefton, Wirral, St Helens and Halton) – currently the only area facing Tier Three restrictions – will have the following restrictions from Wednesday 14 October:
Pubs and bars will be closed, except where serving substantial meals
Households cannot mix indoors or outdoors
Gyms, leisure centres, betting shops and casinos will also close
Shops, schools and universities will remain open
What are the current restrictions across Scotland?
Until Sunday 25 October, pubs and restaurants can only open inside between 06:00 and 18:00 daily, and they are not allowed to serve alcohol.
They are only allowed to serve food and non-alcoholic drinks, although they can serve alcohol outdoors until 22:00.
Hotel restaurants can serve food after 18:00, but only for residents and without alcohol.
Shops have reintroduced measures to ensure 2m (6ft) social distancing, such as one-way systems.
Face coverings are compulsory in indoor communal settings, such as staff canteens and corridors in workplaces.
Even tougher rules in the central belt
Because of higher levels of Covid infection, 3.4 million people in central Scotland are subject to tougher restrictions until 25 October.
The region affected covers 18 local council and five health board areas (Greater Glasgow & Clyde, Lanarkshire, Ayrshire & Arran, Lothian, Forth Valley).
In these areas, all licensed premises – with the exception of hotel bars for residents – have to close indoors and outdoors, though takeaways are permitted.
Cafes can stay open until 18:00 daily, as long as they don't serve alcohol.
People living in these areas have been told to avoid public transport, unless absolutely necessary, and not to leave their local areas if possible (people from outside are encouraged not to visit).
Other measures include the closing of snooker halls, bowling alleys, casinos and bingo halls, the suspension of non-professional contact sports and indoor group exercise for adults.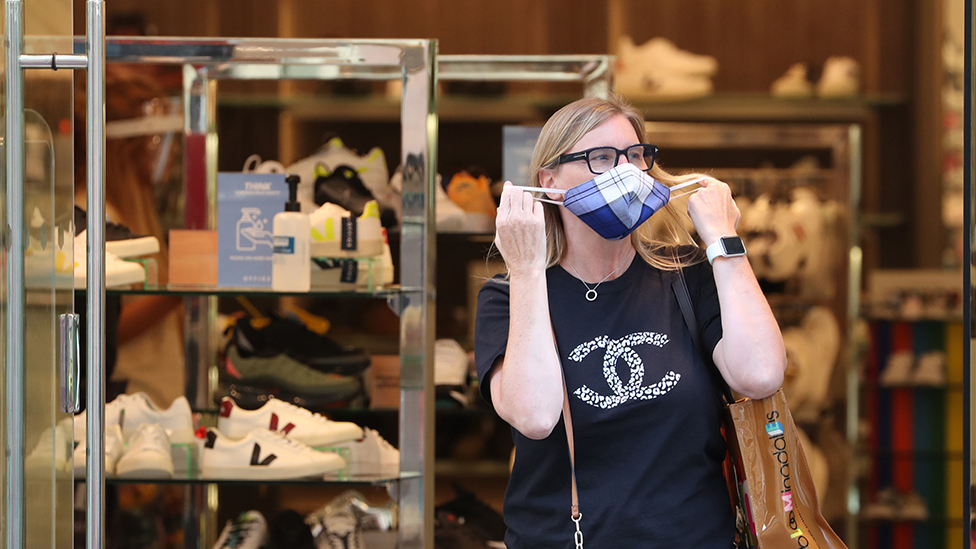 What about meeting people away from pubs and restaurants?
Already in Scotland, you're not allowed to meet inside other people's homes.
Up to six people from two different households can meet outdoors, including in private gardens.
However, there's no limit on the number of children under 12 who can meet or play together outdoors.
Young people aged 12 to 18 are exempt from the two-household limit and can meet outdoors in groups of up to six.
Ms Sturgeon has previously urged people not to book foreign trips during the October school holiday.
What are rules in Wales?
Pubs, cafes and restaurants in Wales have to stop serving alcohol at 22:00. Pubs are required to provide table service only.
Sales of alcohol from off-licences and supermarkets after 22:00 are also banned.
What are Northern Ireland's new meeting up rules?
People in Northern Ireland can no longer meet anyone who they don't live with inside their home. There are only limited exceptions.
Pubs, hotel bars and restaurants can stay open until 23:00.
Northern Ireland's Deputy First Minister Michelle O'Neill has warned that .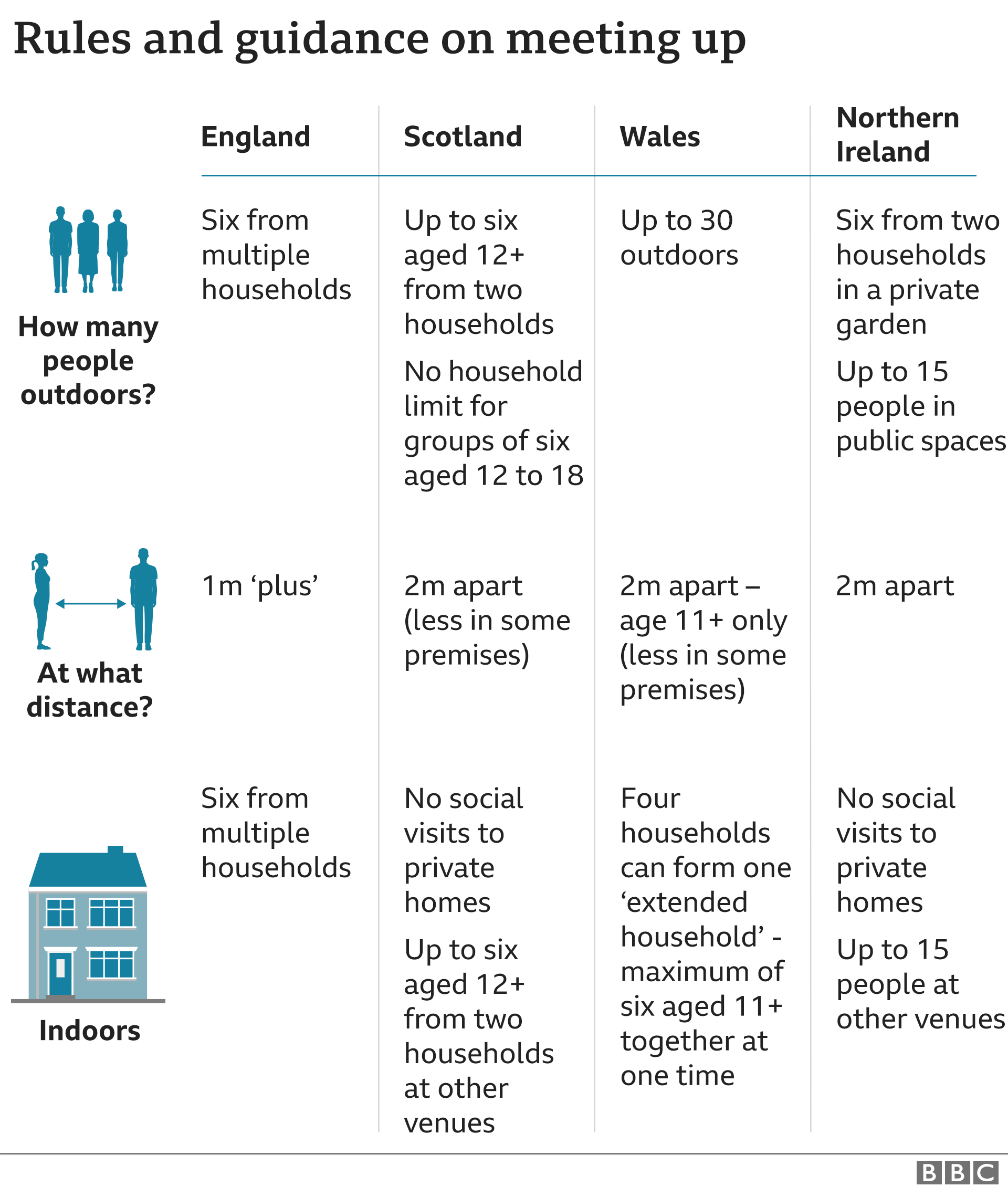 Where are there local restrictions?
Even before the latest local restrictions in Scotland's central belt, at least 17 million people across the UK were subject to additional restrictions – a quarter of the population (25.4%).
The nature and extent of these restrictions vary from place to place and you can check the rules in your area with our postcode checker here.
Support Labour Heartlands
WAIT! BEFORE YOU GO
PLEASE HELP US KEEP GOING AD-FREE
This is a "Pay as You Feel" website.
Your support for Labour Heartlands is greatly appreciated. As an independent nonprofit news outlet, we rely on our members to hold the powerful accountable. Our kind of reporting is essential to democracy, but it is not easy, cheap, or profitable.
To continue providing impactful journalism, we need your help. It's getting really hard for us all. Becoming one of our donors. It's simple and doesn't have to cost a lot. With as little as £2, £3, or £5 a month, you can support the journalism you rely on.
While we do not align ourselves with any particular political party, we stand firmly against corruption, injustice, and the erosion of truth and the rule of law. We believe that accurate information is the lifeblood of a democracy and that facts are not up for debate.
Your contribution, no matter how small, goes a long way in helping us continue our mission. Together, we can make a difference.
Thank you, The Labour Heartlands Team
PLEASE HELP US KEEP GOING AD-FREE