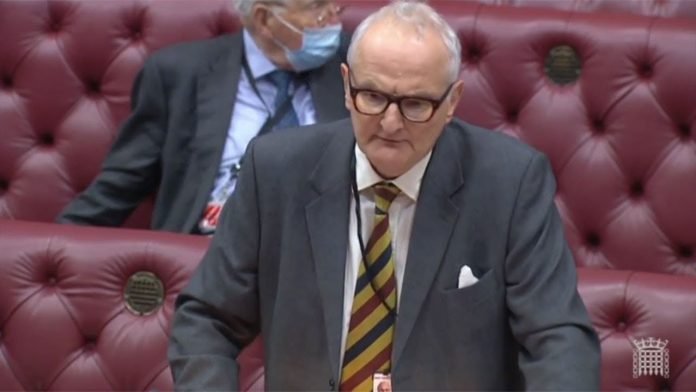 A Conservative minister in the House of Lords has resigned attacking the government's handling of fraudulent Covid business loans.
Lord Agnew of Oulton accused the Treasury of having "no interest in the consequences of fraud to our society".
Last year, the National Audit Office criticised the government for failing to put in measures to prevent people exploiting Covid schemes.
He was updating peers about the £4.3 billion of Covid loans – written off by the Treasury – which Labour said has gone to "fraudsters".
In his scathing statement, Lord Agnew attacked BEIS, the Treasury and the British Business Bank. "The oversight by both BEIS and the British Business Bank of the panel lenders of BBLS has been nothing less than woeful," he said.
He added: "They have been ably assisted by the Treasury who appear to have no knowledge or interest in the consequences of fraud to our economy or society."
The peer also said several "schoolboy errors" had been made – including the approval of more than 1,000 loans to companies "that were not even trading when Covid struck".
Lord Agnew said he had been arguing with Treasury and BEIS officials with two years to raise their game – claiming a mixture of "arrogance, indolence and ignorance freezes the government machine".
The departing minister encouraged fellow peers to carry on "scrutinising" the government on the loans. He was given a round of applause after saying "goodbye" and walked out of the chamber.
Watch the full statement here…
After telling the Lords he was unhappy with working between the Department for Business, Energy and Industrial Strategy (BEIS) and the Treasury, Lord Agnew said: "Given that I am the minister for counter-fraud, it would be somewhat dishonest to stay on in that role if I am incapable of doing it properly."
He added: "It is for this reason that I have sadly decided to tender my resignation as a minister across the Treasury and Cabinet Office with immediate effect."
Lord Agnew said his departure was "not an attack on the prime minister".
Last week, a British judge demanded an explanation after a drug dealer and car thief with at least 48 convictions secured a £50,000 government loan under a Covid-19 business recovery programme.
Judge Anthony Cross said that it defied belief that Asif Hussain, 44, had secured the money for a "bogus" company less than seven days after successfully applying to the government's Bounce Back Loan Scheme.
The judge said that it was the second time within a few months that he had sentenced criminals who had secured "huge" sums from the government scheme and he gave officials 14 days to respond in writing to explain how it had happened.
This comes after Billionaire Chancellor Rishi Sunak 'WRITES OFF £4.3bn' in public money given to companies and businesses in covid payments scheme now considered lost or stolen by fraudsters.
The Treasury has revealed that it expects its anti-fraud taskforce to write off £4.3bn ($5.9bn) in COVID-19 payments lost to fraud during the pandemic.
A total of £5.8bn is believed to have been unlawfully taken. The treasury said it will recover just £1 for every £4 stolen by scammers.
This includes money taken from emergency schemes such as the furlough programme, the Self Employment Income Support Scheme (SEISS), and eat out to help out, which was set up to help reopened restaurants in the summer of 2020.
The figures, which show that a maximum of only 26% will be recovered, were contained in documents quietly published on the HMRC website last week.
The department said it had recovered £500m of overpayments in the 2020-21 tax year, and that it expected its taskforce to get back between £800m and £1bn more by 2023, a total of £1.5bn at the most.
Some 8.7% of furlough payments were made either to fraudsters or by mistake as well as 8.5% of payments to its eat out to help out scheme, and 2.5% of cash handed to freelancers and entrepreneurs as part of its self-employed income support payments.
Rishi Sunak unveiled his 1,265-member anti-fraud taskforce during the Spring Budget last year to crack down on criminals exploiting UK government support schemes. The team cost £100m to assemble.
HMRC previously had a system in place to counteract fraud which worked through payment data, PAYE records, other information, and reports from the public to identify potential wrongdoing.
In November Jim Harra, chief executive at HMRC, said the department would struggle to recoup more than half of the money lost. At that point it had 23,000 investigations open into suspected fraudulent activity, and had in some instances begun criminal investigations.
Arrests secured by HMRC so far include the arrest of a West Midlands man on suspicion of £495,000 furlough fraud.
"HMRC could have either put in place a robust checking process that would have slowed the payment of these support payments to a trickle or allow a straightforward claim process and accept that fraudulent and incorrect claims would run into billions," Tim Stovold, a partner at the accountancy firm Moore Kingston Smith, said.
"It will be very difficult for HMRC to recover these amounts now. Fraudsters have thoroughly covered their tracks."
We on the other hand find that hard to believe. Read more…
Support Labour Heartlands
PLEASE HELP US KEEP GOING AD-FREE
This is a "Pay as You Feel" website.
Hey there! Thanks for stopping by. If you've enjoyed reading the articles on Labour Heartlands so far, We would be incredibly grateful if you could consider making a small donation. Labour Heathlands is not your typical news outlet. We are not here to simply regurgitate the daily news cycle, that's for the rest of them. Our focus is on delving deeper, uncovering the untold stories and shedding light on the issues that the mainstream media chooses to ignore.
Our unwavering commitment to journalistic integrity means that we are not influenced by any external forces. We are not beholden to PR companies, advertisers or press barons, and we refuse to let anyone dictate what we report on. Our editorial independence is sacrosanct, and our only allegiance is to the truth.
While we do not align ourselves with any particular political party, we stand firmly against corruption, injustice and the erosion of truth and the rule of law. We believe that accurate information is the lifeblood of a democracy and that facts are not up for debate.
Once again, thank you for your support – We truly couldn't do this without you!
PLEASE HELP US KEEP GOING AD-FREE