Brussels police detain hundreds of anti-lockdown protesters
From Brussels to Vienna, police have clashed with scores of protesters demonstrating against COVID restrictions. Both Belgium and Austria have imposed a curfew and lockdown to fight the spread of coronavirus infections.
A police spokesman said most arrests took place around train stations in the capital, adding that those involved in the banned protests would be allowed to leave one by one after identification. Dozens of demonstrators also gathered at the Atomium, a landmark building in Brussels.
Belgium has heightened police patrols fearing a possible spill-over of protests against COVID restrictions after its neighbour the Netherlands faced violent protests and rioting in recent weeks. Last week the country banned non-essential trips in and out of Belgium until March 1.
Belgium has recorded one of the highest death rates in the world during pandemic.
The country of 11.5 million people sits at the heart of Europe and is home to the continent's most powerful institutions. But that hasn't stopped it from rising to the top of a list no nation wants to be on. It now has one of the highest coronavirus death rates in the world—1,385 per 1 million residents, according to Worldometer.
Netherlands
Last week Belgium's neighbour the Netherlands was rocked by anti-curfew riots. On Sunday in Amsterdam, a heavy police presence thwarted a mainly peaceful but unauthorised demonstration at Museum Square.
Police said they had sent home around 600 people who had flouted social distancing rules and ignored a nationwide ban on public gatherings by assembling in Amsterdam's central Museumplein on Sunday afternoon. There were no reports of violent incidents by late afternoon on Sunday.
The addition of a nighttime curfew to an already broad lockdown triggered last week's violent demonstrations. Shops were looted in several cities and 500 people were arrested.
Austria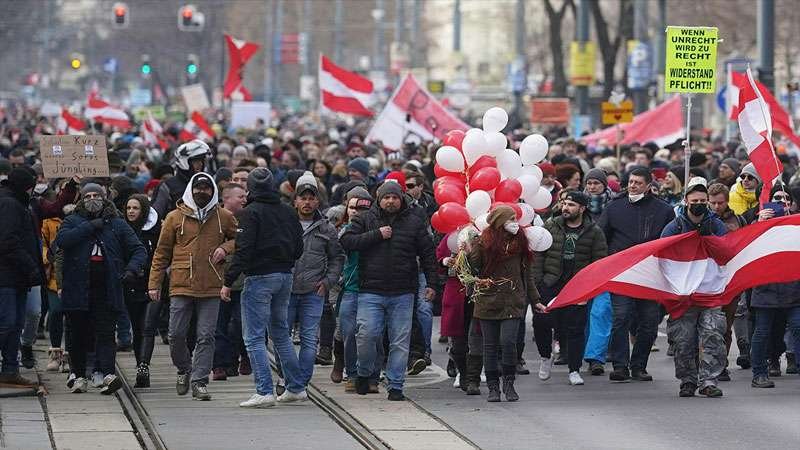 In Austria, thousands of protesters clashed with riot police in the capital Vienna at the site of a banned rally against COVID-19 restrictions.
Authorities had outlawed numerous protests planned for this weekend, including one by the far-right Freedom Party on Sunday, on the grounds that protesters have generally failed to observe rules on physical distancing and often not worn face masks.
Austria is in its third national lockdown, with non-essential shops and many other businesses closed and their staff unable to work.
An estimated 5,000 protesters gathered on a square in the city center across the road from the former imperial palace as well as from the offices of conservative Chancellor Sebastian Kurz and President Alexander Van der Bellen. Police equipped with riot gear and face masks blocked crowds from marching down the road.
Protesters were seen carrying Austrian flags and waving banners saying "Kurz must go."
Hungary
Meanwhile, police dispersed protesters at a demonstration in Hungary's capital, Budapest, where workers in the country's struggling hospitality sector demanded civil disobedience and a rethinking of lockdown restrictions.
Prime Minister Viktor Orban's government has said it could only start easing the measures if the number of cases falls sharply, or if large numbers of Hungarians are inoculated.
Hungary, with a population of some 10 million, had reported a total of 367,586 cases as of Sunday and 12,524 deaths. New infections have been dropping but more than 3,500 people are still in hospital.
Slovenia
The closure of schools in Zasavje and Obalno-kraška after they had only opened for a week following a ten-week closure brought out protesters.
Parents say they are outraged as they say rises in COVID-19 cases are actually in the nursing homes and not in the common population.
They believe that the closure of schools is causing irreparable damage to their children.
Prime Minister Janez Jansa responded, writing on Twitter that it was unreasonable and dangerous to exploit children for political purposes during the epidemic.
Support Labour Heartlands
PLEASE HELP US KEEP GOING AD-FREE
HELP US GROW.
This is a "Pay as You Feel" website.
This blog has no source of state, corporate or institutional finance whatsoever. It runs entirely on voluntary subscriptions from its readers – many of whom do not necessarily agree with every article, but welcome the alternative voice, insider information and debate.
You can have access to all of our online work for free. However if you want to support what we do, you could make a small donation to help us keep writing and staying ad-free. The choice is entirely yours.