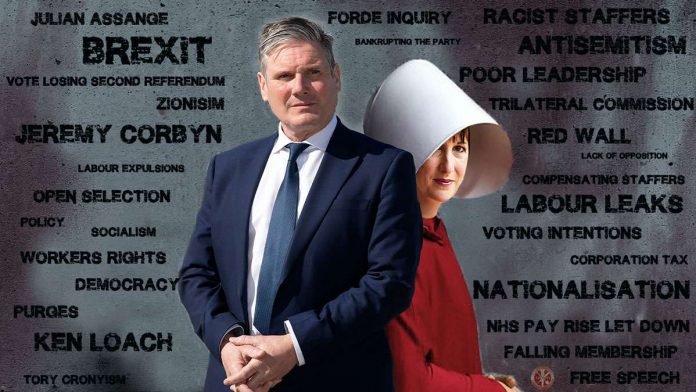 Its clear Labour is no longer a workers Party, not when their own workers have got to a point of going on strike.
As Labour enter the conference season Starmer has nowhere to hide. He will be facing the members who will expect some direct answers relating to his poor performance as a leader and more so the outstanding issues that are dragging the party down.
There is a wall full of issues Starmer will want to avoid but if members ever want to move the party forward they should ensure each one is tackled now.
One of the first hurdles Sir keir Starmer will have to overcome is the fact he is facing strike action by his own staffers.
It seems incredible a party created to uphold the rights of workers is on the verge of having industrial action taken against it.
Labour staff represented by GMB and Unite trade unions have voted overwhelmingly in favour of strike action if the party decides to pursue any compulsory redundancies in its bid to save costs by cutting at least 90 staff.
David Evans, the party's general secretary, told staff in July that the party's management were seeking at least 90 redundancies as they try to repair Labour finances after several costly legal battles.
These legal battles included paying out to the former Labour Staffers who appeared on the Panorama programme and are also named in the Labour Leaks report, unfortunately, that report and the Forde report inquiry into the WhatsApp messages is still being repressed.
The staffers received a reported six-figure payout against legal advice on Starmer's say so. This infuriated Unite the union's then-boss who subsequently withdrew a large amount of funding to the Labour Party.
McCluskey said his executive was angry about the decision "because they thought it was an absolute mistake and wrong to pay out huge sums of money to individuals who were suing the Labour Party based on the Panorama programme, when Labour's own legal people were saying that they would lose that case if it went to court. So we shouldn't have paid them anything."
Poor fiscal management.
The party was in good financial standing when Sir Keir Starmer took over as leader. His former boss Jeremy Corbyn had built the parties failing finances up in 2015 under a restructuring plan, clearing more than £25m of debts left over from the Blairite, Brown Miliband years.
The party now facing financial difficulties is not a very good endorsement for a political party that wants to see office. Neither is it a good look but for a party formed by the working class to build and protect workers rights to now be facing strike action by its own workers, this shows how far the party has moved away from its support base.
Voluntary redundancies.
Labour has said it will seek to make the cuts through voluntary redundancies, but the target represents well over a quarter of all the party's staff.
Members of two unions representing Labour staff 'GMB' and 'Unite' announced on Tuesday that a majority of those consulted in an indicative ballot said they would support strike action if the party tries to impose compulsory redundancies.
78% of Labour staff Unite members on a 90% turnout and 76% of Labour staff GMB members on a 79% turnout voted yes to strike action if there are compulsory redundancies.
22% of the members voted no in Unite, while 23% of GMB members voted no and 1% abstained, as first revealed online by former Jeremy Corbyn speechwriter Alex Nunns.
The ballot ran from Monday 23rd August through to the 31st of August.
The high turnout and decisive result appeared to point to significant discontent among party staff as Starmer and Evans bid to transform the party into a leaner, election-fighting force.
In a joint statement, the two unions said they would meet Labour management on Friday and were hopeful "an agreement can be reached on a way forward that avoids compulsory redundancies and industrial action".
A Labour source suggested that there would be a picket line at party conference later this month if compulsory redundancies are not taken off the table by the party, which has not ruled out the measure so far.
The big question would be how many Labour members would be prepared to cross a picket line?
A confrence to remember
The Labour Party conference looks set to be a historical conference for the wrong reasons. There will be many restrictions placed on delegates this year, free speech being one of them.
No doubt Starmer will try to maintain control of conference it is unlikely he will succeed. There are far too many unresolved issues, not so much an elephant in the room but an entire herd. Issues that stand out including the former leader Jeremy Corbyn having the whip restored, Ken Loach's expulsion, Labour Leaks, Redundancies, finances, The suppressed Forde report, Starmer's involvement with the Julian Assange case while DPP, Starmer's connection to the Trilateral Commission. The parties ongoing issues with its approach to antisemitism and the big elephant in the room Brexit.
Sir Keir Starmer will be facing a rebellion on Brexit.
"I think it's noticeable, having been Mr Remain all the way up until he got the leadership of the party". -Diane Abbot
Starmer has done as much as he possibly can to remove himself from the disaster he helped bring about in the 2019 general election. Will he allow the growing rejoiners within the Labour party to turn his vote losing second referendum policy into a Rejoin policy, will he stand on principle and allowing members a vote on the direction of the Party and a future relationship with the EU, or will he and Mandelson be seen as grifters that used the Remain camp and a second referendum to undermine Corbyn, taking over the Labour Party and rendering it safe, back within the establishment's control.
I'm all for democracy and if the Labour members truly want the party to become a Rejoin party then so be it, at least we will all know where we stand.
Related articles:
The Labour Party is in the grip of the iron law of oligarchy.
The Crisis of Democracy: Sir Keir Starmer and the Trilateral Commission
Sir Keir Starmer: The Trilateral Commission and Jeffrey Epstein
Support Labour Heartlands
Help Us Sustain Ad-Free Journalism
Welcome to the Heartlands of Independent Journalism
At Labour Heartlands, we are committed to delivering independent news, views, and opinions. Our mission is to hold those in power accountable, and we can't do it without your support. As a non-profit independent organisation, we rely on our donors to keep our journalism ad-free and impactful.
Like everyone else, we're facing challenges, and we need your help to stay online and continue providing crucial journalism. Every contribution, no matter how small, goes a long way in helping us thrive. By becoming one of our donors, you become a vital part of our mission to uncover the truth and uphold the values of democracy.
While we maintain our independence from political affiliations, we stand united against corruption, injustice, and the erosion of free speech, truth and democracy. We believe in the power of accurate information in a democracy, and we consider facts non-negotiable.
Your support, no matter the amount, can make a significant impact. Together, we can make a difference and continue our journey toward a more informed and just society.
Thank you for supporting Labour Heartlands
Just click the donate button below