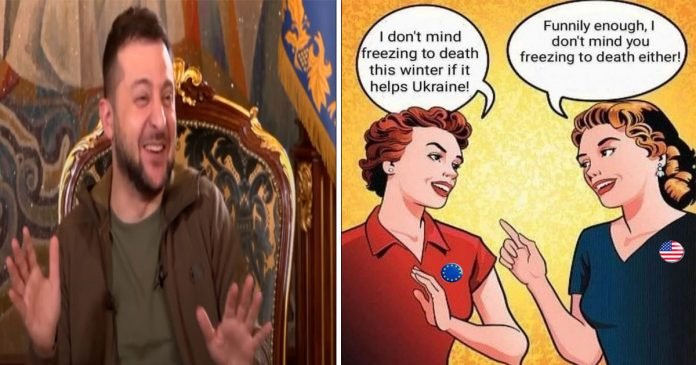 The Italian news outlet, Il Tirreno, is said to be in possession of documents proving that the 54-year-old woman that stayed at Zelensky's villa was of Russian descent.
Ukrainian President Vladimir Zelensky has rented his luxury villa in Tuscany to Russians for the month of August, Italian newspaper Il Tirreno reported on Tuesday. Meanwhile, Zelensky has called on EU leaders to deny visas to Russian tourists.
A Russian couple with a London address have rented the villa for the month of August, paying the princely sum of €50,000 ($50,237), the newspaper reported. The villa, located in the seaside town of Forte dei Marmi, was bought by Zelensky for four million euros while the Ukrainian leader was still an actor, the report added.
Photos posted on social media by the couple confirmed that they were staying in Zelensky's property, Il Tirreno stated.
Corriere Della Serra, another Italian newspaper, contacted the realtor managing the property, who said that "The tenants weren't Russian, but I can't say more because privacy prevents me." However, the paper said that the tenants are likely of Russian origin, "but have long since had their residence and perhaps English citizenship."
Back in March, Zelensky specifically called on the Italian government to "block all [Russian] real estate, accounts and yachts, from the Scheherazade to the smallest ones," referring to a 140-meter (460 ft) superyacht allegedly belonging to a wealthy Russian individual that was moored at the Italian port of Marina di Carrara, according to RT News.
Since Russia invaded Ukraine in late February, all flights between Russia and EU have been halted. On Wednesday, a bilateral visa facilitation agreement between the EU and Russia was also suspended by the bloc. Due to the suspension of the agreement, the number of EU visas for Russians has been limited. Although, the travel between the two regions is not eliminated entirely.
Not sure how this sits with the statement from Boris Johnson saying: We're paying higher bills – Ukraine is paying in blood. , it seems only the working class are making that sacrifice.
Let's hope the rent goes to the war effort.
Support Labour Heartlands
PLEASE HELP US KEEP GOING AD-FREE
This is a "Pay as You Feel" website.
Hey there! Thanks for stopping by. If you've enjoyed reading the articles on Labour Heartlands so far, We would be incredibly grateful if you could consider making a small donation. Labour Heathlands is not your typical news outlet. We are not here to simply regurgitate the daily news cycle, that's for the rest of them. Our focus is on delving deeper, uncovering the untold stories and shedding light on the issues that the mainstream media chooses to ignore.
Our unwavering commitment to journalistic integrity means that we are not influenced by any external forces. We are not beholden to PR companies, advertisers or press barons, and we refuse to let anyone dictate what we report on. Our editorial independence is sacrosanct, and our only allegiance is to the truth.
While we do not align ourselves with any particular political party, we stand firmly against corruption, injustice and the erosion of truth and the rule of law. We believe that accurate information is the lifeblood of a democracy and that facts are not up for debate.
Once again, thank you for your support – We truly couldn't do this without you!
PLEASE HELP US KEEP GOING AD-FREE