Brexit a convenient scapegoat! 
Brexit has become the scapegoat for everything including a shortage of au pairs as headlined by the so called 'People's vote' backing liberal Newspaper like The Guardian with headlines that make common people chuckle "Au Pair Shortage Sparks Childcare Crisis For Families". There is also the Independent and Evening Standard's run on the article that states "Brexit News Latest: fears over shortage of donated sperm after Britain leaves European Union"
We know of course that the UK economic downfall is due to Brexit. Why – because we are told so by the same news media that think the working class will be motivated into backing remain due to a shortage of au pairs.
The truth is we have not left the European Union yet and any economic impact is not due to leaving but the incompetence of Tory economic policies. The main issue is and always was AUSTERITY and not just here in the UK but throughout Europe. After all, European Central Bank policies have demanded that austerity is a fiscal policy for all Eurozone countries.
After all Austerity is part and parcel of being a member of the European union.
Another piece of grand illusion that somehow remaining a member would help in the fight against austerity. Many Labour supporters, who are anti-Conservative and reject the austerity myth on a domestic level, are demonstrably committed to EU membership. A YouGov poll conducted before the EU referendum showed that the vast majority of Corbyn's supporters were very much in favour of remaining in the European Union.
On the surface, there is no conflict here. These voters support the EU of free-movement, the EU of workers' rights and of international cooperation. What is not considered, however, is that the EU maintains a staunch and unwavering commitment to austerity for its member states, particularly in countries that aren't compatible with the German export-led ordo-liberal model as we've seen in Greece, Portugal, Spain.
This is not an exaggeration. The European Union (alongside its legislative arm, the European Commission, and its monetary arm, the European Central Bank) is committed to the kind of sweeping austerity measures that have been championed by successive Conservative governments here in the UK. The ECB has either demanded or directly imposed severe austerity measures on several of its debt-ridden member states.
Alfie Stirling, Head of Economic at the New Economics Foundation, said:

"At this time of year there is often renewed speculation over whether the Chancellor will meet his year-end deficit targets by March. But for 9 years, the elephant in the room has largely been missed: the sheer scale of economic damage that these targets have contributed to in the first place.
The human impacts have always been clearly visible for all to see – from rising homelessness to longer A&E waiting times. But now we can also get closer than ever before to measuring the impact on the economy as a whole – and using calculations that have even been rubber stamped by the government themselves.
"The big picture here is that the livelihoods of people and communities have been made more bleak as a direct consequence of active government decisions. This should not be allowed to happen again."
This new analysis uses figures from the Office for Budget Responsibility (OBR). Since 2017, assisted by work at the Institute for Fiscal Studies (IFS), the OBR have published the isolated effects of so called ​'discretionary fiscal policy' – active government decisions over tax and spending – on GDP growth. New NEF analysis has compounded these in-year effects on growth to estimate the effect on the overall level of GDP, both in total and broken down per household and per individual in the economy (see table below).
This analysis pertains to the isolated effects of discretionary fiscal policy – active changes to levels of tax and spending – before taking into account any subsequent unwinding of these effects. Normally, the effects of fiscal policy would be expected to unwind over time, largely due to any necessary offsetting action taken from the Bank of England's Monetary Policy Committee (MPC). However, there is a broad consensus among economists that the ability of the MPC to respond to negative shocks has diminished due to interest rates reaching their effective lower bound since 2009
The upshot is that many economist agree monetary policy has been unable to offset most, let alone all, of the damage from austerity to date.
It may be that the Chancellor meets his deficit reduction targets this year. We will have to wait and see. But ironically, the damage caused in doing so – in terms of weaker GDP and therefore government tax receipts over the past nine years – is also the reason that the majority of targets have also been missed since 2010.
Either way, the bigger picture is that the livelihoods of people and communities have been made bleaker as a direct consequence of the actions from their own government. Next time must be different.
We know full well the impact of Austerity on the people austerity including Police cuts. Cuts that have a direct result that are visible on the streets of Britain.
"Young people shouldn't pay the price for austerity with their lives."

-Jeremy Corbyn
Transferable Blame.
It's worth pointing out that every one of Carney's Treasury and Bank of England predictions on the impact of Brexit on the British economy has proven wildly inaccurate since the publication of its 'Immediate Economic Impact' Papers' in summer 2016.
Back then Carney and the Bank of England confidently predicted a least worst-case scenario of a -6% drop in GDP and an estimated rise in unemployment of 920,000 within two years of the leave vote which, in due course, simply failed to materialise.
https://assets.publishing.service.gov.uk/government/uploads/system/uploads/attachment_data/file/524967/hm_treasury_analysis_the_immediate_economic_impact_of_leaving_the_eu_web.pdf
As well as receiving criticism from economics professors William Mitchell and Paul Krugman (a Nobel Laureate), Carney was also even summoned before the economic affairs committee of the House of Lords on 30th January where he was found wanting to provide a sufficient reason to justify or sustain these claims.
We clearly have a new scapegoat that has grown up in the last two years, "Brexit" yes 'Blame it on the Brexit' when we say that we mean everything! It's convenient when you do not want to actually list the real causal factors of the current economic stagnation, namely the current structural crisis confronting neoliberal economies around the globe caused by peak private debt and austerity economics.
For example, we hear practically no mention that the ongoing fiscal austerity which has ramped up in the last several months has anything to do with the flat domestic demand, which would otherwise drive economic growth. Supporters of the current supply-side economic model also don't recognise the impact of hardship.
Wage stagnation
There is no mention of the low wages growth that has put a brake on household consumption expenditure at a time when household debt has been rising to dangerous levels. Many economic forecasters are convinced the global economy has now reached 'peak private debt' – the notorious 'Minsky Moment' when consumers can no longer borrow to sustain domestic consumer spending after eight years of pay freezes.
EU basket case Economics are back.
Growth has weakened everywhere, led by Germany which registered its weakest out-turn for five-and-a-half years. Italy, Germany, Spain, Austria, and Poland are all posting Purchasing Managers Index figures in the 47-50 range giving a clear signal that demand for exported goods has slumped. Britain which is positioned at 52.5 remains at the Eurozone average but is also vulnerable to any global downturn.
This has occurred almost immediately after the end of Draghi's four-year ongoing QE program issued by the European Central Bank of 40 billion Euros a month which has failed to result in any meaningful growth in European domestic economies. Of course, it was never intended to drive domestic growth but rather to rescue its massively indebted private banking system economic ruin.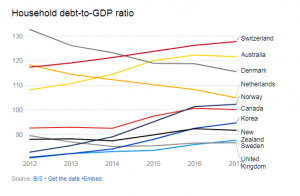 EU on the verge of yet another recession.
However, we now stand on the verge of another economic slump without having resolved the structural problems that caused the last one back in 2008 which include high household debt, lack of spending power, low productivity and skilled well-paid employment opportunities – the very same drivers of growth in the post-war period.
This is the surest sign yet of impending difficulties caused be demand deficient economies in the UK, Eurozone and elsewhere (China, Russia et al).
Keep your eye on the ball
More recently we've had to endure the constant howls that the end of the production of diesel vehicles at British car plants was entirely due to Brexit.
The reason why diesel production has fallen is purely down to the emissions scandal and the European wide fall off in diesel sales. They will now be built in the the Far East where emissions laws are much weaker and there is still demand in the Asian markets.
A thirty second search would have shown The Guardian hacks that diesel demand has slumped and diesel production plummeted massively across Europe. Falls in diesel production are greater in Germany and more pronounced in France and Spain who as far as I know have no plans as of yet to leave the EU?
https://www.theicct.org/blog/staff/2017-year-review-european-diesel-down-electric-vehicles-rise
https://www.theicct.org/blogs/staff/cities-driving-diesel-out-european-car-market
The task for those who want to drive home all the current British problems to Brexit anxiety is the need to explain why there are similar trends in many other economies across the globe.
They are also at a loss to explain why much of the current global slowdown is explainable using sensible economic logic by trends that were established well before the Brexit vote. These trends (austerity bias, record levels of private debt, slowing housing markets etc) which caused the great financial crash in 2008-10 were further tightened by eight years of austerity implemented by Conservative governments.
All these scapegoats serve political and ideological purposes that obscure important underlying global trends that point to the structural failure of three decades of neoliberal economics to deliver the goods to ordinary workers. The time is now long overdue for the adoption of a new Post-Keynesian model of economics that places basic human need and full employment rather than low inflation as its central objective.
Article by
Support Labour Heartlands
WAIT! BEFORE YOU GO
PLEASE HELP US KEEP GOING AD-FREE
This is a "Pay as You Feel" website.
Your support for Labour Heartlands is greatly appreciated. As an independent nonprofit news outlet, we rely on our members to hold the powerful accountable. Our kind of reporting is essential to democracy, but it is not easy, cheap, or profitable.
To continue providing impactful journalism, we need your help. It's getting really hard for us all. Becoming one of our donors. It's simple and doesn't have to cost a lot. With as little as £2, £3, or £5 a month, you can support the journalism you rely on.
While we do not align ourselves with any particular political party, we stand firmly against corruption, injustice, and the erosion of truth and the rule of law. We believe that accurate information is the lifeblood of a democracy and that facts are not up for debate.
Your contribution, no matter how small, goes a long way in helping us continue our mission. Together, we can make a difference.
Thank you, The Labour Heartlands Team
PLEASE HELP US KEEP GOING AD-FREE