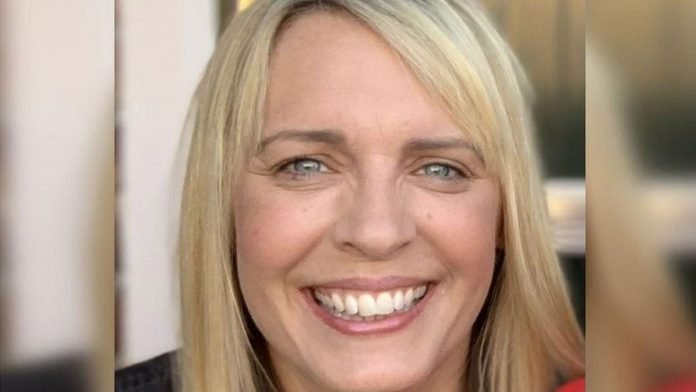 An award-winning BBC radio presenter died in hospital after suffering blood clots after she received the AstraZeneca vaccine, her devastated family has said.
Lisa Shaw, who worked for BBC Newcastle, developed "severe" headaches a week after having the jab and fell seriously ill a few days later, relatives said in a statement.
The 44-year-old died at the Royal Victoria Infirmary, Newcastle, on Friday afternoon having been treated in intensive care for blood clots and bleeding.
People under 40 in the UK are being offered an alternative to the AstraZeneca vaccine following reports of extremely rare blood clots on the brain coupled with low blood platelet count.
An interim fact-of-death certificate lists the vaccine as one of the possible factors being considered.
The Medicines and Healthcare Products Regulatory Agency (MHRA) said vaccine benefits exceed risks for most people.
The BBC has seen the interim fact-of-death certificate issued by Newcastle's senior coroner Karen Dilks.
It confirms an investigation into Ms Shaw's death will be held and lists a "complication of AstraZeneca Covid-19 virus vaccination" as a consideration.
The document does not determine a cause of death – that will not be issued until the investigation has been completed.
The BBC Radio Newcastle presenter was not known to have any underlying health problems.
In a statement released by the BBC, the mother-of-one's family said: "Lisa developed severe headaches a week after receiving her AstraZeneca vaccine and fell seriously ill a few days later.
"She was treated by the Royal Victoria Infirmary's intensive care team for blood clots and bleeding in her head.
"Tragically, she passed away, surrounded by her family, on Friday afternoon.
"We are devastated and there is a Lisa-shaped hole in our lives that can never be filled.
"We will love and miss her always.
"It's been a huge comfort to see how loved she was by everyone whose lives she touched, and we ask for privacy at this time to allow us to grieve as a family."
Shaw previously worked in commercial radio and won a Sony Gold Award in 2012 for the breakfast show she hosted on Real Radio with co-host Gary Philipson.
Rik Martin, acting executive editor at BBC Radio Newcastle, said: "Everyone at the station is devastated and thinking about Lisa's lovely family.
"She was a trusted colleague, a brilliant presenter, a wonderful friend, and a loving wife and mum.
"She loved being on the radio and was loved by our audiences.
"We've lost someone special who meant a great deal to a great many people."
Chris Burns, head of BBC Local Radio, added: "Lisa was a talented presenter who had already achieved a lot and would have achieved much more."
A spokesperson for the hospital said: "We were incredibly saddened by the news of Lisa's death but it would be inappropriate for us to discuss individual details about a patient. Our thoughts and heartfelt condolences are with the family at this difficult time."
The risk of a clot linked to the jab is thought to be about one in 100,000 for people in their 40s. The risk of death in any age due to such a clot has been put at about one in a million.
The link between the AstraZeneca vaccine and these rare clots is not yet proven, but UK experts say the evidence is getting stronger.
The Joint Committee on Vaccination and Immunisation (JCVI), which advises how vaccines should be used, is recommending healthy people under 40 be offered a different vaccine.
The Johnson and Johnson jab is not yet available in the UK – although 30 million doses are on pre-order.
What are CVST clots?
CVST stands for cerebral venous sinus thrombosis. Put simply, this is a clot found in a large vein in the brain.
Blood normally travels through veins from the brain back to the heart.
The CVST clot can block the flow of blood in the brain, reducing oxygen supply and potentially causing damage – stopping the central nervous system from working properly.
Rare clots have also been found in other areas, such as the large veins in the abdomen, in people who have had the Oxford-AstraZeneca jab, and, in a handful of cases, in some arteries (the vessels carrying blood from the heart to organs).
Why do the clots happen?
No-one is yet sure, but there are certain factors in common which may provide some clues.
In the CVST clot cases under investigation, the patients were all found to have low numbers of platelets -these are blood cells that normally help repair bleeding in the body.
Patients were also found to have a particular antibody (an immune protein that often helps fight against infection) in their blood that activates platelets.
The antibody appears to cause the platelets to mistakenly clump together and form clots, and in turn activate other parts of the body's clotting system.
This unusual combination of clots and low platelets is one of the features doctors are now looking out for.
But there is a lot more that needs to be understood.
How can I tell if I have one?
Anyone who has any of the following symptoms four days or more after having the vaccine should seek prompt medical help:
A severe headache that is not relieved by painkillers or is getting worse
A headache that feels worse when you lie down or bend over
A headache that is unusual for you and occurs with blurred vision, feeling sick, problems speaking or drowsiness
Seizures or weakness
Shortness of breath
Chest pain
Leg swelling
Persistent stomach/abdominal pain
A rash that looks like small bruises or bleeding under the skin
How long after the vaccine do clots appear?
Most cases have been seen between four days and a few weeks of people having the jab.
Medical experts in the UK now suggest doctors should consider this rare condition in anyone who has matching symptoms up to a month after they have had the vaccine.
How rare are the clots?
According to the UK medical regulator, 309 cases of major blood clots with low platelets have occurred in the period up to mid-May 2021. The total includes clots occurring in the brain and other parts of the body.
Most were after the first AstraZeneca vaccine but 15 cases have been reported after a second dose. There were 56 deaths.
This is out of a total of more than 23 million first doses of the AstraZeneca vaccine and 9 million second doses which have been given in the UK.
From the current information in the UK the general risk of these types of clots following a first jab is estimated to be around 12.3 per million doses.
Data continues to be analysed and there is likely to be more information as time goes on.
Though still rare, this risk appears to increase in younger people.
There is also now some evidence that the reported rate is higher in females – although this is not seen across all age groups and the difference remains small.
What about under-40s?
The JCVI has decided that – given that healthy people under 40 are at lower risk of becoming seriously ill from Covid and while infection rates continue to come under control – the balance of risks and benefits means they should be offered a different jab, if one is available.
Experts are clear that for the vast majority of people the benefits of the vaccine vastly outweighs the risks.
Meanwhile a study looking at patients in the United States suggests 39 people in every million who are infected with coronavirus go on to have a CVST within two weeks of a Covid diagnosis.
The study suggests though clots are still rare in coronavirus patients, catching the infection puts people at a higher risk of getting a CVST than those who have a jab.
Can the clots be treated?
Generally, the quicker that cases are identified, the better for the patient.
Treatment can involve a number of medicines and includes immunoglobulins – immune proteins – given through a drip.
Some patients will be sent home with new generation blood thinners and have regular monitoring.
According to blood specialist, Prof Adrian Newland, current evidence suggests 75% of people survive.
An expert panel of blood specialists in the UK have put together guidance for doctors, which is being constantly updated.
What about the Johnson & Johnson jab?
The Johnson & Johnson and AstraZeneca vaccines work in very similar ways.
According to the US Food and Drug Administration (FDA) in April 2021 six cases of the rare clots in the brain were detected out of more than 6.8 million doses of the J&J vaccine administered.
After calling for a pause in the roll-out of the jab and carrying out a review, the FDA concluded the vaccine was safe and effective in preventing Covid-19.
The agency said it would continue to remain vigilant but the overall chance of these clots occurring was very low.
Support Labour Heartlands
PLEASE HELP US KEEP GOING AD-FREE
This is a "Pay as You Feel" website.
Hey there! Thanks for stopping by. If you've enjoyed reading the articles on Labour Heartlands so far, We would be incredibly grateful if you could consider making a small donation. Labour Heathlands is not your typical news outlet. We are not here to simply regurgitate the daily news cycle, that's for the rest of them. Our focus is on delving deeper, uncovering the untold stories and shedding light on the issues that the mainstream media chooses to ignore.
Our unwavering commitment to journalistic integrity means that we are not influenced by any external forces. We are not beholden to PR companies, advertisers or press barons, and we refuse to let anyone dictate what we report on. Our editorial independence is sacrosanct, and our only allegiance is to the truth.
While we do not align ourselves with any particular political party, we stand firmly against corruption, injustice and the erosion of truth and the rule of law. We believe that accurate information is the lifeblood of a democracy and that facts are not up for debate.
Once again, thank you for your support – We truly couldn't do this without you!
PLEASE HELP US KEEP GOING AD-FREE