The UK remains one of the worst counties in western Europe for freedom of the press, according to the latest report by Reporters Without Borders (RSF).
The UK is one of the worst countries in western Europe for press freedom because of new media-muzzling laws and a climate of hostility towards journalists, a new report has found.
The country ranked 35 out of 180 in the 2018 World Press Freedom Index, a report compiled by influential non-profit organisation Reporters Without Borders (RSF). It dropped to that position last year.
The position marks a "staggering" decline for the UK of 18 places since the index began in 2002, RSF said.
Ranked 35th in the list of 180 countries, Britain was placed behind Jamaica, Surinam, Ghana, Namibia, South Africa, Latvia and Lichtenstein in the advocacy group's 2020 World Press Freedom Index. Dropping two spots from its previously low ranking of 33.
The latest annual report offered a bleak assessment of reporting freedoms around the world, with experts finding a decline in the number of countries regarded as safe for journalists.
"Without general elections, without unrestricted freedom of press and assembly, without a free struggle of opinion, life dies out in every public institution, becomes a mere semblance of life, in which only the bureaucracy remains as the active element. Public life gradually falls asleep."
—Rosa Luxemburg
Boris Johnson cannot boast about British press freedom when we incarcerate journalist for telling the truth.
It beggars belief that Julian Assange who is 'subjected to every kind of torment' in Belmarsh prison sits and awaits extradition, yet the likes of Tony Blair walks free. To rub salt into this travesty of justice, when the Scottish SNP proposed a motion to investigate Tony Blair for allegedly misleading parliament over Iraq war, Sir Keir Starmer voted against it, Ken Loach is right to call out Sir Keir Starmer, what was his dealings in the Julian Assange case
Meanwhile, the most high profile political prisoner is treated like a war criminal for exposing war crimes.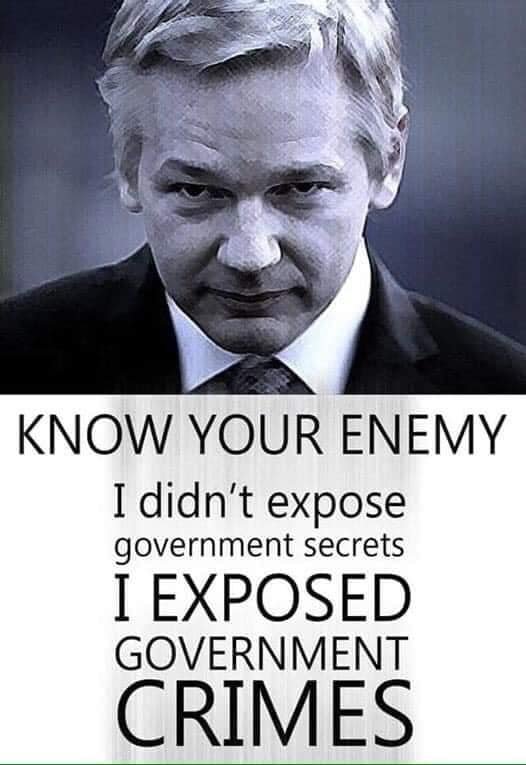 It's also ironic that here in the UK siren voices are calling out Extinction Rebellion for blockading the Murdoch press at the same time they sit deafeningly silent while Julian Assange languishing in Belmarsh Prison awaiting extradition to the US, a journalist that used the free press to show the world the atrocities being carried out in their name his reward so called democratic nations conspiring to lock him up for life.
The Daily Telegraph's Chris Evans says that although he is "heavily conflicted" about Assange, he is alarmed by "the implications for journalism" should he be extradited. The Daily Express editor, Gary Jones, is "reluctant to describe Mr Assange as a journalist", but thinks he "lifted the lid on very serious abuses of power and corruption" and believes "the British government should stop his extradition".
The Guardian's editor, Katharine Viner, was unequivocal: "State power should never be used to suppress the actions of whistleblowers and investigative journalists pursuing stories that are clearly in the public interest. The US extradition case against Julian Assange is a troubling attack on press freedom and the public's right to know."
The ability of journalists to report freely on matters of public interest is a crucial indicator of democracy.
The ability of journalists to report freely on matters of public interest is a crucial indicator of democracy. A free press can inform citizens of their leaders' successes or failures, convey the people's needs and desires to government bodies, and provide a platform for the open exchange of information and ideas. When media freedom is restricted, these vital functions break down, leading to poor decision-making and harmful outcomes for leaders and citizens alike.
The fundamental right to seek and disseminate information through an independent press is under attack, and part of the assault has come from an unexpected source. Elected leaders in many democracies, who should be press freedom's staunchest defenders, have made explicit attempts to silence critical media voices and strengthen outlets that serve up favorable coverage. The trend is linked to a global decline in democracy itself: The erosion of press freedom is both a symptom of and a contributor to the breakdown of other democratic institutions and principles, a fact that makes it especially alarming.
According to Freedom House's Freedom in the World data, media freedom has been deteriorating around the world over the past decade, with new forms of repression taking hold in open societies and authoritarian states alike. The trend is most acute in Europe, previously a bastion of well-established freedoms, and in Eurasia and the Middle East, where many of the world's worst dictatorships are concentrated. If democratic powers cease to support media independence at home and impose no consequences for its restriction abroad, the free press corps could be in danger of virtual extinction.
Experience has shown, however, that press freedom can rebound from even lengthy stints of repression when given the opportunity. The basic desire for democratic liberties, including access to honest and fact-based journalism, can never be extinguished, and it is never too late to renew the demand that these rights be granted in full.
Attacks on Press Freedom in Democracies
In some of the most influential democracies in the world, large segments of the population are no longer receiving unbiased news and information. This is not because journalists are being thrown in jail, as might occur in authoritarian settings. Instead, the media have fallen prey to more nuanced efforts to throttle their independence. Common methods include government-backed ownership changes, regulatory and financial pressure, and public denunciations of honest journalists. Governments have also offered proactive support to friendly outlets through measures such as lucrative state contracts, favorable regulatory decisions, and preferential access to state information. The goal is to make the press serve those in power rather than the public.
The problem has arisen in tandem with right-wing populism, which has undermined basic freedoms in many democratic countries. Populist leaders present themselves as the defenders of an aggrieved majority against liberal elites and ethnic minorities whose loyalties they question, and argue that the interests of the nation—as they define it—should override democratic principles like press freedom, transparency, and open debate.
Our list of alternative media outlets
Support Labour Heartlands
PLEASE HELP US KEEP GOING AD-FREE
HELP US GROW.
This is a "Pay as You Feel" website.
This blog has no source of state, corporate or institutional finance whatsoever. It runs entirely on voluntary subscriptions from its readers – many of whom do not necessarily agree with every article, but welcome the alternative voice, insider information and debate.
You can have access to all of our online work for free. However if you want to support what we do, you could make a small donation to help us keep writing and staying ad-free. The choice is entirely yours.