Extinction Rebellion (XR) activists have delayed the distribution of several national newspapers after blocking access to three printing presses owned by Rupert Murdoch.
More than 100 protesters targeted Newsprinters presses at Broxbourne in Hertfordshire, Knowsley in Merseyside, and near Motherwell, North Lanarkshire.
The movement is highlighting mainstream Newspapers fail to report on what arguably is the most important issue of the modern world, climate change.
Sixty-three people have been arrested across the two locations, police said, and delivery lorries did not leave the Broxbourne site as of 6am on Saturday.
The Newsprinters presses print the Rupert Murdoch-owned News Corp's titles including The Sun, The Times, The Sun On Sunday and The Sunday Times.
The Daily Telegraph and Sunday Telegraph, the Daily Mail and Mail On Sunday, and the London Evening Standard are also printed at those locations.
XR used vehicles along with individual protesters chaining themselves to structures to block roads to the presses.
Vans were covered with banners including "Free the truth" and "Refugees are welcome here".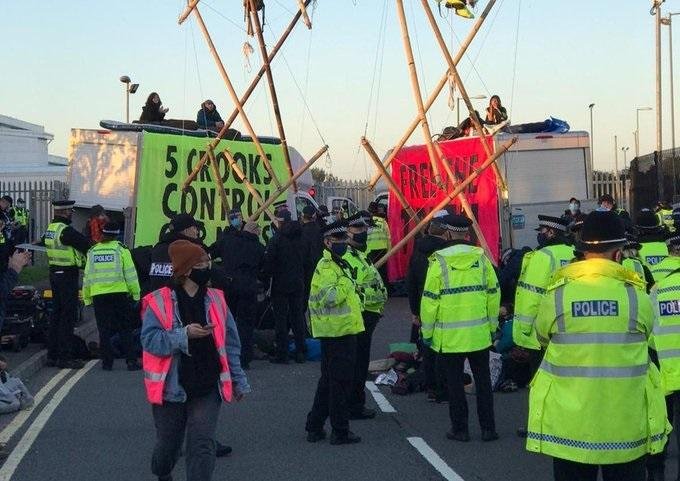 Newsprinters also condemned the protests as an "attack on all of the free press", which it said had affected workers going about their jobs and others such as newsagents who faced "financial penalty".
"Thanks to other industry partners, printing was transferred to other sites," it said.
Home Secretary Priti Patel tweeted the overnight action by XR was an "attack on democracy". Extinction rebellion replied to the tweet stating:
"The majority of our press is owned by 5 billionaires – that is far from free @pritipatel The government is an #EtonMess that is out of touch with the people. And your idea of society is to divide and rule. Well we still have higher hopes."#FreeTheTruth#ExtinctionRebellion
The majority of our press is owned by 5 billionaires – that is far from free @pritipatel The government is an #EtonMess that is out of touch with the people. And your idea of society is to divide and rule. Well we still have higher hopes. #FreeTheTruth #ExtinctionRebellion https://t.co/jX975d5Cr8

— Extinction Rebellion UK ? (@XRebellionUK) September 5, 2020
In a statement Extinction rebellion said:
"Priti Patel and her government are part of a political system that does not want and does not benefit from a free press. Instead our leaders have allowed the majority of our media to be amassed in the hands of five people with powerful vested interests and deep connections to fossil fuel industries. Powerful vested interest has led to the appointment of Tony Abbott – a friend of Rupert Murdochs, a climate change denier, misogynist and homophobe – as a UK Trade Envoy. Our leaders are allowing these powerful few to deny the young the information they need to plan for their futures and defend themselves.
We need a free press but we do not have it. They have failed us.
Last night's action has brought us one day with far less misinformation, division and hate. For one night ordinary people – terrified by the climate and ecological emergency that so much of our media is failing to report sufficiently – made these powerful and undemocratic corporations feel the vulnerability ordinary people live with everyday.
But this is not the story. We are in an emergency of unprecedented scale and the papers we have targeted are not reflecting the scale and urgency of what is happening to our planet. Even as we in the UK are experiencing the impacts of our warming world, the Murdoch press remains silent.[3] We – and the free press – have so much more work to do.
A free press does not push the agenda of its billionaire owners. Freedom of the press to these corporations means a completely unregulated fanfare with no threat of accountability for the harm and division they cause.
We took action at these printworks to encourage people to stand up and stand together during these turbulent times. The people who divide us profit from our fighting. But we can align across differences. Together we are powerful.
To any small businesses disrupted by the action this morning we say: We're sorry. We hope that our actions seem commensurate with the severity of the crisis we face and that this day of disruption successfully raises the alarm about the greater disruption that is coming. There are five very wealthy people who own these newspapers and we encourage them to compensate you.
To Rupert Murdoch we say: we are not sorry for disrupting your business. Stop suppressing the truth about the climate crisis and profiting from the division your papers create.
To those in the media finding it hard to understand why we've taken this action, we say: You have a vital role to play in telling the most urgent story of our time with the courage and conviction it requires. We have run out of time for division and delay and you have the ability to bring people together with your words. If you are one of the hardworking, committed people out there trying to tell this story and would like to speak to us about how we can help, please get in touch."-XR
We need to Free the Truth
5 Billionaires control over 70% of the British Media. Last night Extinction Rebellion groups blockaded the printing presses of The Sun, The Times, The Sun on Sunday, The Sunday Times, The Telegraph, The Sunday Telegraph, as well as the The Daily Mail, Mail on Sunday and The London Evening Standard.
These people and their corporations have purposefully failed to accurately report on the climate & ecological emergency.
Their consistent manipulatIon of the truth to suit their own personal and political agendas must be stopped. We're not moving forward at the speed we need to turn the climate and ecological emergency around. We're trapped somewhere between acceptance and the reality of just how bad the situation is.
The right wing media is a barrier to the truth, failing to reflect the scale and urgency of the crisis and hold governments to account. Coverage in many of the newspapers printed here is polluting national debate on climate change, immigration policy, the rights and treatment of minority groups, and on dozens of other issues.
They distract us with hate to maintain their own power and wealth, profiting from our division. We can't move forward until this barrier falls. The truth is being held hostage and so are we. We need to Free the Truth.
The group has planned 10 days of action and demanded the government declare a climate and ecological emergency.
On Thursday, more than 300 people were arrested during protests in central London.
Meanwhile, climate change protesters have been warned they risk large fines if they fail to comply with coronavirus rules banning gatherings of more than 30 people.
FREE THE TRUTH – Stories From The Rebellion | Extinction Rebellion UK
A procession of activists that set off from Brighton on foot a week ago is due to march the final stretch to Parliament later.
The Met Police said risk assessments of the march in Westminster "did not meet the required standard" and have banned XR from taking a 20ft model boat named after teenage activist Greta Thunberg to the streets of Westminster.
The Times apologised to readers in a tweet, saying it was "working to get newspapers delivered to retailers as soon as possible".
Newsprinter's said it moved the work elsewhere but admitted some papers may be late because of XR's actions.
The Sun will never be sold in Liverpool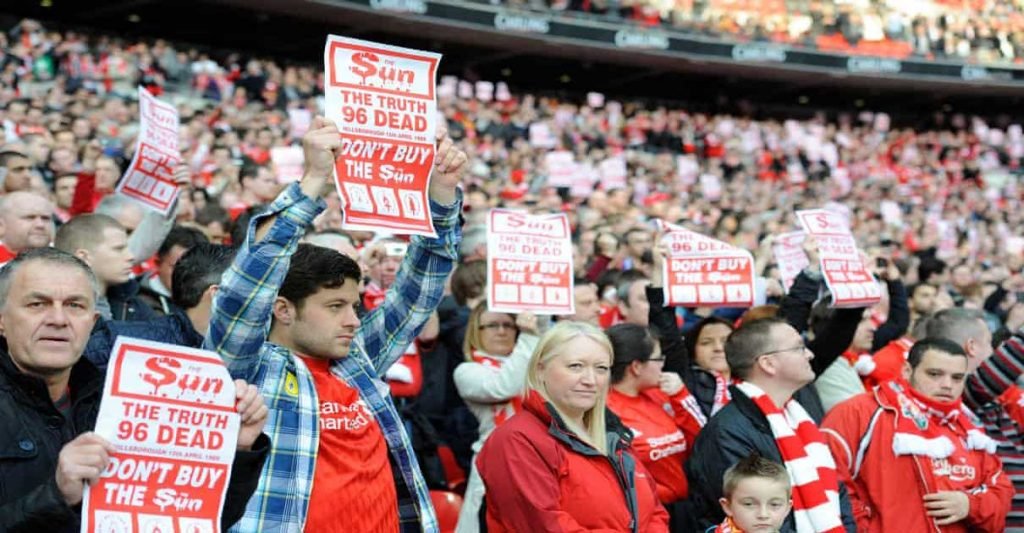 Ever since The Sun's coverage of the Hillsborough Disaster in 1989, the newspaper has been ostracised in the city – and here's why
For decades, Liverpool fans – and those who live in the city, or are affiliated with either – have boycotted the Sun, with newsagents refusing to sell the newspaper and others declining to even say its name in full, instead referring to it as "The S*n" or "The Scum".
The Sun's notoriety related to the city of Liverpool has been prominent ever since the Hillsborough Disaster occurred in 1989, resulting in 96 fatalities after a human crush.
On Wednesday 19 April, four days after the disaster, with 95 people confirmed dead – the 96th victim, Tony Bland, suffered irreversible brain damage and had his life support turned off in 1993 – The Sun, then edited by Kelvin McKenzie, ran its infamous front page. It reported as fact a series of allegations made by unnamed South Yorkshire police sources, principally that some Liverpool supporters had attacked and urinated on "brave cops" as they attempted to save people, and that some supporters had stolen from dead
The coverage caused tremendous distress to families in the first stages of shock and grief at the loss of their relatives and among survivors of the deadly crush and Liverpool supporters, many of whom were filmed working hard to help save and rescue victims. Families believe that the huge, uncritical publicity given to those lurid stories greatly contributed to their difficulties in establishing the real truth, leading to a traumatic justice campaign and legal battle for 27 years until last April's verdict.
The coverage led to an immediate boycott of the Sun on Merseyside, which has been strongly adhered to, and attempted apologies made by the paper, and latterly McKenzie, years after the stories were run, have never been accepted by the bereaved family groups.
Support Labour Heartlands
Help Us Sustain Ad-Free Journalism
Sorry, I Need To Put Out the Begging Bowl
Independent Journalism Needs You
Our unwavering dedication is to provide you with unbiased news, diverse perspectives, and insightful opinions. We're on a mission to ensure that those in positions of power are held accountable for their actions, but we can't do it alone. Labour Heartlands is primarily funded by me, Paul Knaggs, and by the generous contributions of readers like you. Your donations keep us going and help us uphold the principles of independent journalism. Join us in our quest for truth, transparency, and accountability – donate today and be a part of our mission!
Like everyone else, we're facing challenges, and we need your help to stay online and continue providing crucial journalism. Every contribution, no matter how small, goes a long way in helping us thrive. By becoming one of our donors, you become a vital part of our mission to uncover the truth and uphold the values of democracy.
While we maintain our independence from political affiliations, we stand united against corruption, injustice, and the erosion of free speech, truth and democracy. We believe in the power of accurate information in a democracy, and we consider facts non-negotiable.
Your support, no matter the amount, can make a significant impact. Together, we can make a difference and continue our journey toward a more informed and just society.
Thank you for supporting Labour Heartlands
Just click the donate button below