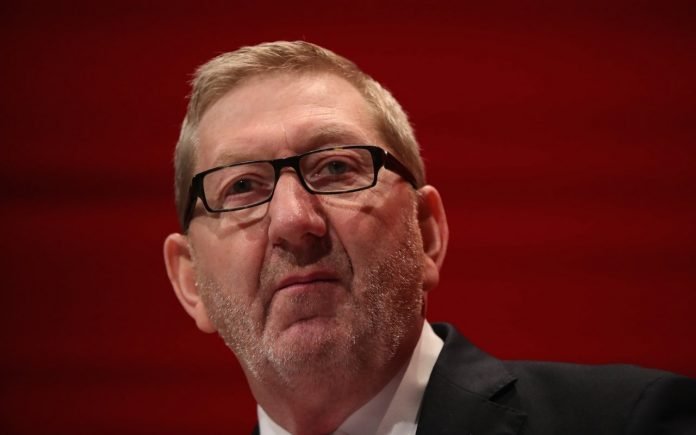 The Unite general secretary, Len McCluskey, has privately told Labour MPs the party should have severe reservations about backing a fresh Brexit referendum, saying voters could see it as a betrayal.
The deep scepticism from one of Jeremy Corbyn's closest and most powerful supporters is likely to unnerve MPs and campaigners hoping the party is warming to the idea of a fresh Brexit vote.
McCluskey met around two dozen MPs in the House of Commons on Tuesday, where he voiced fears about the impact that backing a second Brexit vote would have on Labour.
The private intervention comes at a fractious time for the party, as the leadership agonises over what its tactics should be if Theresa May loses a vote on the Brexit deal in parliament.
McCluskey said he believed Labour MPs would need to eventually back some version of a Brexit deal, sources said.
Another source said that while the head of Britain's biggest union argued forcefully against a second referendum, he wanted to hear other people's views.
"Len spoke about tackling people's concerns about immigration and the exploitation of immigrant labour. He said there would be a sense of betrayal among the members if we went for a second referendum.
"He said the party has to take concerns about immigration into account, and that if politicians had done so sooner we might have avoided the current situation. I wouldn't say that majority of MPs agreed with him at all. But he gave clear examples where the exploitation of immigrant labour has undermined existing wage levels."
A Unite spokesperson said: "Len McCluskey repeated a number of times that a Conservative Brexit would be bad for working people. He urged MPs to hold their nerve as Labour's alternative approach would deliver for the country."
However, other close allies of Corbyn remain sceptical about how a second vote would go down in leave-backing Labour constituencies; and the party's pollsters have been researching the views of voters in heartland seats.
There are also fears that a significant minority of Labour MPs would not back the policy, even if it was backed by the frontbench.
Those MPs include Brexiters, such as Dennis Skinner, John Mann and Frank Field, as well as MPs in strong leave-leaning seats, such as Caroline Flint, Gareth Snell and Laura Smith.
Snell, the MP for Stoke Central, told the Guardian he had "huge reservations about the practicalities and politics of holding a second referendum and that is a view that is shared by more and more Labour MPs".
The MP, who defeated the then Ukip leader, Paul Nuttall, in a byelection in 2016, said it was imperative Labour had a Brexit plan ready in the event of a general election.
The fragility of the government along with their obvious lack of majority means we are more than likely heading toward a general election, 

But that leaves a huge hole in Labour's plan about what we would actually propose to the country regarding Brexit in that vote.
Support Labour Heartlands
This is a "Pay as You Feel" website. You can have access to all of our online work for free. However if you want to support what we do, you could make a small donation to help us keep writing and staying ad-free. The choice is entirely yours.
PLEASE HELP US KEEP GOING AD-FREE
HELP US GROW.
The future can be ours - but only if we work together to make it happen. We've been fighting to make the Labour Heartlands a better, more fairer and equal place for over two years now. With a dedicated team and the commitment from our generous supporters giving small regular donations each month, more if they can afford it, we're winning. But there is still so much to do. We're ambitious, but we can only continue to make positive change and shape our country if more of our supporters join us on this journey. If you believe in the issues we fight for please take action and join Labour Heartlands grassroots think-and-do-tank today. It will make all the difference. And then we can make all the difference for everyone.
Not funded by millionaires or advertisers.
Labour Heartlands funded by the people.