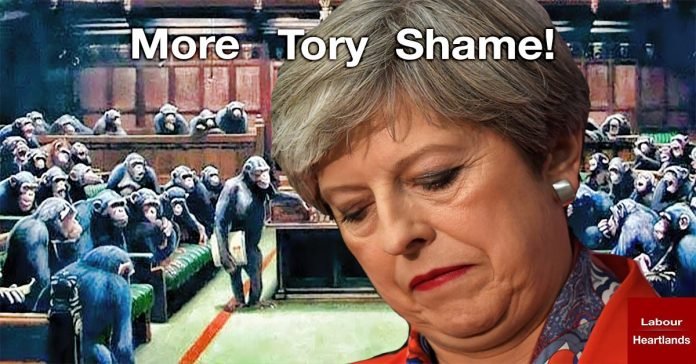 Jeremy Corbyn launched a devastating tear down of the government's welfare policies telling MPs that "foodbanks are not just a photo opportunity for Conservative MPs."
In a stinging attack the Labour leader accused the Tories of creating a "hostile environment" for those on benefits.
He referred to a string of photographs of Tory MPs at foodbanks in their constituencies which have been promoted on social media in recent weeks.
Mr Corbyn was visibly angered when the Prime Minister dismissed again the findings of the UN Special Rapporteur who said the Government's policies and drastic cuts were "entrenching high levels of poverty and inflicting "unnecessary" hardship in one of the richest countries in the world.
Asked which part of the report she found most shocking, Theresa May responded: "We have been clear as (Work and Pensions Secretary Amber Rudd) has been, that we don't agree with this report because what we actually see in our country today is absolute poverty at record lows, more people in work than ever before, youth unemployment almost halved, wages growing – and that's because of the balanced approach we take to our economy."
"One of the Government's policies that is causing the greatest anxiety and poverty is Universal Credit, the UN rapporteur Professor Alston said it was fast falling into universal discredit.
"When will the Prime Minister demonstrate some of her professed concern about burning injustices and halt the roll-out of Universal Credit?"
Fury erupted on the Tory benches after Mr Corbyn, during his final question, said: "When I hear a Prime Minister talking about difficult decisions, what always happens afterwards in this context is the poorest lose out in our society – 4.3 million disabled people are now in poverty, 50,000 were hit by appalling cuts to the Employment Support Allowance benefit alone last year.
"This Government labelled disabled people scroungers, it called those unable to work skivers…"
Mrs May could be seen saying "outrageous", while Tory colleagues shouted "Withdraw!" at Mr Corbyn, which prompted Commons Speaker John Bercow to intervene.
Read more on the damming "The United Nations' special rapporteur on extreme poverty and human rights in the UK"
Support Labour Heartlands
This is a "Pay as You Feel" website. You can have access to all of our online work for free. However if you want to support what we do, you could make a small donation to help us keep writing and staying ad-free. The choice is entirely yours.
PLEASE HELP US KEEP GOING AD-FREE
HELP US GROW.
The future can be ours - but only if we work together to make it happen. We've been fighting to make the Labour Heartlands a better, more fairer and equal place for over two years now. With a dedicated team and the commitment from our generous supporters giving small regular donations each month, more if they can afford it, we're winning. But there is still so much to do. We're ambitious, but we can only continue to make positive change and shape our country if more of our supporters join us on this journey. If you believe in the issues we fight for please take action and join Labour Heartlands grassroots think-and-do-tank today. It will make all the difference. And then we can make all the difference for everyone.
Not funded by millionaires or advertisers.
Labour Heartlands funded by the people.