A country-wide strike by farmers in India has begun amid a standoff with the government over new farm laws.
India's PM says the farmers are being misled and that the government's intentions are "as holy as the water of River Ganga". However millions see the controversial new laws differently.
This Tuesday may well have witnessed the single largest protest in human history, it took place in India, as tens of thousands of farmers marched to the capital to protest proposed new legislation and upward of 250 million people around the subcontinent participated in a 24-hour general strike in solidarity.
This massive people's movement has gained attention worldwide and, moreover, forced the government to come to meet the protesters where they are instead of just cracking down and brutalizing them, a first in the six years of Prime Minister Narendra Modi's rule. writes NITISH PAHWA for the Slate
To comprehend this moment, you have to understand the long plight of India's farmers. To a much greater degree than other major economies, India retains its mass agrarian traditions alongside its developed industrial and tech sectors—agriculture is still the largest source of livelihood for most Indians, employing more than half the subcontinent's workforce, mostly in small and local farms instead of agribusiness behemoths. Yet the farmers themselves, despite feeding so much of the nation and providing a significant bedrock for India's economy, have always had a brutal time of it.
Colonial-induced famines (temporarily solved by the reforms of the 1960s "Green Revolution," which later would cause its own issues), bureaucratic and oppressive government policy, exploitation by feudal-minded landholders, and, of course, climate change has continually left India's land workers among the worst of the world over. Even before the acceleration in mass despair augured by the pandemic and ensuing locust invasion, farmers had been left completely strapped by crippling debts, losses on marketed goods, and devastation from extreme weather; long-troubling suicide rates reached staggering new heights.
Those who say India has "too many farmers," as a writer at Indian business publication Mint and a fellow at the conservative American Enterprise Institute have claimed, are completely missing the point: The country has bled so many other jobs involving so-called unskilled labour, especially lately, that many of the country's poorest, illiterate, and otherwise disenfranchised have no other labour recourse, especially with no workable safety net on hand.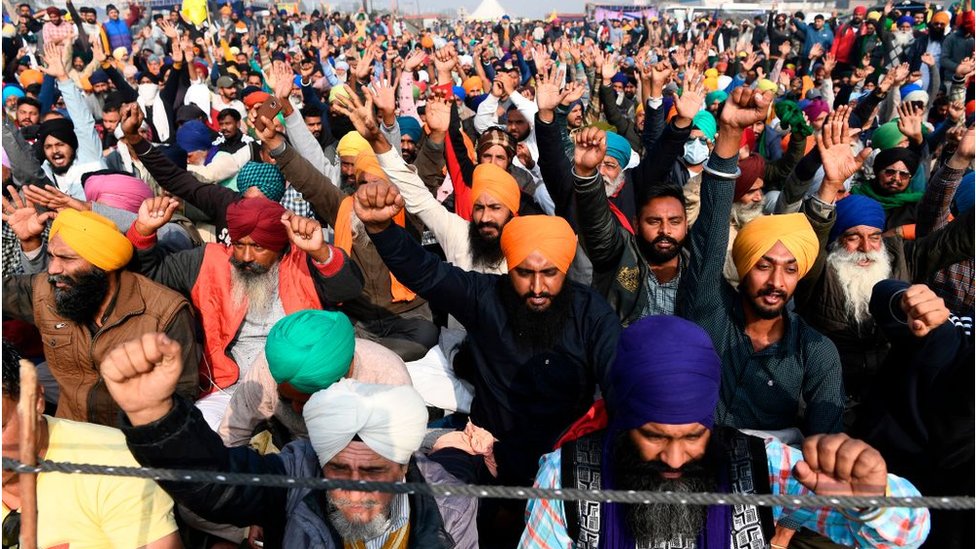 So, after the government took action that seemed to depress farmers' welfare even further, land workers weren't going to take it anymore.
In September, Modi rammed three pieces of legislation through Parliament that supposedly serve to remove taxes and other government-imposed financial burdens on farmers to help them directly sell to corporations and encourage private investment in agriculture, following Modi and his ruling Bharatiya Janata Party's deregulatory agenda.
It sounds fine when you describe it so pithily: get rid of the red tape and give farmers free access to bigger markets. But it's not so simple. The supposedly onerous business barriers the laws remove help provide farmers a guaranteed, timely sale and distribution market for their goods, stop businesses from hoarding produce, keep prices at a fair level, and prevent small farmers from being taken advantage of by agribusiness corporations.
Modi's new laws nominally give farmers a better deal by allowing them to directly sell more produce to more places. What they really do is take away the remaining meagre support granted to farmers already deprived of much of the support they need and allow them to be exploited by big agribusiness firms and corporations. With these protections—including guaranteed government-based marketplaces and frameworks to establish minimum prices for goods—cast off, there is little left to stop Big Ag companies within India from swallowing market share.
The protests come even as the pandemic rages in India, Delhi Chief Minister Arvind Kejriwal's party alleges he has been put under house arrest after he visited the border where farmers have gathered.
"No one has been permitted to leave or enter his house," the Aam Aadmi Party's said in a statement. Delhi police denied the claim saying it was a general deployment to avoid any clashes.
At least 15 opposition parties have backed the call for the strike. Tens of thousands of farmers have laid siege to capital Delhi for the last 12 days, choking almost all the entry points. There is also heavy police deployment along border checkpoints.
The governing Bharatiya Janata Party (BJP) has said the reforms, which allow private players a greater role in the farming sector, will not hurt farmers' incomes.
But farmers are unconvinced. In recent weeks, thousands of them marched upon Delhi, in a convoy of tractors and on foot. They were met at the border by barricades and clashes broke out when police and paramilitary troops tried to stop them from entering the capital.
Most of the protesting farmers are from the northern states of Punjab and Haryana, and belong to the country's richest agricultural communities. Their campaign has found resonance on social media, and among the influential Sikh community in Punjab and overseas.
Although they were later allowed to enter the city, thousands of them are still at the borders, vowing not to leave until the government rolls back the reforms. The protest sites have since turned into camps, with entire families cooking and sleeping in the open.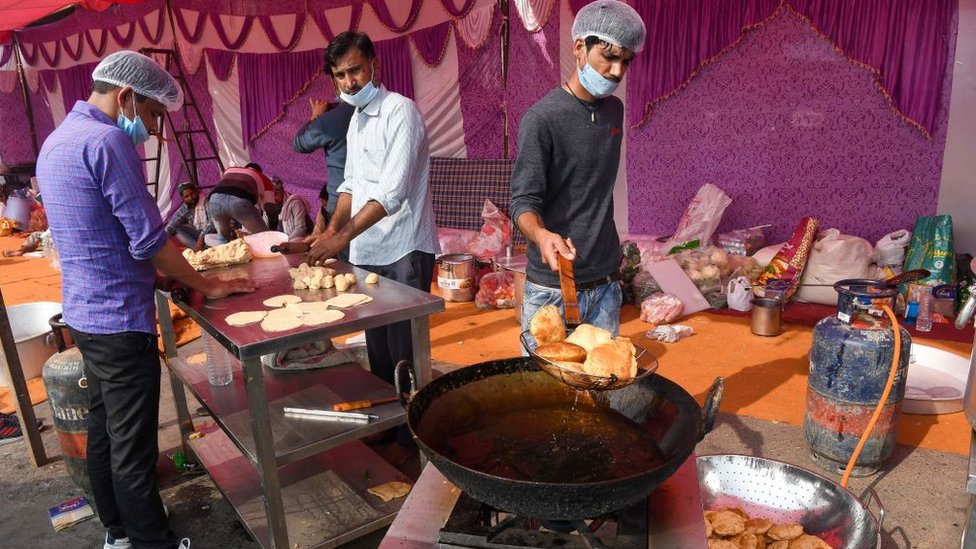 The protests come even as the pandemic rages in India – although case counts have been dropping nation wide, Delhi has seen a sharp uptick in recent months.
Images of thousands of elderly farmers from Punjab and Haryana – known as the "food bowl" of India – being tear-gassed and sprayed with water in the winter cold have won them tremendous public sympathy in India and also from the diaspora around the globe.
The farm bills roiled the country's parliament when they were passed in September, which led to the suspension of eight opposition members.
Farmers are mainly concerned that the reforms will eventually lead to the end of wholesale markets and assured prices, leaving them with no back-up option. That is, if they are not satisfied with the price offered by a private buyer, they cannot return to the mandi or use it as a bargaining chip during negotiations.
The government has said the mandi system will continue, and they will not withdraw the floor prices they currently offer. But farmers are suspicious.
"First, farmers will feel attracted towards these private players, who will offer a better price for the produce. The government mandis will pack up meanwhile and after a few years, these players will start exploiting the farmers. That's what we fear," Multan Singh Rana, a farmer in the northern state of Punjab, told BBC Punjabi.
Support Labour Heartlands
PLEASE HELP US KEEP GOING AD-FREE
This is a "Pay as You Feel" website.
Hey there! Thanks for stopping by. If you've enjoyed reading the articles on Labour Heartlands so far, We would be incredibly grateful if you could consider making a small donation. Labour Heathlands is not your typical news outlet. We are not here to simply regurgitate the daily news cycle, that's for the rest of them. Our focus is on delving deeper, uncovering the untold stories and shedding light on the issues that the mainstream media chooses to ignore.
Our unwavering commitment to journalistic integrity means that we are not influenced by any external forces. We are not beholden to PR companies, advertisers or press barons, and we refuse to let anyone dictate what we report on. Our editorial independence is sacrosanct, and our only allegiance is to the truth.
While we do not align ourselves with any particular political party, we stand firmly against corruption, injustice and the erosion of truth and the rule of law. We believe that accurate information is the lifeblood of a democracy and that facts are not up for debate.
Once again, thank you for your support – We truly couldn't do this without you!
PLEASE HELP US KEEP GOING AD-FREE