ULEZ and the Corrupt 'Welfare for the Rich' Policy Model.
By Gavin Lewis
London entryist neoliberal Labour Mayor Sadiq Khan is attempting to territorially expand an imposed system of £12.50 daily penalties largely on low-income drivers of traditional petrol/diesel vehicles beyond a certain age of manufacture – this supposedly to create an Ultra Low Emission Zone (ULEZ). Yet at its core, penalising low-income groups is not why the UK Labour Party based upon Democratic Socialist ideals, was founded.
By comparison, in 1981 against the tide of Margaret Thatcher's tightening monetarist grip on the country, traditionalist Labour's Greater London Council (GLC) led by Ken Livingstone introduced its Fare's Fair policy.  In line with authentic Labour values, and in environmental terms, decades ahead of its time, this policy used redistributive taxation to subsidise public transport.  Commuters were benevolently priced out of their cars.  Prices were reduced by roughly a third. Greater London was classified as travel zones and commuters could buy a Travelcard for unlimited bus, train, underground use in specific or combined zones.
Unlike Khan's agenda, this policy was almost universally popular though not with vested interest and free market ideologues. Against the policy, a concentrated democratically sociologically unrepresentative lobby took shape comprising the usual suspects, car and lorry manufacturers, motoring organisations, tyre companies, roads lobby, oil companies, the Thatcher government, the House of Lords and the local Tory Bromley council. The long-term consequence was that public transport funding was taken out of the GLC's hands and ultimately to combat its political popularity, the GLC was disbanded.
Public transport commentators noted that during it's time Fare's Fair was very successful
"Travel on London Transport rose as a result from 5.5 million to 6 million passengers a day and car journeys fell" Buses Magazine
Most independent commentators cite the same paragraph of stats, indicating that even in terms of the logics of mixed economy capitalism, Fares Fair was great value and an environmental achievement.
"In 1982 car use in London dropped by 10%. An extra £48m fare revenue came in and tube usage went up 44%, bus usage rose by 14%. These were the greatest increases in the 52-year history of London Transport." UK IndyMedia, Tony Gosling, bilderberg.org (original sources, John Carvel Citizen Ken (1984), John Carvel Turn Again Livingstone (1999).
London is now one of the most expensive cities in the world and that includes its public transport system, with UK public transport ranked most expensive in Europe.
ULEZ and Welfare for the Rich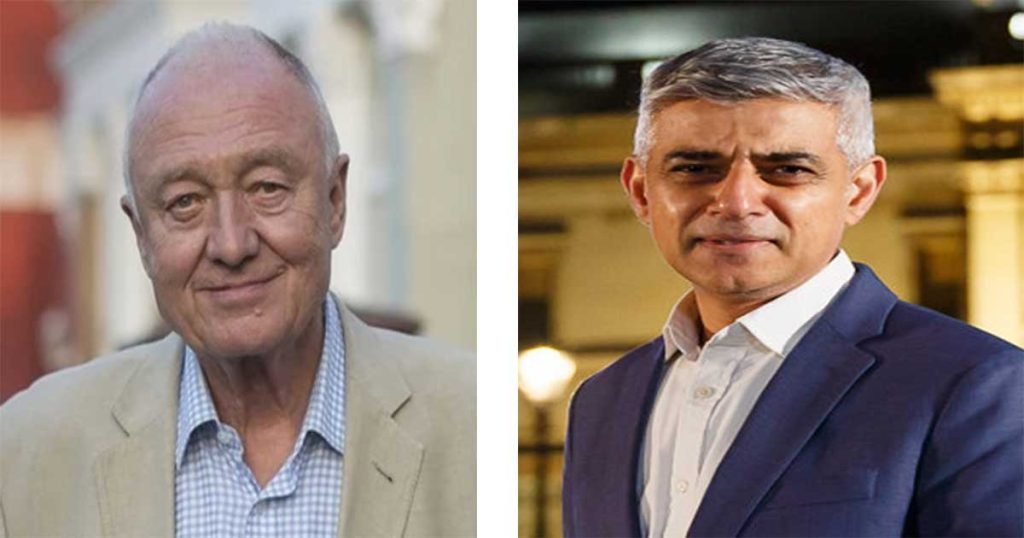 Ken Livingstone (old Labour) Sadiq Khan (entryist charlatan Labour)
Britain's proposed treatment of the car industry, of which Khan's is at the forefront, bares comparison with that previously meted out to the tobacco lobby. The car industry has similarly made a product toxic to the planet, and as Noam Chomsky and others have pointed out has, along with the oil industry lobbied against and even bought out and closed down competing public transport – famously the LA rail and streetcar system.
It took a great many years to bring the criminals of the tobacco industry and its PR lobby to face justice for offences against world health. Imagine if instead of demanding punitive and/or restorative justice, authorities had offered the offending companies a massive financial handout to subsidise a process of weening victims onto a slightly less carcinogenic product.
In essence, this is what is happening to the car industry in Britain. Data from the first year of the Mayor's Transport for London ULEZ scheme states that
"Two-thirds of recipients used the grant payment to buy a replacement ULEZ-compliant car or motorcycle." (P28 ULEZ scrappage schemes evaluation report 2022).
And also "The scrappage payment for vans will increase from £5,000 to £7,000, while grants to replace a non-compliant van with an electric van will increase from £7,500 to £9,500."
Spun as a benefit to citizens, this is a subsidy to the car industry and 'Welfare for the Rich'. This is part of a historically emerging corrupt trend.
The traditional democratic socialist Labour response to the 2008 banking crisis would have been to nationalise the failing industry and make it a collective national asset. Entryist New Labour instead decided to maintain the existing status quo by giving a massive financial handout of £137 billion to the banking industry, a significant proportion of which it would never successfully claw back.
This handout like ULEZ comes from a tax burden that now since the Thatcher era, directly and indirectly disproportionately falls on middle and low-income groups. So overtly, part of the same 'Welfare for the Rich' model (in what maybe have been an incestuous thank you or rather message, to future leaders Tony Blair was later made an official of JP Morgan Bank, who'd profited from the Iraq War. Though in this instance he had recently handed the Premiership over to his Chancellor Gordon Brown by the time of the banking crisis).
Another real Labour policy would have been to demand living wages and workers' protections from employers. New Labour instead subsidised poverty-pay employers with a system of tax credits, which in any case only supplemented the wages of those exploited low-income workers with children. This was a copy of the Clinton Presidency's welfare-to-working-poverty 'workfare' program. US trade unionists complained that under the Clinton system Walmart got away with paying so little, that when managers signed up new workers, they immediately showed candidates how to fill out government Food stamp applications, which because of their now poverty-level working incomes, applicants immediately qualified. Britain's pro-car-industry so-called 'environmental policies' are part of this emerging 'Welfare to the Rich' set of practices.
Since the subversion of the 100 year old traditionalist democratic socialist Corbyn-like identity of the Labour Party, Britain increasingly looks like a one-party state, comprising marginally different factions of pro-corporate Capitalist functionaries. The Tory government's environmental policies have followed a pro-car-industry agenda that have overlapped with Khan's. The Tory government's Net Zero plan involved a shift, not to a subsidised more heavily invested public transport system but to a mandatory switch to sales of low-emission vehicles.
Tory Prime Minister Rishi Sunak with an eye on next General Election votes, recently made a popularist move to delay the Net Zero switchover from 2030 to 2035. Revealingly the first to protest was not Just Stop Oil or Extinction Rebellion but Ford's UK chair Lisa Brankin. The Financial Times led with the dramatic headline "Car industry reels from Sunak's retreat on net zero plans".
So we have a faux environmentalism that is just used to sell more car industry product. Yet in broader terms, some of the long-term environmental damage to Britain has already been done by catering to the car lobby. Housing developments – particularly in the commuter belts – have been allowed to occur without local grocery shops built into the overall design and often with little in the way of bus provision, thereby making residents car dependent. Shopping is done at massive Superstores and/or Malls with large car parks but frequently without a bus or tram station attached. Nineteen Eighties Thatcherism presided over the deliberate decline of movement of freight by rail. In the 1970s even newly manufactured cars were moved around the country by rail, now they're on the back of massive juggernaut lorries. And earlier this century even the Royal Mail stopped using mail trains ending a tradition of 170 years.
Then there is the question mark against environmental legitimacy of Britain's current approach. Little is said of the environmental footprint of junking a generation of steel vehicles with batteries, and producing replacement upgraded models? And how is the electricity for the vehicles going to be generated? Earlier this year the British government announced "Hundreds of new North Sea oil and gas licences to boost British energy independence and grow the economy" and the following September Reuter's confirmed "Britain gives go-ahead for biggest new North Sea oilfield in years" – the Rosebank Field. For the foreseeable future, the electricity to be generated in Britain's Power Stations, could still be coming from burning fossil fuels.
Globalising Anti-Democratic Corporate Corruption.
The bitter irony of the 'Welfare for the Rich' model is that frequently it is being imposed while benefits and public provision for the general population are being withdrawn. The Clinton insurgency in the US Democrat Party and its policies mentioned previously, are an example of this. Democrat Presidents from Roosevelt in the 30s to Carter in the late 70s all practised a version of public welfare, a government-supported provision such as housing projects, and funding of educational opportunities for the less well-off.
When Bill and Hillary Clinton entered the White House they instead continued a Reaganite low tax policy, while taking lobbying money from the same sites of economic power as the Republicans. The results were welfare cuts, exploitative workfare practices, rising gun crime and courtesy also of their 3-strikes crime policy, a rise in the prison population (the privatised prison lobby who'd provided their campaign with funding donations were no doubt pleased). The Clintons had dismantled what was left of Democratic President Lyndon Johnson's 'Great Society Program'.
Tony Blair and Gordon Brown's New Labour followed the same pattern of betrayals. New Labour followed a Thatcherite low-tax model for the rich. Consequently Council House provision, social and NHS 'cradle to grave' care, welfare, free tuition and educational grant maintenance – these achievements of past Labour governments from Attlee, Wilson, Callaghan – were all sacrificed on the altar of continuing tax breaks for the corporate rich. And New Labour's welfare changes, like the Clintons, would increase the supply of cheap labour to exploitative employers. Increases in knife crime and prison populations would also follow the Clinton model.
Globally progressive political parties would suffer the same processes of infiltration and subversion. Lobbying money would go into them targeting top key individuals. The more the Parties changed, the more money came in and following this the carpetbaggers – trying to get in on the free money and free directorship gravy train. One such example occurred when as Leader Jeremy Corbyn's attempted to restore the traditionalist identity of the Labour Party. An initial candidate called Owen Smith was put up against him by the entryist right. Smith's background was as a lobbyist for the privatised health industry. Given Labour had invented the free NHS, Smith would never had managed to get into the Party, prior to Blair and Brown's subversions, much less stand for leader.
In France future investment banker Emmanuel Macron would enter the Socialist Party and with a small group of others try and block President Hollande's proposed limits on CEO pay and increases on top rate tax for the super-rich, while proposing to extend the working week from 35-37hrs. Having failed to do much other than damage the Party's electoral reputation – which often is the outcome of entryism – a grateful corporate sector financed a new Party for Macron called En Marche! Macron would later become infamous among the general public as 'the President for the Rich'.
Blair and Brown's betrayals resulted in the destruction of Scotland as a Labour stronghold. Consequently, the social-democratic vote fell by default to the Scottish Nationalist Party (SNP). The SNP has one main priority – Independence for Scotland. Since becoming the default Party of the Scottish government accusations of entryism have flourished. The Party has become embroiled in financial scandals. And the drive towards the policy priority of Independence has stalled – presumably because it is inconvenient to some in the corporate business sector.
This raises the issue of how is this economic redistribution to the rich being electorally achieved? Neoliberals have been patterning their electoral tactics on those advocated by 1970s right-wing Republican strategist Paul Weyrich. Weyrich advocated attempting as low an electoral turnout as possible because then elections could be won by a handful of votes. The Clinton insurgency and Blairites rebranded this 'triangulation'. They would move right cutting out the mass of their left-wing support presuming that electorally they had nowhere to go to influence events. Internally, democratic participation would be minimised, creating a double 'voter suppression' effect.
There are a number of practical faults with this. Firstly the real right, can simply try and get their core vote out by embracing ever more extremist policies – neoliberals by comparison don't have much of a sociological base. Secondly, once a population have lived through this anti-democratic subversion, there tends to be a 'fool me twice' effect. Al Gore's Presidential campaign appeared to suffer grassroots apathy precisely because he'd been Bill Clinton's Vice President.
Here in Britain Labour leader Kier Starmer has resumed Blair's betrayals of Party values, contributing to the rise of Independent councillors. Low turnout has made By-Elections 'touch and go' contests for Labour. At the recent Rutherglen and Hamilton West by-election, local scandal caused up to 65% of the SNP vote, to stay at home. None of these votes went to Labour who scraped the win but only with its lowest turnout there this century.
Lastly the Corbyn years demonstrated that neoliberal entryists were frightened of the possibility of regular democratic reselection voting them out. Leftist progressives should in their future activism try and find ways of increasing democracy in their activism and making their numbers count.
PostScript.
The BBC published an article on the academic research into ULEZ in London suggesting the health benefits were possibly less clear-cut than initially suggested?
Ken Livingstone's family recently announced he'd had a dementia diagnosis. Livingstone had been at the forefront of a generation of politicians making democratic socialism multi-cultural in terms of ethnicity and LGBT inclusion. Later in life, he was smeared by the Israel lobby for citing Lenni Brenner's Zionism in the Age of Dictators (1983). Contrary to the smears he's been given warm testimonials by Jewish Voice for Labour.
The views expressed are solely those of the author and may or may not reflect those of Labour Heartlands
GAVIN LEWIS
Gavin Lewis is a freelance Black British mixed-race writer and academic. He has published in Australia, the United Kingdom, Canada and the United States on film, media, politics, cultural theory, race, and representation. He has taught critical theory and film and cultural studies at a number of British universities. He is a member of the British trade union Bectu.
Support Labour Heartlands
Help Us Sustain Ad-Free Journalism
Sorry, I Need To Put Out the Begging Bowl
Independent Journalism Needs You
Our unwavering dedication is to provide you with unbiased news, diverse perspectives, and insightful opinions. We're on a mission to ensure that those in positions of power are held accountable for their actions, but we can't do it alone. Labour Heartlands is primarily funded by me, Paul Knaggs, and by the generous contributions of readers like you. Your donations keep us going and help us uphold the principles of independent journalism. Join us in our quest for truth, transparency, and accountability – donate today and be a part of our mission!
Like everyone else, we're facing challenges, and we need your help to stay online and continue providing crucial journalism. Every contribution, no matter how small, goes a long way in helping us thrive. By becoming one of our donors, you become a vital part of our mission to uncover the truth and uphold the values of democracy.
While we maintain our independence from political affiliations, we stand united against corruption, injustice, and the erosion of free speech, truth and democracy. We believe in the power of accurate information in a democracy, and we consider facts non-negotiable.
Your support, no matter the amount, can make a significant impact. Together, we can make a difference and continue our journey toward a more informed and just society.
Thank you for supporting Labour Heartlands
Just click the donate button below