Putin orders the Russian army to observe a 36-hour ceasefire over Russia/Ukraine's Christmas period.
On this Russian, Ukraine Christmas eve, many will recall 'The Christmas truce of World War I'. It has become legendary, especially among those who long for peace, even in the midst of war.
On a crisp, clear morning 100 years ago, thousands of British, Belgian and French soldiers put down their rifles, stepped out of their trenches and spent Christmas mingling with their German enemies along the Western front. In the hundred years since, the event has been seen as a kind of miracle, a rare moment of peace just a few months into a war that would eventually claim over 15 million lives. But what actually happened on Christmas Eve and Christmas Day of 1914 — and did they really play soccer on the battlefield?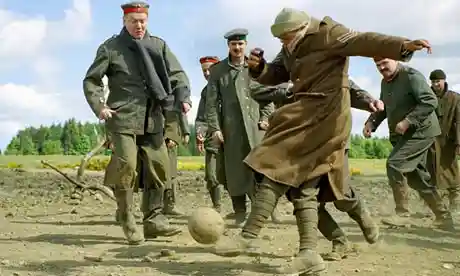 Pope Benedict XV, who took office that September, had originally called for a Christmas truce, an idea that was officially rejected. Yet it seems the sheer misery of daily life in the cold, wet, dull trenches was enough to motivate troops to initiate the truce on their own — which means that it's hard to pin down exactly what happened. A huge range of differing oral accounts, diary entries and letters home from those who took part make it virtually impossible to speak of a "typical" Christmas truce as it took place across the Western front. To this day historians continue to disagree over the specifics: no one knows where it began or how it spread, or if, by some curious festive magic, it broke out simultaneously across the trenches. Nevertheless, some two-thirds of troops — about 100,000 people — are believed to have participated in the legendary truce.
Most accounts suggest the truce began with carol singing from the trenches on Christmas Eve, "a beautiful moonlit night, frost on the ground, white almost everywhere", as Pvt. Albert Moren of the Second Queens Regiment recalled, in a document later rounded up by the New York Times. Graham Williams of the Fifth London Rifle Brigade described it in even greater detail:
"First the Germans would sing one of their carols and then we would sing one of ours, until when we started up 'O Come, All Ye Faithful' the Germans immediately joined in singing the same hymn to the Latin words Adeste Fideles. And I thought, well, this is really a most extraordinary thing ­– two nations both singing the same carol in the middle of a war."
The next morning, in some places, German soldiers emerged from their trenches, calling out "Merry Christmas" in English. Allied soldiers came out warily to greet them. In others, Germans held up signs reading "You no shoot, we no shoot." Over the course of the day, troops exchanged gifts of cigarettes, food, buttons and hats. The Christmas truce also allowed both sides to finally bury their dead comrades, whose bodies had lain for weeks on "no man's land," the ground between opposing trenches.
The phenomenon took different forms across the Western front.
Now over one hundred years later war is been fought on the old Eastern front only another Christmas miracle will bring peace if only for a short time…
Ukraine war: Kyiv rejects Putin's Christmas truce as 'trivial'
Christmas in both Russia and Ukraine can be celebrated on the 25th of December or 7th of January. This is because different Orthodox and Greek Catholic churches within Ukraine use the old 'Julian' or the 'new' Gregorian calendars for their church festivals.
This year, for the first time, the Orthodox Church of Ukraine said it would allow its congregations to celebrate Christmas on 25 December, as do some other denominations in western Ukraine.
The church split with the similarly named Ukrainian Orthodox Church (UOC) in 2018.
The UOC itself was tied to Moscow's religious leadership until Russia's invasion, and some of its top clergy have been accused of still covertly supporting Moscow.
The ceasefire, scheduled to start at 12:00 Moscow time (09:00 GMT), will coincide with the Russian and Ukrainian Orthodox Christmas.
Ukraine's President Volodymyr Zelensky said the truce was an attempt to stop his country's military advances.
The Kremlin statement appeared to stress that President Putin ordered his troops to stop fighting not because he was de-escalating – Putin never de-escalates – but because he had listened to an appeal from the head of the Russian Orthodox Church.
Patriarch Kirill had, earlier in the day, called for a Christmas truce to allow believers to attend church services for Orthodox Christmas.
A Kremlin statement said: "Taking into consideration the appeal by [Kirill], the president hereby instructs the minister of defence of the Russian Federation to impose a ceasefire regime along the entire line of contact in Ukraine" for the 36-hour period.
Putin asked Ukraine to reciprocate, but Kyiv quickly rejected the request.
Putin offered a ceasefire over the period allowing both sides to temporarily stand down. The offer was not reciprocated with Ukrainian officials stating:
There can be a "temporary truce" only when Russia leaves "occupied territories," Mikhail Podoliak, an adviser to Zelensky, wrote on Twitter. "Keep hypocrisy to yourself," he added.
Podoliak also denounced the Russian Orthodox Church as being a "war propagandist" that called for "the genocide of Ukrainians," describing its statement about a Christmas truce as "a cynical trap & an element of propaganda."
"A ceasefire? Lies and hypocrisy. We will bite you in the singing silence of the Ukrainian night," wrote Alexey Danilov, the head of the National Security and Defense Council of Ukraine.
The proposed truce "can not and should not be taken seriously," tweeted Ukrainian Foreign Minister Dmitry Kuleba.
In his nightly video address, President Zelensky said that Russia wanted to use the truce as a cover to stop Ukrainian advances in the eastern Donbas region and bring in more men and equipment.
"What will that give them? Only yet another increase in their total losses," he added. Unusually he delivered this part of the address in Russian instead of Ukrainian.
Ukraine's Foreign Minister, Dmitro Kuleba, said Moscow repeatedly ignored President Zelensky's propositions for peace. He pointed to Russia's shelling of Kherson on Christmas Eve and strikes on New Year's Eve as evidence of Moscow's inability to cease hostilities during religious holidays.
Support Labour Heartlands
PLEASE HELP US KEEP GOING AD-FREE
HELP US GROW.
This is a "Pay as You Feel" website.
This blog has no source of state, corporate or institutional finance whatsoever. It runs entirely on voluntary subscriptions from its readers – many of whom do not necessarily agree with every article, but welcome the alternative voice, insider information and debate.
You can have access to all of our online work for free. However if you want to support what we do, you could make a small donation to help us keep writing and staying ad-free. The choice is entirely yours.