Former President Donald Trump said Russian leader Vladimir Putin should "release" information on an alleged business deal involving Hunter Biden, President Biden's embattled son.
In a new interview Tuesday, Trump discussed an alleged $3.5 million wire transfer from Russian billionaire Elena Baturina to Hunter Biden's investment firm that was outlined in a report by Senate Republicans made public ahead of the 2020 election.
'Why did the mayor of Moscow's wife give the Bidens — both of them — $3.5 million? That's a lot of money,' Trump in a 30-second clip on the Voice of America program.
"So now I would think Putin would know the answer to that," Trump said on "Just the News" airing on Real America's Voice network. "I think he should release it. I think we should know that answer."
Hunter Biden is facing a federal tax probe, with a grand jury convened in Delaware.
On Monday it was revealed that Hunter received a $142,000 plug-in hybrid sports car from a Kazakhstani banking oligarch in 2014. His infamous laptop was entered into the Congressional Record on Tuesday.
Trump's comments on Putin came as the Russian president has been sanctioned and ostracised by the West for his continued assault on Ukraine.
The Wall Street Journal reported on Monday that the federal tax investigation into Hunter Biden is gaining momentum, with prosecutors in Delaware seeking information and grand jury testimony in recent weeks.
Trump's new interview is far from the first time the former president has suggested or openly demanded that foreign governments intervene to damage his domestic political rivals.
In 2016, Trump publicly asked the Russian government to obtain and release emails from the private email server that then-Democratic presidential nominee Hillary Clinton used during her tenure as secretary of State.
In 2019, the House of Representatives impeached Trump for allegedly withholding crucial military aid from Ukraine unless President Volodymyr Zelenskyy announced investigations targeting the Bidens and other Democrats on discredited allegations.
Behind the allegations
Hunter Biden, who had no background in utilities or European markets, was reportedly paid $3 million to attend Burisma board meetings.
Many questions were asked about how Joe Biden's unqualified son got on the board of a US funding conduit when his father was the overseer of the operations in Ukraine.
Was some of that $3 million actually US taxpayer money? And what do Hunter and Joe know about Burisma's role in the burning and shooting deaths of over 100 people in a trade-union building in Odesa… and moving a Burisma-funded paramilitary unit into a region where Burisma's interests were being challenged by Ukrainian regional authorities. Burisma won that fight.
Burisma, the natural gas conglomerate, headed by Ihor Kolomoisky — a citizen of Ukraine, Cyprus (the money-laundering capital of Europe), Austria and Israel. Known for business practices that would bring to mind Al Capone, he took over Ukrainian gas companies, funded politicians and was the poster boy of corruption in a country ranked by the World Economic Forum as one of the most corrupt on the planet.
NEW: The BIDENS are entangled in a Ukrainian corruption scandal:@JoeBiden pushed Ukraine to fire a prosecutor seen as corrupt.
BUT the prosecutor had opened a case into a company that was paying HUNTER BIDEN.
The Bidens say they never discussed it. https://t.co/tblUPYPJMG

— Kenneth P. Vogel (@kenvogel) May 2, 2019
Burisma became the funding conduit as Azov's weaponry went from clubs and chains to trucks and heavy machine guns, to artillery and tanks. On their website, they would portray their new wealth as contributions from grateful citizens. As they formed they were moved east to start killing rebelling Ukrainians.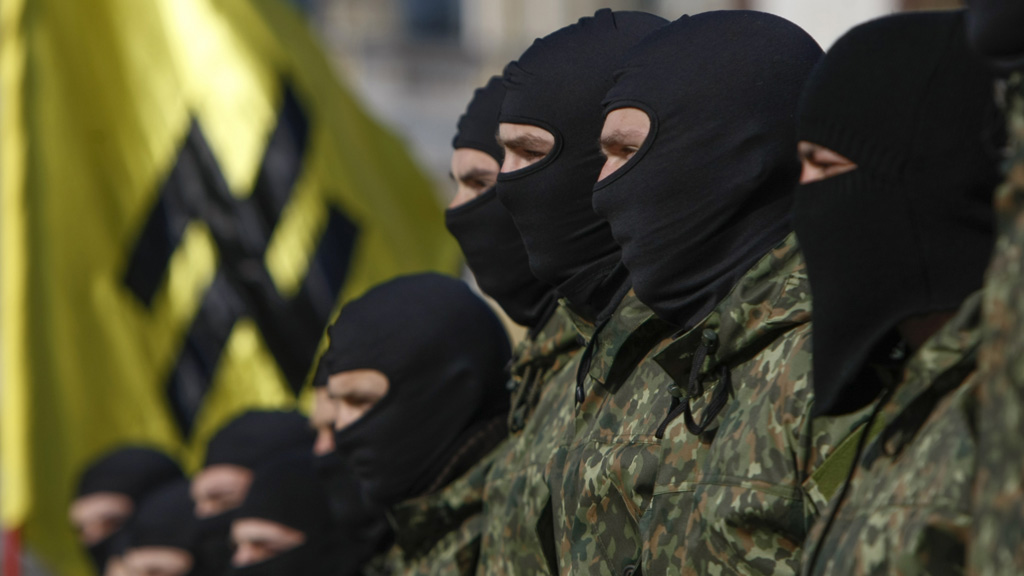 It was at this time, in May of 2014, that Hunter Biden was put on the board of Burisma, as was Devon Archer, a financial adviser to then-Secretary of State John Kerry. Thereafter the largesse to Azov increased. So conspicuous was their growth that Congressman John Conyers initiated a bill to ban CIA funding of Nazis in Ukraine, which passed unanimously.
The Azov website was taken down. Months later the administration reached out to Congressional Republican leadership and got the Conyers bill repealed.
When Biden was asked a question by an Iowan citizen about the Burisma ties, Biden blew up at him in front of the press and thus Iowa voters. He thereafter dived into the polls. The hunter Biden affair was a point of contention throughout the US election race.
The death toll in Ukraine from the civil war that Biden helped midwife is now over 14,000, with cities destroyed.
Support Labour Heartlands
PLEASE HELP US KEEP GOING AD-FREE
HELP US GROW.
This is a "Pay as You Feel" website.
This blog has no source of state, corporate or institutional finance whatsoever. It runs entirely on voluntary subscriptions from its readers – many of whom do not necessarily agree with every article, but welcome the alternative voice, insider information and debate.
You can have access to all of our online work for free. However if you want to support what we do, you could make a small donation to help us keep writing and staying ad-free. The choice is entirely yours.