Bulgarian television reporter Viktoria Marinova has become the third journalist to be murdered in the European Union in the last year and the fourth since the start of 2017.
The 30-year-old's body was found dumped near the Danube River in the town of Ruse, northern Bulgaria, on Saturday. Police said she had been beaten, raped and strangled.
It is not known if Marinova's murder is linked to her journalism work. Investigators are still trying to trace potential witnesses and establish a motive for her killing. However, Bulgarian media reported that Marinova recently interviewed Romanian journalists who were investigating politicians and businessmen for alleged corruption of EU funds.

The body of 30-year-old Viktoria Marinova, whom authorities identified only by her initials, was found on Saturday in a park, Ruse regional prosecutor Georgy Georgiev said on Sunday.

"Her mobile phone, car keys, glasses and part of her clothes were missing," he said.

She was killed by blows on the head and suffocation, Georgiev said, adding that prosecutors were probing all leads – both personal and linked to Marinova's job.

Interior Minister Mladen Marinov later confirmed to journalists that the victim had also been raped.
Victoria Marinova was reporting on alleged misuse of EU funds at the time of her death.
At the time of her murder, Victoria Marinova, a reporter and producer at broadcaster TVN, was reporting on an investigation into alleged corruption involving EU funds.
Marinova's final broadcast concerned an investigation by a group of Bulgarian journalists into companies involved in EU-funded infrastructure projects administered by local authorities. It alleged that 30-40 percent of funding received by a group of companies was lost to corruption and bribes.

In late September, Marinova interviewed two reporters working on the story, who had been detained by Bulgarian police, according to the Organized Crime and Corruption Reporting Project.
Atanas Tchobanov, an editor at Bulgarian investigative portal Bivol.bg, one of the outlets involved in the corruption investigation, said that Marinova's next assignment was to visit a site in the village of Hitrino at which questions had been raised over a public procurement contract.

"TVN is one of the very few Bulgarian media reporting on our investigations," Tchobanov said, noting "it is unclear at this stage whether the murder is connected to her work."
Earlier this year the Murder of Slovakian journalist caused outrage and protest!
'Ján Kuciak"probably related to his journalistic activity," Slovakia's chief of police said.

Ján Kuciak and his fiancee, Martina Kušnírová, both 27, were found shot dead at their home near Bratislava on 25 February. Police have said Kuciak's death was "most likely" related to an investigation of his that resulted in an article on alleged ties between Slovakia's top politicians and the Italian mafia, which his employer posthumously published.
Kuciak was working for the Aktuality.sk news website, where he focused mainly on tax evasion stories.
The murder of the Slovak journalist Jan Kuciak and his fiancée Martina Kusnirova in February provoked a wave of anger, resulting in Prime Minister Robert Fico's resignation. However, half a year later, the state of press freedom in the country is still in limbo.

Since Slovakia gained independence 25 years ago, Kuciak was the first journalist ever to be killed for his work in the small country. Although half a year has passed, investigators failed to determine who killed the journalist.

Before his death Kuciak was working on an investigative report, uncovering ties between Slovak government officials and an Italian mafia syndicate, who were supposedly collaborating to commit fraud of EU subsidy funds.

According to Slovakia's state prosecutor, it was the corruption investigation that put him on the hit list. Another of the journalist's unfinished articles describes drug cartels in Eastern Europe.
The murder of journalist Daphne Caruana Galizia in Malta.
However, this is not an entirely Eastern European phenomenon. The murder of journalist Daphne Caruana Galizia in Malta or the hostilities towards the press in Western Europe show that this is a much wider issue.

With the rise of populist politics and "strongman" leaders, Europe's downward trend will likely continue, according to RSF.
BIDNIJA, Malta — On Oct. 16, at 1:41 a.m., a cellphone SIM card was activated in this rural Maltese village. It was the moment, investigators say, when a remote-controlled bomb packed with TNT was armed and placed under the driver's seat of this tiny country's most famous, and most provocative, journalist.

The next afternoon, the journalist, Daphne Caruana Galizia, left her house and walked toward her gray Peugeot 108, intent on regaining access to her bank account. Her assets had been frozen as part of a libel case, one of 47 suits pending against her. This one stemmed from an article she had published on her blog about Malta's economy minister, Christian Cardona, reportedly visiting a brothel in Germany while traveling on official business.

Her son Matthew heard a powerful explosion and felt the windows of the house shake. He raced outside and sprinted barefoot down the long, unpaved drive from their home to the main road, where a column of black smoke churned upward into the autumn sky. Shards of glass and plastic were everywhere, and, most gruesomely, chunks of flesh were strewn on the road, all accompanied by the droning blare of a car horn.
Caruana Galicia asked uncomfortable questions about alleged fuel smuggling, organized crime and the sale of Maltese passports, which allow free movement through the EU.

She dug into money laundering and fraud allegations at Pilatus Bank, run by Ali Sadr Hasheminejad, who is facing criminal prosecution in the United States. She combed through the leaked law firm records known as the Panama Papers and found offshore wealth tied to the Maltese prime minister's inner circle.
The search for her killers posed a test for Malta, its political parties and institutions, and for the European Union, of which the country is a member. It is a test the family claims the country is failing. Three men the police call career criminals were arrested in December and charged with planting and detonating the bomb. But questions about who was behind them and why they wanted Ms. Caruana Galizia dead remain unanswered.

"The brutal assassination of Daphne Caruana Galizia was aimed at instilling fear in everyone," a European Parliament delegation to Malta said in a report released in January, "especially those involved in investigating and prosecuting cases of money laundering and corruption."

Caruana Galicia also reported on Panama-based law firm Mossack Fonseca AKA the Paradise
Papers. Original Article: LINK
EU minister named in Panama Papers is Malta's Konrad Mizzi
Maltese journalists and bloggers have found that the minister from an EU member state identified in the Panama papers of clients of tax evasion schemes is Malta's Health and Energy Minister, Konrad Mizzi.
Other EU officials named and connected with the Tax leaked papers included.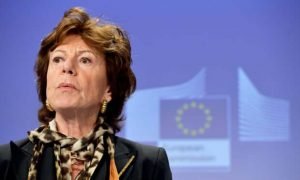 Neelie Kroes, who was an EU commissioner from 2004 until 2014, initially overseeing the powerful competition directorate and then Europe's digital agenda. She was forbidden by the commissioners' code of conduct to hold any outside directorships while in the roles. The code states: "Commissioners may not engage in any other professional activity, whether gainful or not."

Kroes was also obliged to make a full declaration of her previous financial and corporate interests, stretching back 10 years. She may have breached both of those rules.
The former European commissioner Neelie Kroes, who is now a paid adviser to Bank of America and Uber, failed to declare her directorship of an offshore firm in the Bahamas while she was the most powerful corporate enforcer in Brussels.

A cache of previously unseen documents published on Wednesday reveal that Kroes was recruited by a venture funded by the United Arab Emirates, which intended to snap up the international assets of the energy company Enron in a $7bn (£5.4bn) deal.
Why won't Brussels release report on EU-wide corruption?
Campaigners want to know why Brussels bureaucrats are refusing to release a report on fighting corruption.

EU chiefs had promised to report every two years on how well countries in the bloc were battling graft.

But, after its first report in 2014, there has been nothing.

There had been an update scheduled for 2016, but this was scrapped suddenly by European Commission vice president Frans Timmermans.

Transparency campaigners say it was such a last-minute move the data would have already have been compiled.

They have asked for the reports via freedom of information requests but the European Commission has so far refused their demands, saying it would have a chilling effect on people talking to them about corruption.

"The whole point of these reports [in the first place] was that they are going to be made public, so it doesn't make sense for them to say that these people didn't know what they would say would be made public," said Andreas Pavlou, a campaigner and researcher at Access Info.

"Supposedly this was information that was going to be published anyway so to suddenly say they are not going to raises questions about why and how and what information they do have.

"In Europe there are huge questions around the rule of law and whether there is greater corruption than there was before.

"So these reports would be hugely useful and hugely important for civil society.
"The massive effort to collect comparative information about the state of anti-corruption measures in 28 EU member states has been thrown in the bin by the European Commission, having abruptly decided not to publish them, and refusing to publish them following requests for access. Given the present-day challenges to European democracies, the Commission's decision to shelve the publishing of these anti-corruption reports makes it ever more difficult for citizens and civil society to hold public officials to account and tackle corruption."

Three years ago, the EC said corruption cost the European economy 120 billion euros annually and more should be done to "punish and prevent it".

A number of corruption scandals have erupted in Europe so far this year, most notably in Romania and French presidential candidate Francois Fillon.

A spokeswoman for the European Commission said: "When we took the decision on the way forward at the end of 2016 there was no draft report, nor anything that resembled a draft report. Our work on anti-corruption did however continue. The Commission decided to mainstream its anti-corruption policies in the European Semester and embed it in the DNA of its economic policy dialogue between the Member States and EU institutions. All preparatory work has fed into that process."
Support Labour Heartlands
Help Us Sustain Ad-Free Journalism
Sorry, I Need To Put Out the Begging Bowl
Independent Journalism Needs You
Our unwavering dedication is to provide you with unbiased news, diverse perspectives, and insightful opinions. We're on a mission to ensure that those in positions of power are held accountable for their actions, but we can't do it alone. Labour Heartlands is primarily funded by me, Paul Knaggs, and by the generous contributions of readers like you. Your donations keep us going and help us uphold the principles of independent journalism. Join us in our quest for truth, transparency, and accountability – donate today and be a part of our mission!
Like everyone else, we're facing challenges, and we need your help to stay online and continue providing crucial journalism. Every contribution, no matter how small, goes a long way in helping us thrive. By becoming one of our donors, you become a vital part of our mission to uncover the truth and uphold the values of democracy.
While we maintain our independence from political affiliations, we stand united against corruption, injustice, and the erosion of free speech, truth and democracy. We believe in the power of accurate information in a democracy, and we consider facts non-negotiable.
Your support, no matter the amount, can make a significant impact. Together, we can make a difference and continue our journey toward a more informed and just society.
Thank you for supporting Labour Heartlands
Just click the donate button below