Top Tory Geoffrey Cox, the government's former attorney general, is thought to have earned nearly £1 million from his second job in the British Virgin Islands.
The QC earned £900,000 in the past year working for law firm Withers, representing the tax haven's government in an inquiry into governance and possible corruption.
He also earned around £130,000 from other legal work on top of his £82,000 MPs' salary.
The MP is understood to have spent some of April and May in the tropical region – with his register of interests showing that he earned £156,916.08 for 140 hours' work between April 29 and May 31.
The Daily Mail revealed one of his contracts saw him travel to the British Virgin Islands in April to work on a corruption investigation into the government of the Overseas Territory, which was launched by the UK Foreign Office in January.
He took advantage of lockdown rules to cast votes in the Commons by proxy as he worked 4,000 miles away on the lucrative contract earlier this year, a source disclosed.
The former Attorney General, who represents Torridge and West Devon in Parliament, was there for a number of weeks, meaning he was carrying out his work as an MP – including voting – from the Caribbean.
There's no suggestion he has broken any rules.
In a letter to the PM, Ms Dodds wrote: "It seems Sir Geoffrey took advantage of Covid-related parliamentary rules and flew out to the BVI to vote by proxy from the other side of the Atlantic.
"The irony is not lost on me that he arrived in the Caribbean on the day that those MPs who actually feel a sense of duty to their constituents were debating global anti-corruption standards.
"The people of Torridge and West Devon must be wondering if Geoffrey Cox is a Caribbean-based barrister or a Conservative MP."
According to the Mirror's Dan Bloom, Cox was spending an average of 22 hours per week on legal week over the past year.
NEW: I've run the numbers on Geoffrey Cox's second job(s)… the QC spent an average of 22 hours A WEEK in the last year on lucrative legal work – on top of his £81k job as an MPhttps://t.co/neuezSBloQ

— Dan Bloom (@danbloom1) November 9, 2021
Downing Street has implicitly critcised Sir Geoffrey Cox for the extent of his work outside parliament.
No 10 said an MP's primary job "must be to serve their constituents".
Politicians are allowed to have second jobs outside Westminster, but the work they do has come under the spotlight since ex-Tory MP Owen Paterson broke lobbying rules when working as a consultant.
Mr Johnson came under fire from all sides after trying to overhaul standards rules and block the suspension of his colleague, only to perform a U-turn less than 24 hours later.
The PM then faced further criticism for refusing to apologise for the scandal and failing to turn up to an emergency debate on the issue in the Commons.
At the briefing, the No 10 spokesman said Johnson thought that serving constituents should be the "primary" role for an MP. But the spokesman did not criticise Cox directly, or suggest that he should resign as an MP, arguing that ultimately it was for the voters to judge him. The spokesman said:
[MPs] should be visible in constituencies and available to help our constituents with their constituency matters. If they're not doing that, they're not doing their job and will rightly be judged on that by their constituents …
[The PM wants being an MP] to be the primary job [for MPs] and for MPs to serve their constituents. It's incumbent on MPs to be visible and to demonstrate to their constituents that they are acting on behalf of them. But it is up to our constituents to make that judgement.
The spokesman would not say whether Johnson had any regrets about not following his advice himself for a year. He was re-elected to parliament, as MP for Uxbridge and South Ruislip, in May 2015, but at the time he was mayor of London. He did not give up his mayoral post until May 2016, and during that year his presence in the Commons was relatively limited because he was mostly focused on his mayoral job.
Labour calls for inquiry into Cox's work for tax haven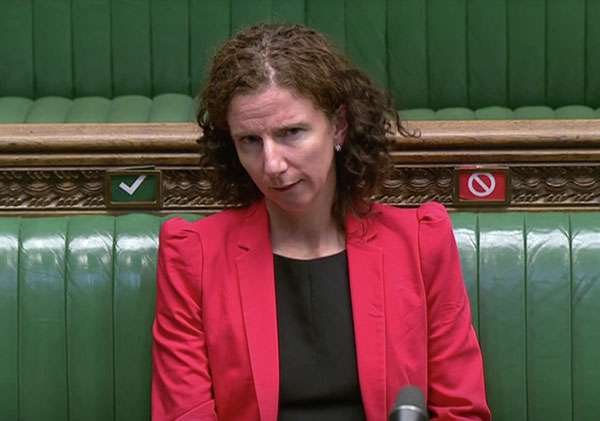 Labour is calling for an inquiry into Sir Geoffrey Cox's work for a tax haven, the British Virgin Islands. In an open letter to the prime minister, Anneliese Dodds, the Labour chair, said she assumes that Boris Johnson was "as shocked as everyone else" to discover what Cox had been up to and that Cox's constituents will be wondering whether they are represented by "a Caribbean-based barrister or a Conservative MP".
But her letter mostly focuses on the work Cox was doing for the BVI, and whether this was appropriate for someone who until last year was the attorney general. She explains:
As we saw with Owen Paterson just last week, Geoffrey Cox's behaviour raises serious questions about the conflicts of interest between MPs having second jobs that involve them lobbying or otherwise directly engaging with the government. Sir Geoffrey has been advising the Government of the BVI on behalf of Withersworldwide LLP ('Withers') during an inquiry into possible "corruption, abuse of office or other serious dishonesty that has taken place in public office in recent years" – an inquiry that was initiated by the British Foreign, Commonwealth and Development Office, part of the government Sir Geoffrey himself served in as recently as February 2020.
When approving his role at Withers, the Advisory Committee on Business Appointments (ACOBA) attached specific conditions to Sir Geoffrey's appointment "to mitigate the potential risks to the government associated with this appointment" noting that in his case there were "unknown risks" as to what he might be asked to do on behalf of his new employer. He was required to "consult the AGO [Attorney General's Office] at the earliest possible opportunity to seek advice in any case in which a risk might reasonably be considered to arise from a perception of overlap between your previous role and your new appointment". He was also required not to draw on any privileged information available to him from his time in ministerial office, and for two years from his last day in ministerial office not to become personally involved in lobbying the UK government, not to make use – directly or indirectly – of his contacts in the government and/or Crown Service to influence policy, not to undertake any work that involves providing advice on bids or contracts relating directly to the work of the UK government, nor directly engage with the Attorney General's Office on any other matters relating to Withers or their clients. ACOBA was clear that where Sir Geoffrey was in doubt he "must consult the Attorney General's Office as to the appropriateness of any particular assignment".
It is hard to see how those terms can have been met if Sir Geoffrey has been advising a known tax haven in relation to a corruption investigation opened by the UK government itself. We need answers as to what's been happening here.
Dodds says it looks as if Cox would "rather get a tax haven off the hook than represent the interests of his constituents" and she asks Johnson if he is happy about that. She ends her letter:
One MP found guilty by a cross-party committee of an egregious breach of standards rules. Another jetting halfway round the world to help an administration accused of corruption in an inquiry initiated by the British government. All on your watch. This is a question of leadership, prime minister. It's time to act.
Support Labour Heartlands
WAIT! BEFORE YOU GO
PLEASE HELP US KEEP GOING AD-FREE
This is a "Pay as You Feel" website.
Your support for Labour Heartlands is greatly appreciated. As an independent nonprofit news outlet, we rely on our members to hold the powerful accountable. Our kind of reporting is essential to democracy, but it is not easy, cheap, or profitable.
To continue providing impactful journalism, we need your help. It's getting really hard for us all. Becoming one of our donors. It's simple and doesn't have to cost a lot. With as little as £2, £3, or £5 a month, you can support the journalism you rely on.
While we do not align ourselves with any particular political party, we stand firmly against corruption, injustice, and the erosion of truth and the rule of law. We believe that accurate information is the lifeblood of a democracy and that facts are not up for debate.
Your contribution, no matter how small, goes a long way in helping us continue our mission. Together, we can make a difference.
Thank you, The Labour Heartlands Team
PLEASE HELP US KEEP GOING AD-FREE