The U.K. will administer its first doses of COVID-19 vaccine on Tuesday, government and health officials say, raising hopes that the vaccine from Pfizer and BioNTech could help them tame the coronavirus.
The coronavirus vaccine is the "beginning of the end" of the epidemic in the UK, Prof Stephen Powis has said, as vaccinations begin on Tuesday.
But the NHS England medical director warned the distribution of the Pfizer/BioNTech vaccine would be a "marathon not a sprint".
It will take "many months" to vaccinate everybody who needs it, he said.
Frontline health staff, those over 80, and care home workers will be first to get the Covid-19 vaccine.
In England, 50 hospitals have been initially chosen to serve as hubs for administering the vaccine.
Scotland, Wales, and Northern Ireland will also begin their vaccination programmes from hospitals on Tuesday.
Prof Powis was speaking outside Croydon University Hospital in south London, which became one of the first hospitals in the UK to take delivery of the vaccine on Sunday.
"We're looking forward to the race starting on Tuesday," Chris Hopson, CEO of the U.K.'s NHS Providers, said Friday in an interview with the BBC. His organisation represents hospitals and medical service groups.
The U.K. has received an initial batch of 800,000 vaccine doses, Hopson said via Twitter, making it "one of the first countries in the world to be able to start mass COVID-19 vaccination."
Politicians in Scotland and Wales also confirmed the Dec. 8 start date for COVID-19 vaccinations, saying distribution of the vaccine and plans for immunizations on a broad scale are moving ahead as expected.
The vaccine requires very special treatment, as it must be transported and stored at nearly -100 degrees Fahrenheit. It also can be moved only four times, Hopson added. And once people get their first dose, they must get a second shot three weeks later to complete the vaccination. Pfizer and BioNTech say it is 95% effective against the coronavirus.
Refrigerated containers holding the vaccine doses have been arriving in the UK from Belgium, and are being prepared to be moved from secure locations to the hospitals.
Prof Powis said despite "huge complexities", the first doses would arrive at hospitals on Monday, to be ready to administer from Tuesday.
"As a doctor this is a really exciting moment," he said.
"NHS staff around the country at vaccination hubs have been working tirelessly to make sure that we are prepared to commence vaccination on Tuesday."
He added: "The NHS has a strong record of delivering large scale vaccination programmes – from the flu jab, HPV vaccine and lifesaving MMR jabs."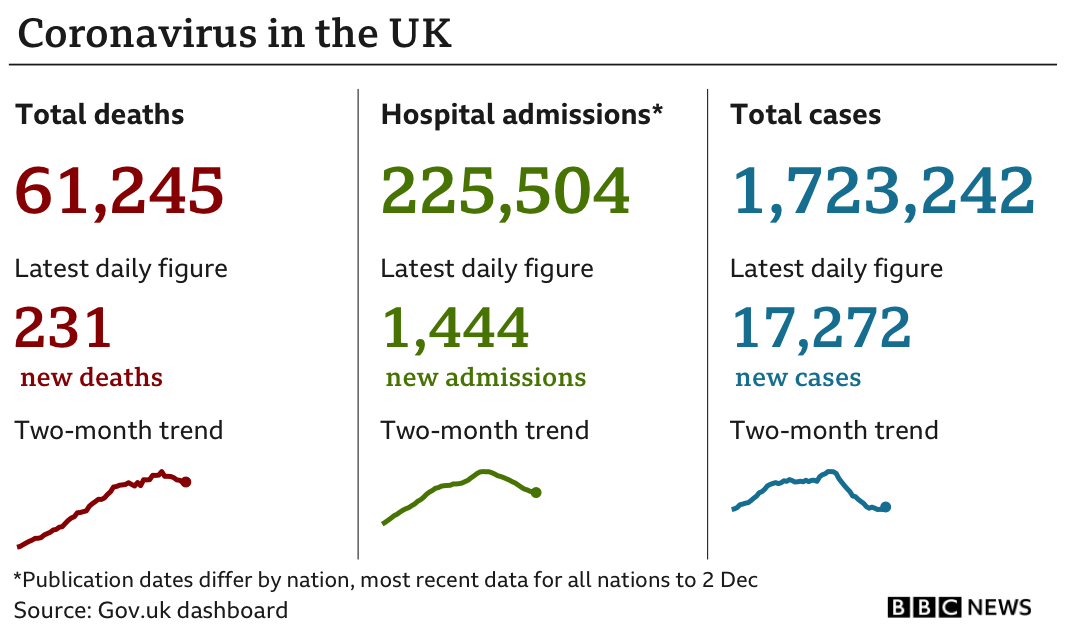 About 800,000 doses of the vaccine are expected to be available in the UK from next week.
So far the government has ordered a total of 40 million doses – enough to vaccinate 20 million people, with two shots each, 21 days apart.
With limited quantities initially available, elderly people who are already attending hospital as an outpatient, as well as those who are being discharged home after a hospital stay, will be among the first to receive the jab.
Others over the age of 80 will be invited to attend the hospital to receive a jab, and care home providers will be able to book their staff into vaccination clinics.
Any appointments not used for these groups will be used for healthcare workers who are at highest risk of serious illness from the virus.
Although care home residents and staff are top of the priority list agreed by the Joint Committee on Vaccination and Immunisation (JCVI), they may not get the vaccine first "for operational reasons".
Prof Anthony Harnden – deputy chair of the JCVI – told the BBC on Friday said the committee would "closely monitor" delivery and stressed he still expected care home residents "to be prioritised".
Mr Hancock said the government was doing everything it could to overcome "significant challenges" to ensure care home residents were vaccinated as soon as possible.
Speaking to the Sunday Telegraph, the health secretary said fast-track approval of the Covid jab meant restrictions might be relaxed before the end of March next year.
As well as the challenge of delivering the vaccine, health experts are also conscious that the public needs to be educated and persuaded to support the vaccination programme.
A host of famous faces including chat show host Sir Michael Parkinson and the singer Lulu, have told the Sunday Mirror that they will take the coronavirus vaccine without hesitation.
It follows concerns that online misinformation about vaccines could turn some people against being vaccinated.
The Mail on Sunday reports that the Queen is expected to receive the vaccine "within weeks" before revealing she has had it to boost public take-up of the jab.
The paper quotes senior sources who say the 94-year-old monarch and her husband, the Duke of Edinburgh, 99, will not get "preferential treatment" and will "wait in line" during the first wave of jabs reserved for the over-80s and care home residents.
Support Labour Heartlands
This is a "Pay as You Feel" website. You can have access to all of our online work for free. However if you want to support what we do, you could make a small donation to help us keep writing and staying ad-free. The choice is entirely yours.
PLEASE HELP US KEEP GOING AD-FREE
HELP US GROW.
The future can be ours - but only if we work together to make it happen. We've been fighting to make the Labour Heartlands a better, more fairer and equal place for over two years now. With a dedicated team and the commitment from our generous supporters giving small regular donations each month, more if they can afford it, we're winning. But there is still so much to do. We're ambitious, but we can only continue to make positive change and shape our country if more of our supporters join us on this journey. If you believe in the issues we fight for please take action and join Labour Heartlands grassroots think-and-do-tank today. It will make all the difference. And then we can make all the difference for everyone.
Not funded by millionaires or advertisers.
Labour Heartlands funded by the people.