This incompetent Government have not only embarrassed the UK at the very start of their conference, that usually does not happen until the speeches but it may well have cost the UK potential investment. After all if they cannot get their own digital security right how will they promote trust in potential investors to the UK.
The government have spent heavily in cyber security justifying the 1.9 billion to entice major investment from Global corporations this fiasco with the conference App will be just the news investors will need not to bother!
This was the announcement in November 2016.

The Chancellor, Philip Hammond formally launched the government's new National Cyber Security Strategy, costing taxpayers  £1.9 billion Stating:
It will set out decisive action to protect the UK economy and the privacy of British citizens, while encouraging industry to up its game to prevent damaging cyber-attacks.

Almost doubling the funding commitments of the first strategy which ran from 2011, the new plan outlines:

how the UK will use automated defences to safeguard citizens and businesses against growing cyber threats support the UK's growing cyber security industry develop a world-class cyber workforce deter cyber-attacks from criminals and hostile actors.
Cyber security is recognised as one of the greatest threats to business around the world, with the global cost of crimes in cyberspace estimated at $445 billion, according to the World Economic Forum's 2016 Global Risks Report.

Measures within the new National Cyber Security Strategy to keep the UK's cyberspace safe are therefore crucial to the future of the UK's economy.

Outlining how cyber security underpins our daily lives such as through domestic devices in our homes and cars, air traffic control and power grids, the Chancellor reinforced how the threat of attacks invade our privacy and threaten our national security and set out how the government plans to deal with it.

The approach on cyber is a core part of the upcoming Industrial Strategy.

He explained how increasingly vulnerable society is to cyber-attacks thanks to the expanding range of connected devices which are creating more opportunities for exploitation; more demand for training and skills; old legacy IT systems used by many organisations in the UK and the readily available suite of user-friendly hacking tools which means everyone from the living room to the boardroom is exposed to malicious hackers.

The Chancellor also emphasised the responsibility that CEO's have to make sure their organisations are secure against cyber-attacks and the additional support government will give industry and wider society through the new National Cyber Security Centre.
Major flaw in the Conservative party conference app.
A major flaw in the Conservatives' official conference mobile phone application has made the private data of senior party members – including cabinet ministers – accessible to anyone that logged in as that particular conference attendee.

The data of hundreds of attendees to the Tory conference could be viewed by second guessing attendees' email addresses, with Boris Johnson, Michael Gove, Gavin Williamson and others among those whose personal information – including their phone numbers – was made accessible.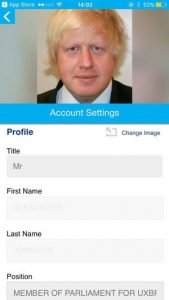 Once logged into the app, users were able to both amend and make the personal details of prominent MPs public. Twitter users claimed Johnson's picture had been briefly changed to one featuring a pornographic image.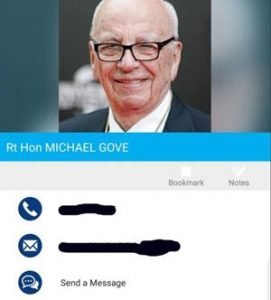 Gove's picture was changed to Rupert Murdoch, his previous employer at the Times. Anyone could log in as any attendee by providing an email with no password. Many MPs had registered with their public parliamentary email addresses, making it simple for any member of the public to access their mobile number via the app.
The Government can add this to their catalog of fails!
Support Labour Heartlands
PLEASE HELP US KEEP GOING AD-FREE
HELP US GROW.
This is a "Pay as You Feel" website.
This blog has no source of state, corporate or institutional finance whatsoever. It runs entirely on voluntary subscriptions from its readers – many of whom do not necessarily agree with every article, but welcome the alternative voice, insider information and debate.
You can have access to all of our online work for free. However if you want to support what we do, you could make a small donation to help us keep writing and staying ad-free. The choice is entirely yours.