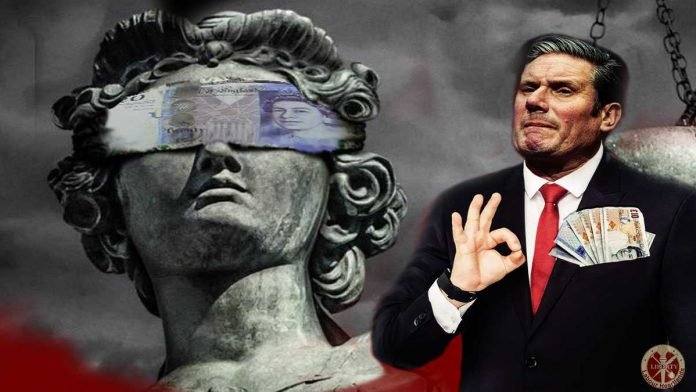 Labour group with links to Keir Starmer fined £14,250 for failing to declare donations.
The group unironically-titled Labour Together has strong links to the Labour party leader, Sir Keir Starmer. So the Commission's findings will make uncomfortable reading for the former Director of Public Prosecutions, after Labour Together was said to have committed "multiple breaches of electoral law" over a five-year period.
The influential Labour Party group has been fined a total of £14,250 by the UK's Electoral Commission after failing to declare more than £800,000 in donations within the required 30-day period.
Labour Together counts among its directors high-profile Labour frontbench MPs Lisa Nandy, who is the shadow foreign secretary, and Steve Reed, the shadow communities and local government secretary.
The group carried out a very biased high-profile review into the party's disastrous performance in the 2019 general election, which was later described by the New Statesman as a "blueprint for Starmerism."
The Electoral Commission fined Labour Together after opening an investigation in December 2020 into multiple breaches of electoral law. 
The Pro-Starmer Labour Together has been described as a 'party within a party' which has Croydon North MP on its board and links to 'campaign guru' David Evans somehow overlooked huge payments from a businessman and a Mayfair hedge fund manager.
The Electoral Commission began its investigation into Labour Together last December.
It has found that Labour Together had "failed to deliver donation reports within 30 days, inaccurately reported a donation and failed to make an administrative appointment after having received the donations".
Since February 2021, Labour Together has declared a further £120,000 in donations from its two main backers, Martin Taylor and Trevor Chinn.
There is no suggestion of wrongdoing by the donors.
The Electoral Commission has also announced the outcome of a separate investigation into the Labour Party, which the watchdog said had failed to deliver accurate quarterly donations reports. The party was fined £1,820.
A former managing director of Labour Together is Morgan McSweeney, who was Starmer's chief of staff until June 2021. Companies House records for the company behind Labour Together show McSweeney was secretary from July 2017 to April 2020, when Starmer became leader of the Labour Party.
In June, McSweeney was moved to a "strategic role" after the party's consecutive losses in two Parliamentary by-elections, the Independent reported.
Hannah O'Rourke, director of Labour Together, said on Tuesday: "We accept the findings of the Electoral Commission today, and have already paid the fine.
Labour Together has become a highly influential group under Starmer's leadership of the party.
Labour Heartlands reported our views during the leadership campaign suggesting He who pays the piper calls the tune.
Throughout the Labour leadership election, Starmer consistently refused to name the full list of those who donated to his campaign.
When challenged by Andrew Neil over his donations, Starmer stated he was following "Labour Party process" and that:
I've got a compliance team in place who are checking every donation is in accordance with the rules.
"Once they've done that they pass it to the Parliamentary authorities for them to publish it. So two lots have gone up, another lot is with the Parliamentary authorities as of today, I'm following the rules."
Staggered donations
Starmer received business person Waheed Alli's donation of £100,000 on 24 February, and accepted the donation on 23 March. Similarly, Starmer received Chinn's donation on 26 February, and accepted the donation on 23 March.
According to the Register of Members' Financial Interests Code of Conduct, "MPs must register within 28 days any interest which someone might reasonably consider to influence their actions or words as an MP".
In accepting the donations in late March, Starmer was not required to register his interests until after the polls closed on 2 April. The Register of Members' Interests shows that Chinn's donation was registered on 9 April.
Trevour Chinn is regularly talked of as a Zionist and influencer for the Israeli government.
Neoliberal Zionism
Chinn, Ronson and Stein were part of a circle of wealthy British Zionists who bankrolled a number of pro-Israel organisations from the 1980s, but showed little interest in the traditional institutions of Jewish life.  They came to be known as 'the funding fathers'.[31]  'Unelected and unaccountable,' Geoffrey Alderman writes, they became 'the new rulers of Anglo-Jewry'.[32]  Most were affiliated with Britain's foremost Zionist fundraising organisation, the Joint Israel Appeal (formerly the Joint Palestine Appeal, and later the United Jewish Israel Appeal).  The Joint Israel Appeal was originally founded in 1944 by Simon Marks, and under the leadership of his nephew Michael Sacher it 'established itself as the pre-eminent and most powerful single organization in the community'.[33]  During the 1980s it was, the Jewish Chronicle reports, run by a 'triumvirate' of Trevor Chinn, Gerald Ronson and Michael Levy, and was 'widely regarded as the community's most influential organisation'.[34]  Levy, a former record company executive and a relative newcomer to the 'funding fathers' circle,  would later play a part in the rightward shift of the Labour Party under Tony Blair – and perhaps some role in the party's rapprochement with Israel. Reference Open Democrcy
Although not breaking the rules Starmer ignored all pressure from within the Labour Party and mainstream media, not publishing all of his donations till after the leadership competition had closed. It is debatable whether they publishing beforehand would have made a difference however party members on social media still make reference to what they believe was an underhanded and dishonest move by Starmer.
It's time that we put an end to secrecy in political donations. People want to know what lies behind who they are being asked to vote for. This applies to both general elections and inner-party elections. -Jon Trickett MP
Campaign donors "always expect to be paid back in the end", says Long-Bailey
During the leadership elections, Rebecca Long-Bailey stated that campaign donors "always expect to be paid back in the end", and suggested that who funds your campaign gives an "indication of what your politics are and who's going to be influencing you".
"If we're actually serious about financial transparency, political donations need to be published by campaigns themselves in real time, rather than waiting for the register. Delaying publishing donations until people have voted is anti-democratic. Voters deserve to know what lies behind the candidates they are being asked to vote for, before they cast their vote, not afterwards." -John Trickett.
Support Labour Heartlands
PLEASE HELP US KEEP GOING AD-FREE
This is a "Pay as You Feel" website.
Hey there! Thanks for stopping by. If you've enjoyed reading the articles on Labour Heartlands so far, We would be incredibly grateful if you could consider making a small donation. Labour Heathlands is not your typical news outlet. We are not here to simply regurgitate the daily news cycle, that's for the rest of them. Our focus is on delving deeper, uncovering the untold stories and shedding light on the issues that the mainstream media chooses to ignore.
Our unwavering commitment to journalistic integrity means that we are not influenced by any external forces. We are not beholden to PR companies, advertisers or press barons, and we refuse to let anyone dictate what we report on. Our editorial independence is sacrosanct, and our only allegiance is to the truth.
While we do not align ourselves with any particular political party, we stand firmly against corruption, injustice and the erosion of truth and the rule of law. We believe that accurate information is the lifeblood of a democracy and that facts are not up for debate.
Once again, thank you for your support – We truly couldn't do this without you!
PLEASE HELP US KEEP GOING AD-FREE