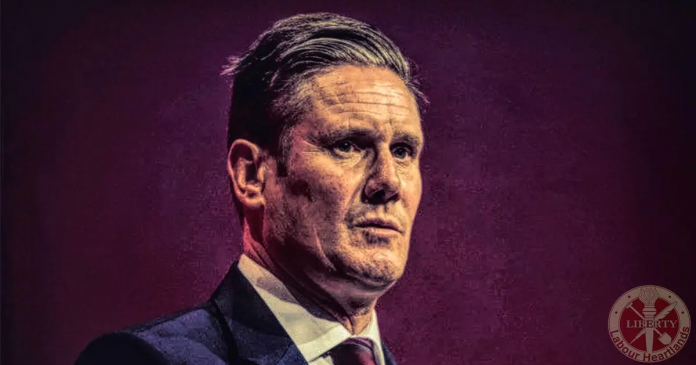 Sir Keir Starmer is on track with his deliberate decimation of the Labour Party.
This is unity the old Roman way Proscriptions…
Starmer has not only managed to be instrumental in creating the Labour collapse running up to the 2019 General election with his vote losing second referendum policy but has managed to keep Labour polling behind what is debatably the most corrupt Tory Party in history responsible for thousands of needless deaths while under the cover of the Covid pandemic they have raided the treasury of public money to the tune of billions.
Starmer is about to purge – four Left-wing groups in particular.
Those to be banned include Resist and Labour Against the Witchhunt, which claim anti-Semitism allegations were politically motivated, and Labour In Exile, which expressly welcomes expelled or suspended members.
Labour against the witchhunt rightly points out the politically motivated furore over anti-Semitic allegations in many cases.
The Socialist Appeal will also become a 'proscribed' group.
Labour's ruling National Executive Committee will also be asked to boot out groups pushing to return Corbyn as a Labour MP, and those advocating communism.
Resist, Labour In Exile and Socialist Appeal are the other three groups to reportedly be purged, after massive pressure from Starmer's front bench and no doubt his right-hand man and political partner Lord Peter Mandelson.
The Mirror claims anyone found to be a member of any group will be automatically expelled from the Labour Party.
The plans on the agenda at the NEC meeting on Tuesday are expected to pass and more than 1,000 members could be "auto-excluded" as a result.
High-profile MPs, including Jeremy Corbyn and John McDonnell, are not thought to be members of any of the groups.
The move sets the stage for factional warfare at the Labour Party conference in Brighton as Starmer attempts to stamp his authority on the party.
Many understand this is not just a purge but a power play, Starmer is cutting the opposition down in this ongoing civil war before it gets to conference where it could have used what is left of Labour's democratic process to challenge Starmer's.
But to be fair many people could see this coming and have stated quite openly for a long time the Labour Party is no place for socialists.
A Labour spokesman said: "Labour is a broad, welcoming and democratic party and we are committed to ensuring it stays that way.
"From time to time, there are groups the NEC will proscribe. The NEC will be asked on Tuesday to consider whether these four organisations are compatible with Labour's rules or our aims and values."
Questions continue to be asked about whether Mr Corbyn will continue to sit as the independent MP for Islington North.
However, in seeing this coming there had been none clearer in vision than that of Tony Benn with his prophet-like prediction of what would happen once the Labour Party was able to expel its Left-wingers.
Benn stated: "If the Labour Party could be bullied or persuaded to denounce its Marxists, the media – having tasted blood – would demand next that it expelled all its Socialist and reunited the remaining Labour Party with the SDP to form a harmless alternative to the Conservatives, which could then be allowed to take office now and then when the Conservatives fell out of favour with the public. Thus British Capitalism, it is argued, will be made safe forever, and socialism would be squeezed off the National agenda. But if such a strategy were to succeed… it would in fact profoundly endanger British society. For it would open up the danger of a swing to the far-right, as we have seen in Europe over the last 50 years." ― Tony Benn
The Labour Party has nothing to offer, they now advocate 'TINA' that promise of change that stirred a nation creating Europe biggest political Party has turned into the other Tory Party repeating the mantra Thatcher once spluttered "There Is No Alternative!" The Labour Party has fulfilled Tony Benns prophetic vision in full it has become a harmless alternative.
The Labour Party was seriously wounded the moment it denied the 'Democratic principle' it was founded upon, from the coup of 2016 to the vote losing second referendum policy of 2019 to place a point in time the Labour Party broke, it was when Starmer turned a composite vote into a leadership campaign in 2018.
The Trilateralist Starmer, agent of the Orlagachy that 1% has succeeded in his job. From that moment entered the Party, Labour was in decline. The establishment breathed an audible sigh of relief, rendered safe from the masses once more.
The question for those that want change and those that want socialism is, what now?
Support Labour Heartlands
Help Us Sustain Ad-Free Journalism
Sorry, I Need To Put Out the Begging Bowl
Independent Journalism Needs You
Our unwavering dedication is to provide you with unbiased news, diverse perspectives, and insightful opinions. We're on a mission to ensure that those in positions of power are held accountable for their actions, but we can't do it alone. Labour Heartlands is primarily funded by me, Paul Knaggs, and by the generous contributions of readers like you. Your donations keep us going and help us uphold the principles of independent journalism. Join us in our quest for truth, transparency, and accountability – donate today and be a part of our mission!
Like everyone else, we're facing challenges, and we need your help to stay online and continue providing crucial journalism. Every contribution, no matter how small, goes a long way in helping us thrive. By becoming one of our donors, you become a vital part of our mission to uncover the truth and uphold the values of democracy.
While we maintain our independence from political affiliations, we stand united against corruption, injustice, and the erosion of free speech, truth and democracy. We believe in the power of accurate information in a democracy, and we consider facts non-negotiable.
Your support, no matter the amount, can make a significant impact. Together, we can make a difference and continue our journey toward a more informed and just society.
Thank you for supporting Labour Heartlands
Just click the donate button below