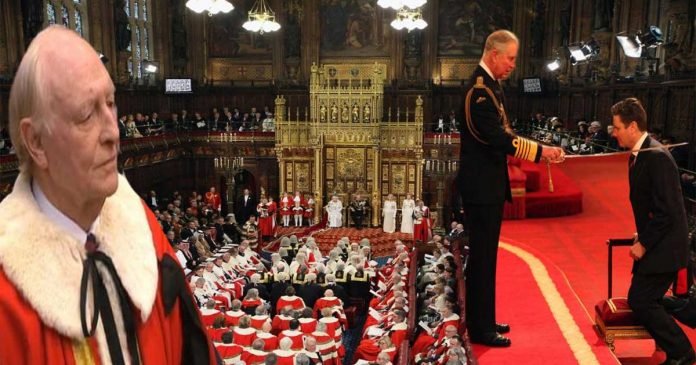 Labour to abolish the House of Lords "If you believe that, I have a bridge to sell to you"
Labour has unveiled its blueprint for an overhaul of the UK constitution, based on tackling regional inequalities and moving political power away from London, and described by Sir Keir Starmer as an end to short-term "sticking plaster politics".
At the centre of the plans, set out in a 155-page document, is an overarching commitment to decentralisation, including a new constitutional commitment for Westminster to respect the autonomy of local and regional government.
The report, put together by a commission headed by the former Labour prime minister Gordon Brown, lists a total of 40 recommendations, ranging from abolishing the House of Lords to creating new revenue-raising powers for local areas.
Obviously, at this point in time. who would not be cynical?
But before we all get carried away, this report will not be adopted by the Labour Party in Part or full. The report will in fact be the subject of yet another consultation.
We are at a point where it would be very naive to accept any promise or policy Sir Keir Starmer cares to make, he simply cannot be trusted. Like all his previous promises this report seems destined to disappear, with a ready-made excuse of suggesting it would not be pragmatic at this time the report will be chucked on that political scrap heap of good intentions.
The fact is when you drill down a little you can't help but feel with all those other good intentions Starmer makes this too is destined to be dropped and the chances of Labour adopting this report really doesn't hold water.
In fact, a bit of scrutiny and a close look at the Labour Party's present actions shows the irony of Starmer claiming his Labour Party would relinquish power to local regions, you can measure the sincerity in his broken promises on many examples but more so on the selection of local candidates to stand for the Labour party.
Sir keir Starmer's promise was to…
Make the selections for Labour candidates more democratic and end NEC impositions of candidates
"Local Party members should select their candidates for every election. The NEC should not impose candidates on local parties. More widely, we must improve our selection process. The current system is impenetrable with too much reliance on who people know rather than what they can do. It costs too much and takes too much time, effectively ruling out potentially excellent candidates. We must make sure that our selection and accountability processes improve the interactions between candidates and local parties and help promote good relationships within our party".
Yet it was only a week ago the former shadow chancellor John McDonnell wrote to Starmer about what he described as "mounting allegations about abuse and malpractice" during candidate selections – allegations that he said had already been raised with Starmer by multiple MPs. The allegations, he wrote, "are that selection procedures are being manipulated to prevent candidates being selected who are on the left, centre left or who may prevent a favoured candidate from having a clear run for a seat". They include allegations that members did not receive the link to join online nomination meetings or were held in waiting rooms on Zoom until votes had been cast, and that some candidates were given privileged access to lists of members' contact details in advance of others. He also claims that some candidates on the left were ruled out for "bizarre reasons".
Owen Jones's recent article points out that Starmer's Labour not only interferes in the selection process of candidates but it touches on being not only corrupt but illegal, saying about the process: "These allegations cannot easily be dismissed as simply the gripes of leftwingers sulking over defeat. Read the verdict of the former Channel 4 News stalwart Michael Crick, who argued that "it is increasingly clear that Labour's election processes are unfair, and verge on corrupt," adding that he also believed favoured candidates were given membership lists "long before others do, and so [could] start canvassing much sooner".
Anyone that follows politics understands Starmer has pooled power to the centre while actively working to destroy any grassroots groups or local community representation.
Sir Keir Starmer's broken promises will come back to haunt him (and Labour)
Asked in 2021 about the policy on the BBC's Andrew Marr Show in light of reports that the Conservative Party has been offering peerages to wealthy benefactors as a "reward" for large donations. Starmer relied:
"We certainly need change in the House of Lords. What I've done, Andrew, is I've set up a commission to look at the future of the UK, including the institutions such as the House of Lords. Gordon Brown is leading that and I'll look at it," he said.
When asked if he had abandoned the promise to abolish the chamber which votes on all government legislation, he said: "I've said we need to change the House of Lords – I stand by that. I've asked Gordon Brown to look into exactly what those changes should be."
This was Starmer last year on the prospect of abolishing the HOL. This year even after the consultation he is no further forward with his promise.
For those that swallowed the line of Starmer abolishing the House of Lords at any time let alone within his first potential term as prime minister, then I've got a bridge to sell you…
It's more than interesting the headline Sky news ran claimed: "Sir Keir Starmer pledges to abolish House of Lords in first term as prime minister"
But like most things media, reading between the lines helps you to get to the truth. The transcript of the interview shows more Weasley words than any commitment.
Speaking to Sky News, the Labour leader confirmed his party "do want to abolish the House of Lords", adding that he does not think anybody could "defend" the institution.
Sir Keir told Kay Burley: "It's one of the recommendations, as you know, in today's report.
"What we're going to do after today is now consult on those recommendations, test them, and in particular, look at how can they be implemented."
Asked if it is his hope the House of Lords will be abolished within his first term as prime minister, Sir Keir replied: "Yes, I do.
"Because what I asked when I asked Gordon Brown to set up the commission to do this, I said what I want is recommendations that are capable of being implemented in the first term."
Labour would aim to abolish the "indefensible" House of Lords "as quickly as possible", ideally within its first term, Sir Keir Starmer has said.
But the party's leader did not commit to a timeframe for the move, stressing discussions are pending on when "exactly" it would come to pass.
Sir Keir Starmer told BBC Radion 4's Today programme: 'Obviously after today we're going to have a consultation about implementing the recommendations in the report.
'I want the discussion about implementation to take place before the election so that we can get on at the election and put into place the recommendations.
'Exactly what happens when is part of the discussion about implementation.'
Mr Brown, who has been working on the Labour Party-commissioned report since 2020, is adamant change is needed.
He said: 'The current House of Lords is indefensible. Every second chamber in the world, with very few exceptions, is relatively small and usually smaller than the first chamber.
'We've now got a House of Lords that has got 830 members. That is compared with the American senate which has 100 members to cover 300 million people.'
However, former Levelling Up secretary Simon Clarke tweeted: 'Anyone who has looked at the institutionalised gridlock in US politics can see the utter stupidity it would be to create an elected upper house, fatally undermining the primacy of the Commons.
'If we want effective government *of any colour*, this is a terrible idea.'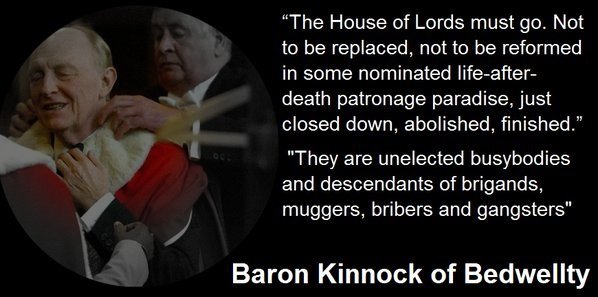 It does put you in mind of that other centrist Labour leader who not only campaigned vigorously to abolish the House of Lords but used any occasion to say he would, even stating:
"The House of Lords must go. Not to be replaced, not to be reformed in some nominated life-after-death patronage paradise, just closed down, abolished, finished."
right up until the moment Lord Kinnock of Bedwellty took his seat amongst the deep red leather benches of the House of Lords – that very place he once condemned as somewhere for the descendants of "brigands, muggers, bribers and gangsters", he fitted in very well!
If Sir Keir Starmer is serious about constitutional reform and moving the second chamber away from the corruption of grace and favour should start by rescinding his only knighted.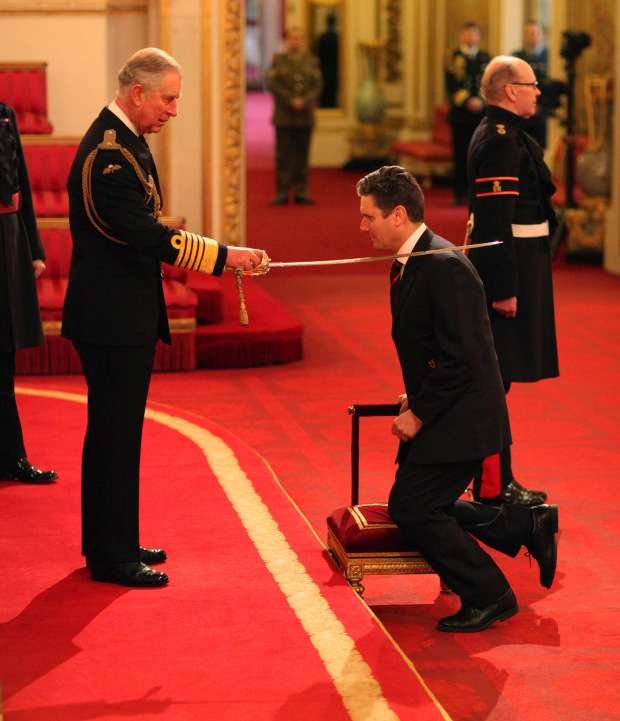 Here's the kicker, like most of what labour put out it really is just more propaganda more slogans and more aspersion than direct policy.
Speaking at the launch event, Brown said the report was calling for "the biggest transfer of power out of Westminster and Whitehall to the localities and the biggest transfer of power that our country has seen".
The overall aim was "ditching a century of centralisation", and "ending the long era of the man in Whitehall somehow knowing best", he added.
Many of the recommendations are based more around aspirations than specific policies, with the report calling for "necessary consultation and preparatory work" to begin on how and when they could be implemented.
---
Members of Labour Heartlands have long held the view that a second house should be an elected house, we also stress parliament itself should be modernised and relocated outside of London, we just don't think Labour will be the ones to carry out such far-reaching reforms, after all, Starmer is part and parcel of the establishment.
Support Labour Heartlands
Help Us Sustain Ad-Free Journalism
Sorry, I Need To Put Out the Begging Bowl
Independent Journalism Needs You
Our unwavering dedication is to provide you with unbiased news, diverse perspectives, and insightful opinions. We're on a mission to ensure that those in positions of power are held accountable for their actions, but we can't do it alone. Labour Heartlands is primarily funded by me, Paul Knaggs, and by the generous contributions of readers like you. Your donations keep us going and help us uphold the principles of independent journalism. Join us in our quest for truth, transparency, and accountability – donate today and be a part of our mission!
Like everyone else, we're facing challenges, and we need your help to stay online and continue providing crucial journalism. Every contribution, no matter how small, goes a long way in helping us thrive. By becoming one of our donors, you become a vital part of our mission to uncover the truth and uphold the values of democracy.
While we maintain our independence from political affiliations, we stand united against corruption, injustice, and the erosion of free speech, truth and democracy. We believe in the power of accurate information in a democracy, and we consider facts non-negotiable.
Your support, no matter the amount, can make a significant impact. Together, we can make a difference and continue our journey toward a more informed and just society.
Thank you for supporting Labour Heartlands
Just click the donate button below