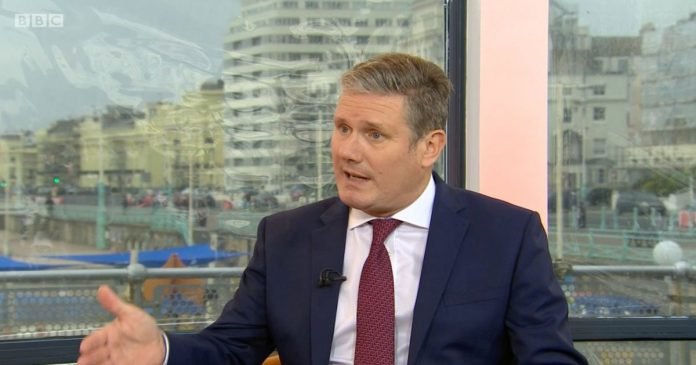 Throughout his leadership campaign, Sir Keir promised to "defend free movement" in the EU and said he would reintroduce the policy if elected.
Today sir Keir Starmer backtracked on that policy. Speaking on the BBC's The Andrew Marr Show, he said: "We have a treaty, it's a thin treaty, it's not what was promised.
"But I'm very conscious of the fact that everything I'm doing, everything the Labour Party is doing is focused on winning an election in 2024.
"If we win that election and a Labour government comes in, we will inherit that treaty and the British people will expect us to make it work, and the EU27 will expect us to make it work."
He told BBC1's The Andrew Marr Show: "We've just had four years of negotiation. We've arrived at a treaty and now we've got to make that treaty work."
Put to him that this would disappoint some Labour members, Sir Keir replied: "Whether we like it or not, that is going to be the treaty that an incoming Labour government inherits and has to make work.
"And it is not being straight with the British public to say we can come into office in 2024 and operate some other treaty."
When asked why he had made the pledge if it was now unrealistic to implement, Sir Keir replied: "We've negotiated a treaty, that now is the basis of our relationship with the EU. We didn't know what that was until we saw what it was before Christmas.
"Whether we like it or not, that is going to be the treaty that an incoming Labour government inherits and has to make work.
He added: "I don't think there is a case for rejoining the EU, I've said that before, I think on your (Andrew Marr) programme.
"But I think pretending to the British public that somehow after four years' negotiation the treaty that has just been secured is going to be up for the grabs and that the EU are going to start saying 'let's start all over again', that is not realistic," he said.
Shame he wasn't straight with the British public while Shadow Brexit secretary!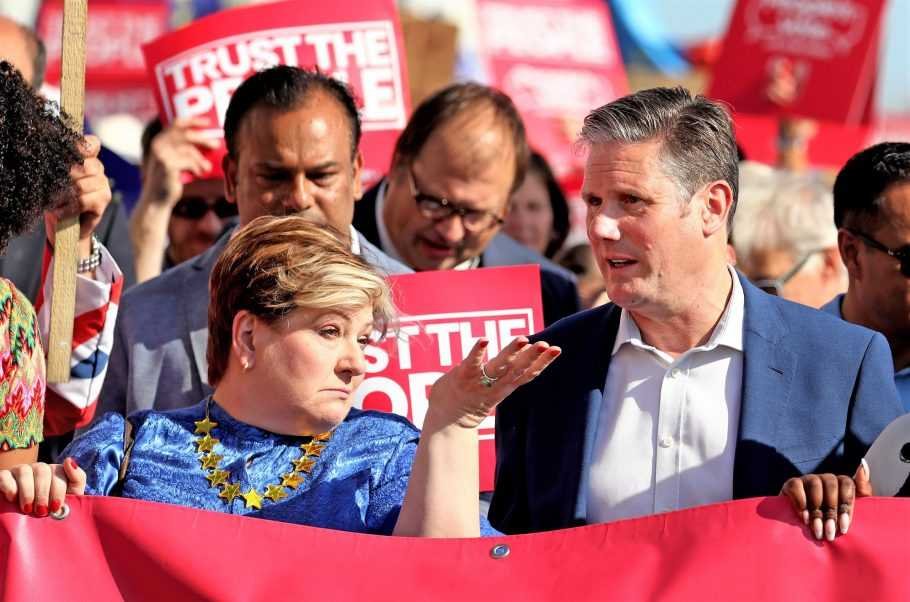 Starmer has flip-flopped through the entire Brexit period from making a parliamentary speech telling Labour members they must respect the results of the referendum
Sir Keir Starmer Quote:
We lost the referendum. Yes, the result was close. Yes, there were lies and half-truths—none worse than the false promise of an extra £350m a week for the NHS. Yes, technically the referendum is not legally binding. But the result was not technical; it was deeply political, and politically the notion that the referendum was merely a consultation exercise to inform Parliament holds no water.
When I was imploring people up and down the country to vote in the referendum and to vote to remain, I told them that their vote really mattered and that a decision was going to be made. I was not inviting them to express a view.
Although we are fiercely internationalist and fiercely pro-European, we in the Labour party are, above all, democrats.
Had the outcome been to remain, we would have expected the result to be honoured, and that cuts both ways.
A decision was made on 23 June last year to leave the EU. Two thirds of Labour MPs represent constituencies that voted to leave; one third represent constituencies that voted to remain. This is obviously a difficult decision.
I wish the result had gone the other way—I campaigned passionately for that—but as democrats, we in the Labour party have to accept the result. It follows that the prime minister should not be blocked from starting the article 50 negotiations.
-End Quote-
Over the last 4 years Labour Shadow Brexit secretary Sir Keir Starmer refused to take such a compromising position
For 5 years Sir Keir Starmer pushed a Remain argument splitting the Labour Party and turning loyal Corbyn supporters into Peter Mandelson's useful idiots' and followers of the so-called People's vote.
Peter Mandelson, the architect of New Labour, had previously said he is working every day to undermine Jeremy Corbyn, the Blairite peer stood up in the House of Lords to lambast Corbyn for backing Brexit.
Mandelson, a former cabinet minister under Tony Blair and Gordon Brown, also told an event for the Jewish Chronicle that he was actively working to bring an end to Corbyn's leadership.
Mandelson's peoples' vote organisation ignored Jeremy Corbyn and Labour's policy of 'no second referendum' seducing Labour members and supporters into an unrealistic dream of overturning the Brexit vote. It was also noted that many of the staffers who worked for Mandelson's 'Stronger IN Europe' remain campaign were the same staffers involved in the #Labourleaks scandal and the same former staffers Starmer paid an out of court settlement to against legal advice.
Remain campaigners had been uncompromising in their position, Remain was for them the only option, this unrelenting position was encouraged by Sir Keir Starmer's constant overtures to a second referendum.
Its was precisely that position that lost Labour its 54 leave voting seats.
Support Labour Heartlands
Help Us Sustain Ad-Free Journalism
Welcome to the Heartlands of Independent Journalism
At Labour Heartlands, we are committed to delivering independent news, views, and opinions. Our mission is to hold those in power accountable, and we can't do it without your support. As a non-profit independent organisation, we rely on our donors to keep our journalism ad-free and impactful.
Like everyone else, we're facing challenges, and we need your help to stay online and continue providing crucial journalism. Every contribution, no matter how small, goes a long way in helping us thrive. By becoming one of our donors, you become a vital part of our mission to uncover the truth and uphold the values of democracy.
While we maintain our independence from political affiliations, we stand united against corruption, injustice, and the erosion of free speech, truth and democracy. We believe in the power of accurate information in a democracy, and we consider facts non-negotiable.
Your support, no matter the amount, can make a significant impact. Together, we can make a difference and continue our journey toward a more informed and just society.
Thank you for supporting Labour Heartlands
Just click the donate button below