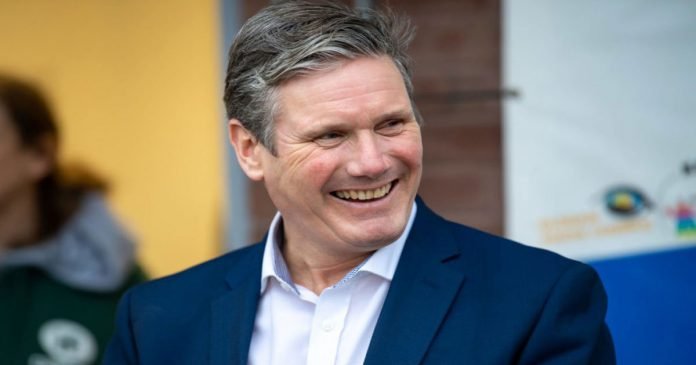 The Weathercock hasn't got an opinion until they've looked at the polls, talked to the focus groups, discussed it with the spin doctors. And I've no time for Weathercocks -Tony Benn
Shadow Cabinet sources say the Labour party will support "almost any trade deal" the Tories forge.
They hope that doing so will "put the issue to bed for good" and win back the trust of "Red Wall" of the former Labour Heartlands, voters lost to the Tories in last year's election due to Sir Keir Starmer's own Brexit policy and his insistence on a second referendum pledge to be placed in Labour's manifesto.
Strategists also say Labour's support will give the Boris Johnson wiggle room to compromise and still have the votes to get an agreement through the Commons even with objections from those in his own party.
Rachel Reeves made the case that a deal – even if inadequate – is only the start. It would be a platform for building on, and would show Labour is listening to voters. This was said to have received support from MPs including Hilary Benn, Liam Byrne, Harriet Harman, Sarah Owen, Yvette Cooper.
Reeves, who shadows Michael Gove's Brexit preparations, stressed that there would be no blank cheques for the government. "Keir and I will read the deal. We are not being bounced into this decision," she told MPs.
But after presenting an analysis of each of the options – to vote for, abstain or vote against – she made clear that the leadership's current view was leaning towards supporting a trade and security deal agreed between Johnson and the EU.
Abstaining would mean the deal would still go through the Commons thanks to the Tories' majority and would not in practice be any different from supporting it, Reeves suggested.
Backing a deal would also show the party was sticking to its pledge under Starmer to listen to voters lost to the Tories in key Labour heartlands, she said.
The party leadership is "extremely unlikely" to vote against the legislation.
Rachel Reeves addressed the Parliamentary Labour Party tonight to outline Labour's current thinking on how to vote if a deal comes back to the Commons. Leadership wants to see the detail of any deal before they make the decision.

— Sienna Rodgers (@siennamarla) November 23, 2020
Negotiations between London and Brussels are set to resume in earnest this Thursday and there is renewed speculation that thorny issues on state aid, fishing and governance rules can be resolved or at least parked in a new deal that would kick in from January 1, 2021.
Trade talks between the EU and UK are reaching an endgame, with negotiators "working around the clock to get a deal", according to Cabinet Office Minister Michael Gove.
Ironically these are the same MPs that refused to get behind any deal even BRINO (Brexit in Name Only) They stuck rigidly to Starmer's so-called 'six tests' making it imposable for compromise, a compromise that could well have seen the UK leaving the EU earlier, however, on much better terms.
In any case, it would certainly have meant we would not have witnessed the devastating loss of Labour seats in 2019 when the Red wall crumbled, 52 Labour leave voting seats could not compromise their democratic values and give up on their original vote to leave the EU.
Sir Keir Starmer, who made his reputation as a strong pro-Remain campaigner and won party conference cheers for saying it should be an option in a second referendum, is determined to "move on" from the EU debate following Labour's shattering defeat in the last general election after adopting his Brexit policy while acting as Shadow Brexit secretary.
For many this will not come as a surprise Sir Keir Starmer is certainty well versed in the political art of Flip-flopping. After the referendum and signing of Article 50, Starmer made an impassioned statement in parliament his words in that statement diminished every Remainer argument about the legality and the result of the referendum.
However, in 2018 he flipped again helping to create a Remain movement within the Labour Party, promising a second referendum and Remain to be on the ballot.
This was the major reason for the decline in Labour support in 2019 leaving Jeremy Corbyn no option but to stand down as Labour Party Leader opening the path for Sir Keir Starmer.
Starmer won the Party leadership contest carried on the wave of Remainers hoping for a champion to somehow keep the UK-EU Maastricht/Lisbon trade deal alive. Sure to his character Starmer flipped soon after his election to the Leadership and repeated the Tory mantra of "Get Brexit done" Now it seems he really doesn't care what the deal we get as long as he maintains his leadership position. Flop!
Leftwingers such as former chair Ian Lavery and Len McCluskey have claimed that Labour's failure to respect Brexit voters was the driving reason for the party's defeat in 2019.
Although some like Lavery have urged Starmer to make a public apology for backing a second referendum policy, the Labour leader has shown no intention of doing so.
In a joint article for HuffPost UK this month, Lavery and Jon Trickett and ex-MP Laura Smith said: "To rebuild trust that has been lost and restore people's trust in politics, Labour should say sorry.
"This is not only about Labour winning elections but restoring faith in democracy. We do not believe that the party can move on until it has put this issue behind us."
Approval for any deal will be needed by the end of December for it to kick in on January 1, when Britain finally severs ties with the EU.
Support Labour Heartlands
Help Us Sustain Ad-Free Journalism
Sorry, I Need To Put Out the Begging Bowl
Independent Journalism Needs You
Our unwavering dedication is to provide you with unbiased news, diverse perspectives, and insightful opinions. We're on a mission to ensure that those in positions of power are held accountable for their actions, but we can't do it alone. Labour Heartlands is primarily funded by me, Paul Knaggs, and by the generous contributions of readers like you. Your donations keep us going and help us uphold the principles of independent journalism. Join us in our quest for truth, transparency, and accountability – donate today and be a part of our mission!
Like everyone else, we're facing challenges, and we need your help to stay online and continue providing crucial journalism. Every contribution, no matter how small, goes a long way in helping us thrive. By becoming one of our donors, you become a vital part of our mission to uncover the truth and uphold the values of democracy.
While we maintain our independence from political affiliations, we stand united against corruption, injustice, and the erosion of free speech, truth and democracy. We believe in the power of accurate information in a democracy, and we consider facts non-negotiable.
Your support, no matter the amount, can make a significant impact. Together, we can make a difference and continue our journey toward a more informed and just society.
Thank you for supporting Labour Heartlands
Just click the donate button below