The pro-fracking former Labour MP, Natascha Engel, is the new commissioner for shale gas, the government announced yesterday.
Ms Engel initially opposed fracking when Ineos announced plans to explore for shale gas in the village of Marsh Lane in her constituency in January 2017.
She later visiting shale gas sites in Pennsylvania and switched sides in the debate. Within months, she lost her seat in the general election to the Conservative, Lee Rowley, who opposed fracking in the constituency. It was the first time the area was held by the Conservatives since 1935.
Engel ran a lacklustre campaign for the 2017 General election where at the time it was rumoured she had no interest in winning. It was also widely rumoured she had secured employment with Ineos the fracking company carrying out exploration drilling at the Marsh Lane site in Eckington.
I was aware personally of some issues with the sitting MP of North East Derbyshire during the 2017 General election campaign I had been asked personally by members of her campaign team if I could revamp and update Engles digital profile including her website and social media pages. I had agreed to do this Pro gratis, however, the campaign members that had initially approached me had to embarrassingly explain Natashia Engel had stalled in the project to the point it no longer mattered the GE was drawing to a close.
After leaving parliament, Ms Engel was commissioned by Ineos to write a leaflet on shale gas (DrillOrDrop report) but, 10 months on, the document does not appear to have been made publicly available.
On Monday, Ms Engel was on the panel for a fringe meeting hosted by the industry body, UK Onshore Oil and Gas (UKOOG), at the Conservative Party conference.
Today's announcement was welcomed by the industry and met with disbelief by opponents of fracking in her former constituency.
"Link with communities"
The Department for Business, Energy & Industrial Strategy (BEIS) said the commissioner would be a link between local communities, the shale gas industry and regulators. She would be a contact point for residents, listening to concerns and helping to improve communications, it said.
Ms Engel said:
"If extracted safely, shale gas has the potential to be a new, domestic source of energy for the UK. But there is a need for clear, impartial information to be provided to all parties and, in particular, those local communities most affected by shale gas development.
As the commissioner for shale gas, I look forward to working closely with communities, regulators and industry to ensure facts are easily accessible as the process of shale exploration continues to develop.
"Beggars belief"
People opposing Ineos plans at Marsh Lane expressed astonishment about Ms Engel's appointment this evening.
David Kesteven, of Eckington Against Fracking, said:
I cannot believe this. There is a lot of mirth in the area this evening.

"The shale gas commissioner should be an important position.

"I would have thought they could have found someone with technical knowledge or scientific background, rather than a failed politician.

"But Natascha Engel doesn't have the technical knowledge of fracking. She has destroyed the Labour Party locally. She has betrayed her constituents by going against Labour policy on shale gas.

"It seems as if they have got Natascha Engel because they could not get anyone else. It beggars belief that they could have chosen her.
The freshly selected Labour Party Prospective Candidate for N.E. Derbyshire Chris Peace said today:
The appointment today of an "Independent" Commissioner for Fracking is a Tory smokescreen. If communities like North East Derbyshire want to stop fracking this can only be achieved by voting Labour #RebuildingBritain #ForTheMany
Chris Peace is a passionate campaigner not only against fracking, Chris is no faint heart that can be turned, she passionately fights for the Orgreave Truth and Justice Campaign lending both her sense of justice and legal background to the ongoing campaign.
She brings the same qualities to N.E. Derbyshire in the fight against Fracking.
Energy and Clean Growth Minister Claire Perry said
"It's important we get the facts straight on shale gas and that communities can access the best scientific information when engaging with the developers and regulators."
"This new role will provide a single point of contact for local residents to get the information they need and have their questions answered."
Many local campaigners have pointed out that Engles can hardly be impartial a direct quote from a Marsh Lane anti fracking campaigner:
Dream on she has absolutely no chance of doing what she is been appointed to do.

She sold out the community she was elected to represent and she then paid the price of her treachery. She is viewed as a judas and that will never change what ever false title they bestow on her.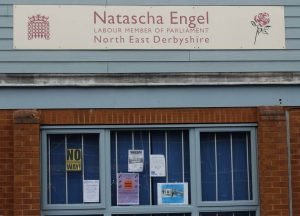 North East Derbyshire. A significant and vigorous anti-fracking campaign is being waged in the northern part of the constituency because INEOS intends to begin operations in the Marsh Lane area of Eckington. For a while before the General Election, Ms Engels' office displayed an anti-fracking poster, but this later vanished. Immediately after nominations closed, Natasha Engels' team began to circulate a four-page open letter, supporting fracking but with some possible protections. This letter went inside a local magazine to every house in Dronfield, and was probably distributed in other areas too. At hustings Natascha Engel took this same line, which was basically pro-fracking. Yet previously the Constituency Labour Party had taken an anti-fracking stance at an all-members meeting, in her presence and without any votes against this view. Her change of position on local fracking was probably very damaging to her vote. The successful Conservative candidate issued several leaflets in which he opposed the Marsh Lane proposal, although he was ambiguous about the wider fracking issue.
Support Labour Heartlands
WAIT! BEFORE YOU GO
PLEASE HELP US KEEP GOING AD-FREE
This is a "Pay as You Feel" website.
Your support for Labour Heartlands is greatly appreciated. As an independent nonprofit news outlet, we rely on our members to hold the powerful accountable. Our kind of reporting is essential to democracy, but it is not easy, cheap, or profitable.
To continue providing impactful journalism, we need your help. It's getting really hard for us all. Becoming one of our donors. It's simple and doesn't have to cost a lot. With as little as £2, £3, or £5 a month, you can support the journalism you rely on.
While we do not align ourselves with any particular political party, we stand firmly against corruption, injustice, and the erosion of truth and the rule of law. We believe that accurate information is the lifeblood of a democracy and that facts are not up for debate.
Your contribution, no matter how small, goes a long way in helping us continue our mission. Together, we can make a difference.
Thank you, The Labour Heartlands Team
PLEASE HELP US KEEP GOING AD-FREE